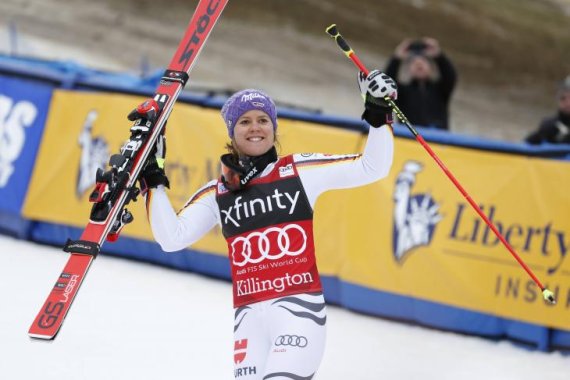 Viktoria Rebensburg is on fire: Following the beginning win at the start of the 2017/18 World Cup in Sölden, Austria was also a first-place win in the second giant slalom of the season in Killington, Vermont. Two months before the Winter Olympics in Pyeongchang, Rebensburg is in impressive form. 
Her sponsors will be pleased, too. Among them are Milka and Red Bull. She's been under contract with the beverage manufacturer for quite some time. Last year, she even did an internship there, and her Red Bull support even caused a bit of a firestorm.  
At the beginning of her career, Rebensburg specialized in giant slalom. She got her first spot on the pedestal in downhill in 2014. Since then, the Kreuth native also frequently participates in the speed disciplines. 
Things were a bit up and down for Rebensburg in 2016/2017, due in part to injury. The 29-year-old didn't get a single World Cup win last season. Just in time for the Olympic season, that already looks different again.
Achievements:
Rebensburg has won one gold and one bronze at the Olympics. Her Olympic win came as a complete surprise at 20 years old at the Winter Games in Vancouver. She got Olympic gold before she'd even won a World Cup race.
She made second place in giant slalom in Vail in 2015. Rebensburg celebrated 15 World Cup wins. Her best position in the overall World Cup was third place in the 2015/16 season. Rebensburg won the little crystal globe in giant slalom in 2010/11 and 2011/12.
Social:
Instagram: 38,700 followers
Facebook:  Around 78,800 fans
Twitter: 18,800 followers
Outfitters/sponsors: Viktoria Rebensburg hits the slopes on Stöckli skis. Her personal outfitters also include Leki, Bogner, and Uvex. Other partners are Milka and Red Bull.
Income: Rebensburg banked prize money in the region of 76,534 Swiss francs during the 2016/17 season. Her estimated yearly income comes to around one million euros. Nevertheless, apparently her money depends on performance: sponsors like Bogner and Red Bull base their support on successes in the World Cup. 
Rich in variety with videos, likeable portrait and action shots, pics from everyday life, training, and advertising: this is how Viktoria Rebensburg designs her social accounts and her blog on her website. What immediately becomes apparent: There's a lack of insight into her private life. With Rebensburg, there are not pictures of a boyfriend or significant other, of friends outside the skiing circus, or of her family.
Very different than Felix Neureuther, who's the star of the DSV team with his private sneak peeks. Only rarelydoes Rebensburg show truly personal posts, such as her studies or her birthday:
It shows in her likes and follower numbers, too. Unlike many of her skiing colleagues, she only has fans in the low five figures on Facebook, Twitter, and Instagram. But in the past it's apparent that Rebensburg shows herself when styled or at shoots a bit more often:
In demand online:
Rebensburg online: the picture of a sympathetic athlete who trains, runs races, and travels around the world. Really no reason for hostilities. And yet in May 2016 there was firestorm for Rebensburg.  A fan of FC Bayern, Rebensburg will sometimes post a pic from the Munich arena. But at the end of the 2016 season, Rebensburg appeared on Facebook and Instagram in a photo from Leipzig.
As a Red Bull athlete, she had been invited to the RB Leipzig stadium by her sponsor. In the post, she celebrates Leipzig's promotion to the first Bundesliga division. What followed was a firestorm from several disappointed fans accusing her of letting herself be bought.