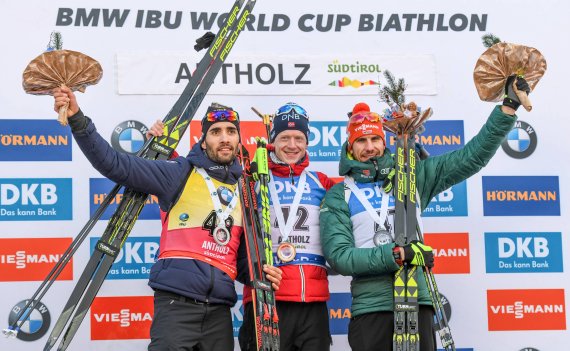 Biathlon was once a marginal sport, but since the 90s, interest has been growing steadily. Biathlon is still the top of the winter sports among the German TV audience. The International Biathlon Union (IBU) is doing a number of things to make sure that it stays this way, and is also arranging major sponsorship contracts with German companies.
Some athletes are also very big in the sponsoring business; ISPO.com introduces them below.
2017/18 prize money: €251,500
Instagram followers: 375,500
Sponsors and outfitters: Rossignol, Adidas, Somfy, BMW, Entremont, MGEN
The French sports magazine "L'Équipe" writes about the "small Fourcade business" when it refers to the super biathlete's source of income. For the past seven years, the Frenchman has won the Big Crystal Globe trophy as the overall World Cup holder in biathlon. He's a five-time Olympic champion, eleven-time world champion.
This makes him particularly attractive for sponsors. Fourcade is the big earner in the sport and is by all means innovative: At the 2018 Olympic Games in Pyeongchang, he won with a riffle made from a 3D printer by 3D Athletics.
Last winter, he earned more than 250,000 euros in prize money alone, and his earnings at the World Cup amount to more than 1.7 million euros. His yearly income is estimated to be over a million euros. He has recently extended a contract with social security organization MGEN, one of his premium sponsors, until 2024.
And this is despite the fact that the 30-year-old biathlete isn't actually planning that far ahead. Fourcade is already in store for new tasks aside from active sports: The head of the Organising Committee for the 2024 Summer Olympic Games in Paris, former canoeist Tony Estanguet, has appointed Fourcade as President of the OC Athletes Commission.
2017/18 prize money: €122,000
Instagram followers: 129,000
Sponsors and outfitters: Adidas, Joka, Fischer, Viessmann, DKB, Kornspitz, AOK, Südtirol, OneWay, Osprey, Petzl, Bergwacht Bayern, Scott, Sponser
The 2018/19 World Cup winter initially started without her. Laura Dahlmeier will be out of action indefinitely due to a weakened immune system. However, the most popular German biathlete still wants to enter over the course of the season, which will be good for the DSV team. To date, Dahlmeier has won two Olympic gold medals in 2018, seven gold medals at the world championships, as well as the overall World Cup during the 2016/17 season.
She's doing very well in her sport. "Money should never be the main motivation, but you do earn good money from participating in biathlons," she explains in an interview with ISPO.com. She earns several hundred thousand euros per year thanks to her successes (2017/18 prize money 122,000 euros), partners, and sponsors.
"My main sponsor Viessman – along with my other partners, including DKB, Kornspitz, Joka (Waffe), and Adidas – is always inviting me to discussions and events, especially during world cups," she says about her commitment as a testimonial. This also includes entertaining her 128,000 Instagram followers: "Naturally, my partners always like it when I share things on social media. I try to satisfy them as much as I can."
2017/18 prize money: €222,750
Instagram followers: 166,500
Sponsors and outfitters: Swix, Anschütz, Fischer, Casco, DNB, Hedda Hytter
At the age of 25, Johannes Thingnes Bö is considered a very young biathlete. If Martin Fourcade  should some day end his career, Johannes Thingnes Bö's golden days should begin. At the 2018 Winter Olympic Games, he became an Olympic champion in the Individual event. He is also a three-time world champion. And last winter, he finished second behind Fourcade – and five places ahead of Tarjei Bö, his 30-year-old brother, who won the overall World Cup in 2011. Since Ole Einar Björndalen's retirement, he is now decisively the Norwegians' greatest hope.
No surprise that he is in demand in Norway: DNB, Norway's largest bank, sponsors him, as well as other smaller companies. This includes Hedda Hytter, which manufactures wooden houses and has just extended their sponsorship contract until the 2022 Olympic Games in Beijing. "Johannes delivers quality, just like Hedda Hytter. It is easy for us to identify with what this athlete stands for. This is the basis for a fruitful and successful cooperation," commented Mange Omsrud to the local newspaper, Valdres.
2017/18 prize money: €131,000
Instagram followers: 137,400
Sponsors and outfitters: Craft, Bliz, Leki, Anschütz, Fischer, Holmenkol, John Deere, Joensuu, Fast, Polar
The queen of the women's 2017/18 biathlon overall World Cup was Kaisa. The Finn, now 35 years old, remains one of the world's top athletes after she decided to continue her career in May 2018. Since her World Cup debut in 2005, Kaisa Mäkäräinen has won 23 individual races, a total of six medals at biathlon world championships, and three overall World Cups.
Her sponsors are similarly experienced in their profession as Mäkäräinen is in the cross-country ski run: Since 1977, the Finnish manufacturer Polar has measured heart rates – the heart rate monitor is one of the most important wearable aids in biathlon shooting. John Deere, the forestry machinery manufacturer, is her main sponsor. "Forestry machinery and I have a common working environment – a forest!" writes Mäkäräinen on her website.
2017/18 prize money: €88,000
Instagram followers: 320,200
Sponsors and outfitters: Fischer, Craft, Megafon, Adidas, Leki, Anschütz
He's close on Johannes Bö's tail at the biathlon overall World Cup, but in terms of Instagram followers, he's already beaten him: Anton Schipulin. The Russian has participated in the World Cup since 2009, where he consistently scored very good results. He is one of the most well-known winter sportsmen in Russia. The only thing missing is an individual gold at a major event. His sister is better at that: Anastasiya Kuzmina (below), who competes for Slovakia.
This is also due to the fact that Schipulin was banned from the 2018 Olympic Games in Pyeongchang because of his involvement in the scandal surrounding Russian state doping. Valerie Fourneyron, Chairwoman of the Review Panel of the International Olympic Committee, said: "When compiling the list, the aim was that there should be no doubt that the athletes specified are clean." However, an omission does not automatically mean that an athlete has doped. To date, Schipulin has not tested positive.
2017/18 prize money: €87,750
Instagram followers: 285,400
Sponsors and outfitters: Anschütz, Rossignol, Loacker, Roeckl, Briko, Exel, Kappa, Rizzoli Cucine, Sportful, Falconeri, Audi, One Way, APT Livigno
She's already the most successful biathlete on Instagram, and she's now setting out to achieve the same in the cross-country ski run: the South Tyrolean Dorothea Wierer. For years she's been competing at the front of the World Cup, but she's still waiting for a big success.
However, Wierer is also eager beyond the cross-country ski run: In 2017, together with her main sponsor Loacker, she published a body fitness program for everybody to get fit during the winter ski season. To date, the exercise video has 92,000 hits on YouTube – by far the company's most viewed video.
After her wedding in 2016, she auctioned her dress to support the earthquake victims in Nepal. She also had an offer from the Russian version of Playboy, but refused and justified it with the photo modelling on her computer: "I don't want to be edited."
2017/18 prize money: €76,250
Instagram followers: N/A
Sponsors and outfitters: Roeckl, Adidas, Salomon, Joka, One Way, Viessmann, Kornspitz, Dinzler, DKB
In February 2018, Arnd Peiffer became the Olympic sprint champion in South Korea. However, the fourth overall in the World Cup from Clausthal-Zellerfeld still needs to get Instagram. He does still have 70,000 fans on Facebook.
Despite Olympic victory, Pfeiffer's time in South Korea was not always glamorous. The strict sponsor rules affected him. You "can't say this and can't post that. You have to wear these exact things and file countless petitions should a sponsor post something that has your name attached to it," he said, lamenting the rules that only Olympic sponsors were allowed to advertise with the athletes.
2017/18 prize money: €142,000
Instagram followers: 69,300
Sponsors and outfitters: Adidas, Exel, Anschütz, Fischer
Anastasiya Kuzmina is a three-time Olympic champion: she was at the top of the podium in 2010, 2014, and 2018. Every four years the Slovakian, who competed for her native Russia until 2008, is in top form. "She was strong in Vancouver, she was strong in Sochi, and now once again," remarked Mäkäräinen at the beginning of 2018. "I don't know how she does it."
However, Kuzmina doesn't just exert herself by competing in biathlons: Straight after her Olympic victory in 2014, she took part in the Arctic Circle Race from April 4 to 7, 2014, a 160 kilometer long distance race in Greenland, and finished second behind Niviaq Chemnitz Berthelsen.
All the articles for the 2018/19 winter sports season: