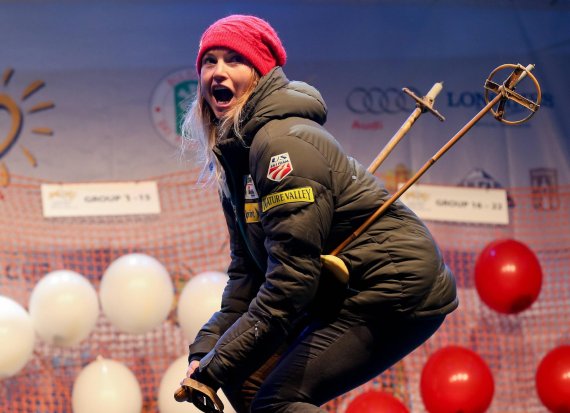 Mancuso, the epitome of good vibes in the world of championships, is once again in high spirits: After taking a break of around one and a half years to allow her injury to heal, the American Julia Mancuso wants to be giving it her all again as soon as possible. Although, it must be said that Mancuso was back in her skis again after four months. She talked to ISPO.com about how that was possible and how she coped during her leave from professional skiing.
ISPO.com: Ms Mancuso, let's start with the most important question: You still don't seem completely sure-footed – how are you faring after your hip operation a year ago?
Julia Mancuso: Skiing is fine, walking in a straight line is more difficult. However I am working towards a comeback for the World Cup. I already started freeriding again in spring and now I am training to race. My balance is good but I am still in some pain. I've got a way to go, it seems.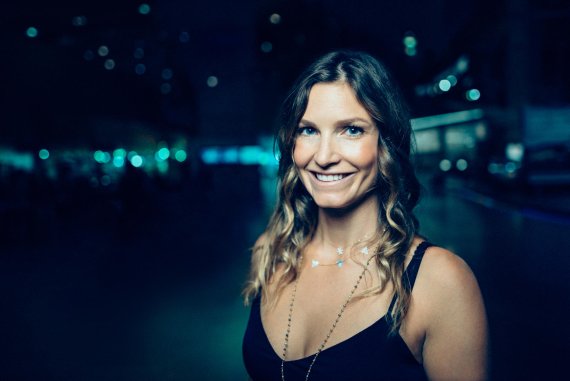 When do you plan to start taking part in competitions again?
It is very difficult to just watch others – it's really not my style. I would much prefer to join in, even if I can't win. However I need to put my health first and that doesn't allow for any speed disciplines. The St Moritz Skiing World Championships in February would be my eighth, so of course I want to be a part of that.
"I thought I had killed us both"
Four months after your operation, you were back in your skis. How did you make such swift progress?
One word: powder. Everything is possible with that kind of snow.
And in May, you featured in the freeride movie 'Shades of Winter'...
That was hard – and quite early for me. The snow and conditions out there were very difficult to manage. However the movie helped give me confidence in my body again. The following summer, I was able to join the US ski team for training in New Zealand and had some really good training sessions.
Where was 'Shades of Winter' shot?
In Engelberg in Central Switzerland, in Sweden, and on the Mauna Kea, a volcano on my second home Hawaii. That was actually the first time I had skied up there. I usually spend my time in the sea, surfing.
What was your biggest wave? 
Cloudbreak off the coast of Fiji. Just under nine meters. That was quite a daunting experience, but luckily I held myself on the board. I have done a lot of diving and know how to behave underwater. It's annoying to fall off the board when you're riding a big wave, but I know that all I need to do is stay calm. I did have one very bad experience, though: I misjudged a wave and a jet-ski driver was just about able to pull me out in time – I really thought I had killed us both.
One highlight on my Facebook account is training with a large rock on the sea bed...
It's so much fun! There are so many other professional sportsmen and -women you can take inspiration from. And cross-training underwater helps to strengthen your lungs, which helps me when I'm skiing. You often find yourself without sufficient oxygen supplies in your muscles. It's really enjoyable, challenging yourself and cleansing your mind.
Julia Mancuso cross-training underwater:
Your life has become publically accessible – via Facebook, Instagram & co. The media seem to fit you like a glove. And there are benefits for your sponsors, too: Red Bull, Stöckli, Spyder, Poc and GoPro...
I really do enjoy it all. I like the challenge to be creative. My grandmother is an artist and I have always been surrounded by art in my family. I enjoy photography and being my own movie director. It gives you the feeling of creating your own brand. I can show the world what I want, am able to inspire my fans, and can remind the kids to 'go out and have fun!' My Facebook mantra is: get out and share in the fun.
We've seen you bungee jumping, climbing, scrambling up trees, on ice skates, on roller blades, in a cage with a shark, on Kilimanjaro, cliff jumping – are there any sports you don't feel up to? Basejumping?
I did one, jumping from a bridge over a river. That was enough for me. There are just too many accidents and too many parents who advise against it. I can get the same thrill elsewhere. Skiing is dangerous enough. I have tried out many things that I am not so good at, and now that I am over 30 I know that my body needs more time to heal after an accident. I make sure that I don't push myself too hard.
If you had to describe yourself: What type are you?
Definitely a free spirit. And I love to have fun. I enjoy being in nature, almost like a hippie. I like travelling to Italy and enjoy the food. I am always up for an adventure. And I have buckets of energy.
Mancuso about the freeride movie 'Shades of Winter': "You have to live your dream"
Let's go back to 'Shades of Winter.' The movie was directed by the Austrian freerider Sandra Lahnsteiner. Where did you meet?
A friend brought us together two years ago. She pitched her idea to me, but I was always out at ski races – although I would have loved to join in! I just want to do everything all the time. Life shouldn't just be about what you have to or what others tell you you should do. You have to live your dream! That's exactly what I did in Sandra's movie. A girls-only project! 
Is it more pleasant than shooting a movie with men?
In comparison to some freeskiing movies, this one was about adventure rather than showing off. There's far too much pressure in the latter! And it's very dangerous! I grew up in Squaw Valley: All my friends are professional freeskiers. JT Holmes, Cody Townsend, and many others. For them, it's all about one thing: Is there a bigger rock I can jump? Can I ride an even more extreme line? I am actually quite scared when I ski with them. As a racer, I need to take better care of myself when it comes to risk management. This girls-only project was more about enjoying the journey and living in the moment.
Shortly after completing 'Shades of Winter', one of her colleagues (Swedish freerider Matilda Rapaport) died in an avalanche while shooting an advert in the Chilean Andes...
Many of my friends from Squaw Valley have died practicing extreme sports. What I want to say is: I am extremely happy to have known and spent time with people like Matilda. I had known her for a long time, through her husband Mattias Hargin's older sister. He skis too (slalom) and had only recently married Matilda. I often visited her family in Sweden. Matilda was always the little girl who skied a bit – and five years later she was one of the best big mountain freeriders in the world, sponsored by Red Bull! I will never forget our trips together. She was a true inspiration.
Read here: Freerider Felix Wiemers: "We need to dismantle prejudice"