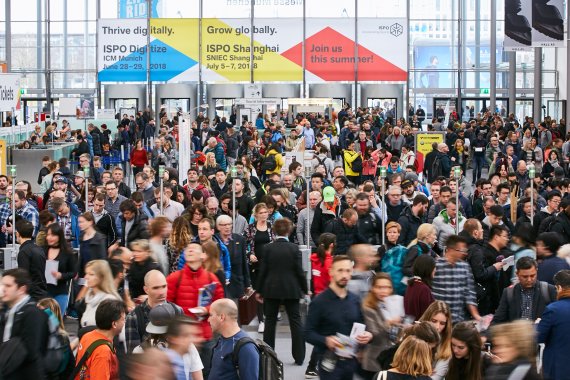 The doors opened at 9 o'clock on the dot on Sunday morning. The visitors had already gathered in the trade fair center foyer beforehand to buy tickets, familiarize themselves with the hall plan and learn more about the new segments before joining one of the long queues. At 8:59, the announcement everyone had been waiting for came: "Good morning to our visitors; we hope that you will have a wonderful and successful trade fair day. The doors are now open."
Visitors have to make up their mind which way to go right at the entrance. Turn right, towards halls A1 to A4 and "Outdoor and Urban" in hall A5? Or turn left, towards "Vision" (B1) and the new "Snow Sports" area (b2 to B6)? Taking in A, B and C would be perfect, of course! Definitely not something to be missed and already hotly discussed by the trade visitors as they were waiting in the foyer: The new exhibition space "ISPO Digitize" in hall A4, which illustrates the transformation of the sports industry.
 "I am looking forward to the exhibitor and retailer innovations and the spirit communicated by this worldwide industry meetup – and to the incredible energy the industry will be charged with through ISPO Munich 2018," ISPO Director Tobias Gröber said at the opening of ISPO Munich 2018. He also specifically pointed out the new exhibition area ISPO Digitize, organized in collaboration with Adidas, which focuses on the digital transformation of the sporting goods industry on more than 1,000 square meters. "The ISPO is also a first for Messe München in terms of the digitization of trade fair concepts," Gröber said.
"We are delighted by the fact that the entire city also benefits from the energy of ISPO Munich which our exhibitors generate with their innovations," says ISPO Director Tobias Gröber. The goal: "In cooperation with the retailers, we want to inspire consumers to do even more sports." With a look at ISPO Munich 2018 and ISPO Munich Sports Week program, he adds: "This makes Munich the world's sports capital."