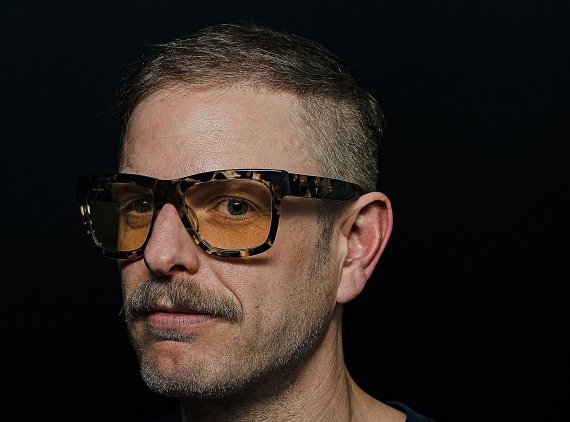 Erman Aykurt has already been creatively active in the sports industry for more than two decades. During his 13 years at Adidas, he has been involved in major brand initiatives around the icons Superstar, Stan Smith, Adicolor and the ZX series. For Converse he managed the Chuck Taylor division in Boston. His greatest legacy there was the Chuck 70s. A model that made a big difference for Converse. 
Since 2019 he is Creative Lead of Gore Wear. With his appointment the position was expanded: He is responsible for the entire "look & feel" of the functional clothing for endurance athletes from running, cycling and cross country - including marketing and communication content.
How does Aykurt work within this broad creative area of responsibility? ISPO.com spoke to the specialist for creativity.
ISPO.com: What does creativity mean to you?
Erman Aykurt: For me, creativity is to create something new that enriches. Whether emotional or functional: In the perception of the new, an added value must be created, otherwise it is perceived as uncreative.
What aspects does creativity include within your position? - and how do these have to interact for creativity to "work"?
It is particularly important to us to keep in mind that the added value we deliver is authentic and that we can work with our clients to make it work.en räsoniert. It is important to know how the company is perceived by the outside world and that the company operates in the same cultural context as its customers.
The cultural context consists of all the experiences that significantly influence our aesthetic perception. Most of them, which we share with many others, come from the fields of music, fashion, art and, for our segment, of course sport.
This is what we exchange about and my role is to develop strategies for this. A brand has many points of contact, where our creativity is perceived as character-forming. Therefore I am very grateful to be invited into many different processes.
As a Creative Lead at Gore Wear, you will have a very broad creative field - from the brand, the product and the message to the consumer and the message effect...
That's right - and this is new to me. I see it as a great enrichment. So far I have worked more on the product. In the past, I was always close to big brand initiatives and the associated marketing, but I never had the creative responsibility for them.
This opens up opportunities and perspectives for me that I didn't have before. The depth of analysis in marketing and the direct experience of sales let me make different decisions in product design. At the same time I can help with the marketing of the products by documenting the creation process better.
What stands at the beginning of every design process at Gore Wear?
When I became part of the Gore Wear team a year ago, there were many impressions that were fundamentally different from those I had gained during my previous stations. The scientific character was the strongest for me. Test and simulation laboratories, technical equipment and environments, and the scientific demands that all employees have on their own actions form the basis for our creative expression.
Then we tried to visualize the cultural context for our customers. This is based on data on age range, geography and socialisation. Without going into detail, the likely common denominators for us were DJ culture, contemporary art, street wear and action sports.
This helps us to understand what role Gore as a brand plays in this context and the aesthetic sensibility with which our future creative output will be judged.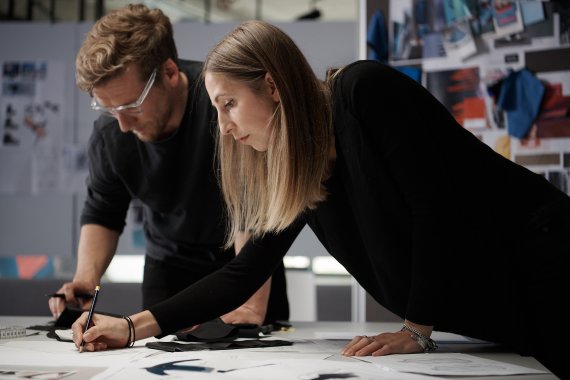 Then what happens next...?
For me, design is always connected with the use of quotations and references. Whether in products, music or film - quotations create the understanding to move in the same cultural context. In hip-hop, for example, music and lyrics are peppered with quotations. As in hip-hop, it is also important in our work to work with quotations in a virtuoso and inspiring way.
Because we have defined our creative freedom so clearly, the creatives who work with us internally and externally have a greater sense of style. Both in the selection of creative quotations from the cultural context and in their creative use. This means that creative decisions need to be questioned less, which leads to fewer compromises in expression.
The decisive factor is not to forget to remain authentic and to put what makes us as a brand in the best light.
What needs to be considered for a holistic, meaningful "end product"?
As far as functionality is concerned, our primary goal is to provide our customers with the best experience in endurance sports. Endurance sports offer countless enrichments - physically and mentally - and force the athlete into the most diverse situations.
A great motivation for this sport is the conscious expansion of the emotional range. We meditatively get used to deep valleys of suffering in order to allow ourselves moments of happiness. We learn patience, gaining a little bit more control over ourselves with every run and every ride. This enables us to become a little bit better in all areas of life. Our communication must reflect this process.
All in all, our product range must offer the athletic experience for athletesimprove your products in as many situations as possible - with as few products as necessary.
...and creative?
Creatively, we want to ensure that the length of the life cycle of the respective product is also taken into account in the design. Colour and details must be seen by customers as added value over the entire period. At the same time, the products must be easily combinable across several collections.
Can you give a concrete product example that shows how the creative team works?
Before I came to this, the Gore Wear team developed the R5 Insulated Jacket. With the award as Product of the Year at the ISPO Awardwe also wanted to tell the story of the jacket. For this we interviewed developers, designers and our Gore Wear athlete Thea Heim. We then incorporated the results into the communication.
For the visual realization we combined the design approach with the emotions of an athlete.
How do collaborations complement your work?
Collaborations are unique opportunities to deal intensively and directly with our external impact. In addition to a trained external view of our functional quality, a common aesthetic understanding is also important to us.
Functionally, we work with external partners to complement our internal capabilities in the areas of design, construction, testing, production and service.
The exchange with protagonists who play an important role in our cultural context - for me these are mainly young and innovative brands and communities - shows us directly to whom we want to be committed in creating creative added value. Because they live subculture and creative currents more clearly and directly than large corporations can.
In addition, we work with individual athletes who evaluate our output both functionally and aesthetically.
Where do you get feedback from end users and what do you do with this information?
The best way is still the direct exchange with our customers. This takes place via the sport we play together as well as via specific invitations if we want to go into more depth on a particular topic.
In the case of products, we do not see the feedback implemented on the market for 1-2 years. So it is extremely important to read between the lines to be able to separate the objective from the subjective. The subjective perception of the customers will still change during this period.
In the case of brand presentation, it is possible to go into this matter more directly because of the shorter lead times.
How are you influenced by trends? In this context, what makes a brand's appeal?
For me, the biggest motor in fashion was subculture and counterculture. The attraction that a new movement and its new way of looking at us has always been a way for me to see where aesthetics are heading.
The more confident a brand moves in a context and the more inspiring the creative expression, the greater the brand's radiance. Ideally, a brand is perceived as a cultural enrichment and has acquired the ability to create trends. As with modern role models, it is important to reconcile the greatest possible complexity with character coherence and authenticity. Kanye West or Elon Musk - both have achieved their fame through individual achievements - play an even greater role culturally because of the breadth of their creative output. Thus, the focus is no longer on individual performance but on the person and their intuitive creativity and the resonance they generate.
Does Corona influence the creative output at Gore Wear?
Corona has a significant impact on our current social discourse. The resulting customer needs influence the evaluation of a brand and its products.
Of course, the pandemic also has an influence on the need to engage in endurance sports. The importance of sport has changed and is helping many people to cope physically and mentally with this situation. This has a strong impact on the aesthetic perception.
And finally: What new creative possibilities do you see emerging for the sports industry?
The sports industry lives from a wide emotional range. This offers many small brands the opportunity to occupy authentically different segments and redefine relevance.
Small brands can represent strong creative points of view due to their self-image. New youth cultures will continuously influence and develop the creative expression in sports as well as the sport itself.
We want to work with Gore Wear in such a way that we can keep pace with this development.