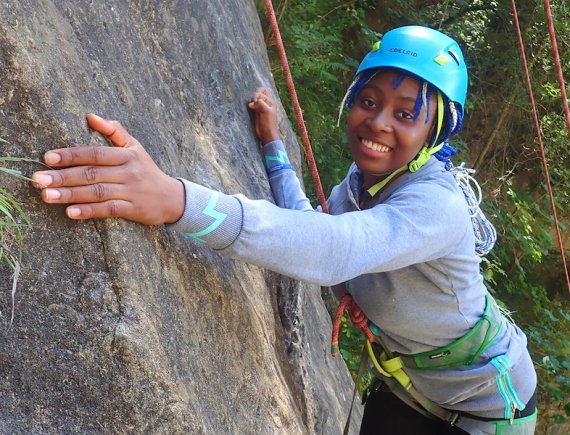 When it comes to climbing gyms, Munich is considered Germany's Mecca. Allegedly, in no other major city is the square meterage of artificial climbing space as high as here. Whether sport climbing or bouldering, whether beginners, advanced climbers or professionals, there should be something for everyone. The Heavens Gate in the Werksviertel near Munich's Ostbahnhof wants to do just that. - – a climbing hall for everyone that combines inclusion with climbing.
Not only is the Heavens Gate one of the oldest halls in Munich, the building is also something special: In the nineties, the IG Klettern München & Südbayern was looking for a suitable climbing hall for their club. Finally, they found what they were looking for on the grounds of the old Pfanni factory, and in 1998 Germany's then largest climbing hall was opened in a former potato silo.
Climbing was still a niche sport at the time and the Heavens Gate in Munich was soon known in the scene for its long routes leading up to the sky where potato flour used to be stored.
Even back then, the small club organized climbing courses for the blind; the hall was supposed to be a place where all kinds of people could meet and climb together. Between discos and nightlife in the Kunstpark Ost, the somewhat anarchic climbing hall fitted in quite well at that time and always had a special flair. A bit outdated, Heavens Gate closed in 2017 for a far-reaching renovation, which ultimately involved 3.5 million euros.
The characteristic potato silo routes have remained after the reopening: As before, you can climb up to 30 meters high on the concrete here. In addition, there is a brand new and modern bouldering area with a separate training area. There you can tinker with boulder problems in different difficulty levels or you can go down and boulder along the lower area of the silos.
Outside there is a climbing wall, also new, 18 meters high, from which you can watch the hustle and bustle of the factory district. For all those who like it less breezy under their butts for their observations or simply like to take a break, a sun terrace has been added.
And there are new climbing areas indoors as well. Despite the many routes, the hall is familiar and you never feel lost as possibly in a large hall, because everything is distributed over several floors.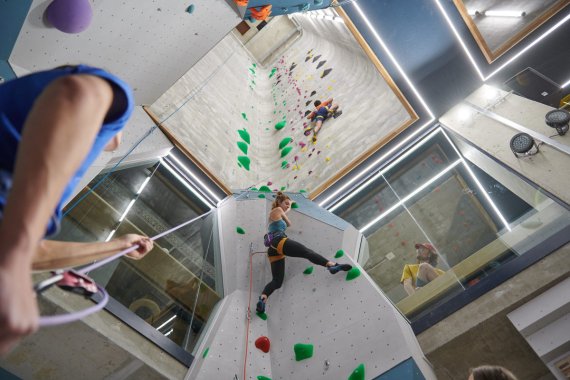 In order to create an appealing and contemporary hall, the primary goal for the conversion was accessibility. It was planned down to the last detail how the winding hall had to be designed so that it would also be accessible to all interested parties. A step-free accessible lift was particularly important, because with physical impairments, stairs can very quickly become an obstacle before a wall can even be climbed.
Handrails, a tactile guidance system for the hall, level mat entrances on the bouldering areas, barrier-free sanitary areas with care and shower loungers or storage areas for wheelchairs were also taken into account during the renovation of the hall. Since the reopening in summer 2021, Heavens Gate is now the first comprehensively barrier-free climbing hall in Munich. Very hip styled in petrol and mustard yellow, you already feel somehow welcome and at home in the entrance area.
Inclusion is also a priority in the programme at the facility: various courses are offered so that physically impaired or socially disadvantaged children and young people can also discover climbing for themselves. "Bavaria's best climbers" - is the name of the inclusion project of IG Klettern München & Südbayern, which is aimed at children, young people and young adults with disabilities and serious illnesses, as well as their siblings. Another project is the "Gipfelstürmer" for socially disadvantaged young people and those with a refugee or migration background. There are regular groups that meet throughout the year, taster sessions but also inclusive events for businesses. Many of the projects at Heavens Gate are funded not only by volunteers but also by foundations such as "Aktion Mensch".
"What's important to us above all is that you involve different groups, climb together and do sport," says Heavens Gate's managing director Benjamin Plahl, describing the background to the club and hall. In supervised groups, up to eight children can try climbing with a trainer, learn and train. "The project works with so-called scouts, that is, with young people who help voluntarily to support the trained trainers and coaches," explains Plahl. This also ensures good supervision for the whole group on and around the climbing wall.
A group with multiple sclerosis can be found regularly at Heaven's Gate, as well as groups of people with Down's syndrome. So on outings and also in the courses, very different people with certain handicaps come together. Slowly, the course programme in the new hall is also picking up again. "We didn't have a hall for four years, so everything has moved out. To other halls or outside on trips to the mountains. Now it's nice to have everyone back together here."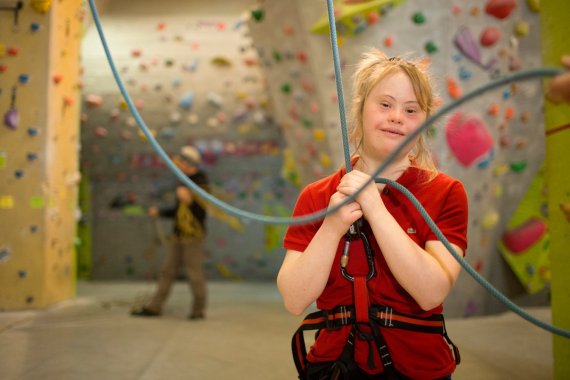 IG Climbing also trains its own trainers in the hall. During this training, inclusion and working with different groups and people with different needs is also central. It is about safety in dealing with each other on the wall, which is not only an issue in terms of inclusion.
"When training our trainers, we simply place great value on quality," says Benjamin Plahl.
Two young refugees who came to climbing through "Bavaria's best climbers" have already obtained a climbing trainer's license and now also lead courses like the ones that brought them to climbing themselves.
So, according to Plahl, the special flair of togetherness and cohesion has also been maintained in the "new" Heavens Gate. This may be due to the special location, but also to the many climbers who have been coming to the hall for years and who are committed to issues such as inclusion and sustainability.
Learn more about Heavens Gate and projects on site: https://www.heavensgate-muc.de