Dizzying heights - not a thing in bouldering. But precisely because of the manageable drop height, the unsecured climbing sport is a real challenge for body and mind. Technique, skill and creativity are required, not excessive daring.
In the meantime, bouldering has developed from a marginal sport to a mass phenomenon. Newcomers and experienced hobby athletes flock to the bouldering halls. There have also been some changes in the competitive sport. For example, the official World Cup of the International Federation of Sport Climbing (IFSC) is becoming increasingly important. The highlight: bouldering as one of three competitions in the climbing premiere at the Summer Olympics in Tokyo in August 2021.
The top athletes have also become real stars in the bouldering scene, which is constantly growing. We introduce five of the superstars.
Janja Garnbret
Adam Ondra
Alberto Gines Lopez
Miho Nonaka
Alex Megos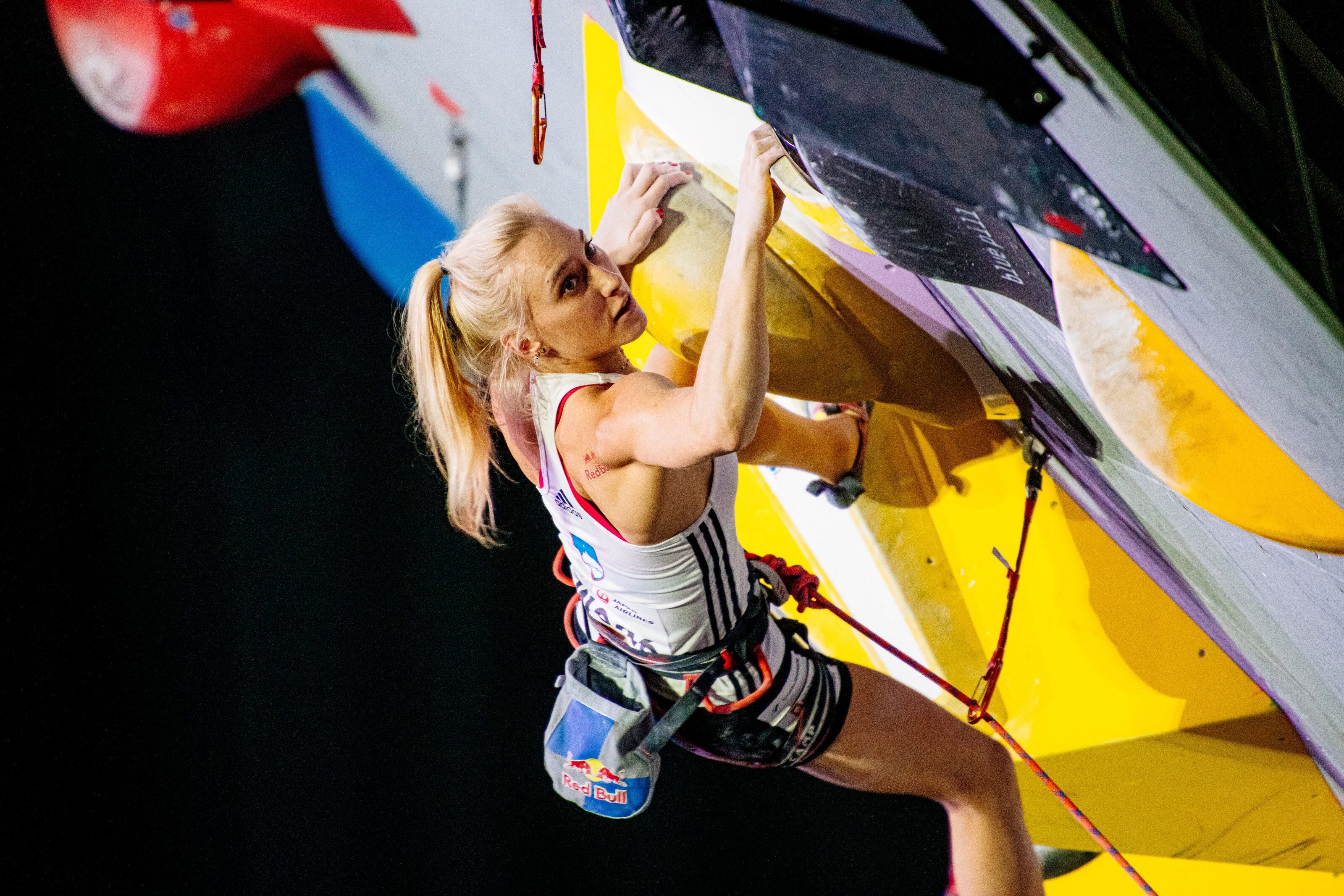 In sport climbing, Janja Garnbret has been the clear number one for years: She won the Climbing World Cup four times between 2016 and 2021, but in bouldering she had to wait until the 2019 season for her first overall World Cup victory. But then it came with a historic series: Garnbret won all six bouldering competitions of the season - a feat never before achieved by an athlete.
Garnbret then achieved her masterpiece at the Olympic Games, when she was unbeatable in bouldering and lead climbing and thus won the first women's gold medal.
Garnbret has long been a star not only in her native Slovenia. With over 400,000 Instagram fans and sponsorship contracts with Red Bull and Adidas Terrex, among others, she has long since become a brand in her own right.
Janja Garnbret also feels right at home on the rock. "For me, it's a break from the competition and training routine. I usually go rock climbing to relax," she says.
At the age of 13, Czech-born Adam Ondra was already among the world's best in sport climbing and bouldering. In his first World Cup participation in the men's class in 2009, the now 29-year-old was able to claim the runner-up title in lead climbing right away. A year later, he decided the overall World Cup victory for himself, to finally crown his performance in 2014 with the world title in bouldering and lead climbing. Before the Olympics, Ondra was one of the medal favorites as World Cup runner-up in 2019 and third in 2021. In Tokyo, however, it was "only" enough for fifth place.
In addition to competitive sports, Ondra is always drawn to nature, where he was able to conquer some of the world's most difficult climbing routes, such as "La Rambla" and "La Dura Dura" - both in Catalonia - at a young age.
Where does the Czech get the energy to master such devilish routes?.:
"Everyone has animal instincts - I don't mean screaming like mad, but just being completely focused, totally absorbed in what you're doing, so time seems to stop. But only a few people can find this animal in themselves - children can do it much better. They play. I play when I climb," Ondra reveals to klettern.de.
At just 18 years old, Alberto Gines Lopez has immortalized himself in the history books of the sport. At that age, the Spaniard won the first men's Olympic gold in climbing in 2021.
It was the culmination of a still young career in which Gines Lopez subordinated everything to climbing: After climbing with his family from an early age, he came under the wing of professional coach David Macia when he was just ten years old. When it became clear that climbing was going to be an Olympic sport, Gines Lopez, who was not even of age, moved to Barcelona because he could train better there. A move that paid off. In the meantime, Gines Lopez is the shooting star of the scene.
At the Olympic Games in her own country, Miho Nonaka was a celebrated hero with her silver medal. The 24-year-old has over 300,000 fans on Instagram and her sponsorship portfolio includes high-profile sports and lifestyle brands such as Adidas, NEC and Beats by Dr. Dre.
In terms of sports, Nonaka has been among the world's best for years: her biggest triumph besides the Olympic medal was the overall victory in the 2018 Boulder World Cup.
Her ambitious goal, which she revealed in "her Magazine": "I want to be considered the world's best climber, and I want my name to become synonymous with the sport."
In Japan, Nonaka is already number one following the retirement of climbing icon Akiyo Noguchi. Will she soon be back worldwide?
Alexander Megos is Germany's best competitive climber and boulderer. With his ambition and discipline, he became the first climber ever to climb a route rated 9a on-sight - in other words, on his first attempt.
Overnight, this made him world famous and he has continued to climb tirelessly ever since. Megos has now climbed the hardest routes on the climbing scene, putting him at the top of the world. In 2013, he climbed, among other things, the most difficult bouldering route with the so-called "Wheelchair" and the most difficult route in Australia with R.E.D of difficulty 9a.
Megos also qualified for the Olympic Games in Tokyo. There, however, he failed just before the final round.