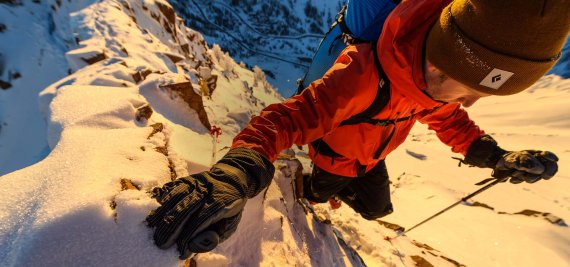 Outdoor industry leaders will meet for the first time at OutDoor by ISPO in Munich from 30 June to 3 July 2019. Not only is the location new, but the concept of OutDoor by ISPO also offers fresh impulses and incentives.
That's just one more reason for outdoor outfitter Black Diamond to be at the trade fair as an exhibitor, says Managing Director Stephan Hagenbusch in the "3 questions to" interview: "We are curious to see what thought-provoking impulses, new perspectives and horizons OutDoor by ISPO will open in cooperation with EOG."
ISPO.com: OutDoor will take place for the first time in Munich in 2019. Why is it important for you to be an exhibitor at OutDoor by ISPO?
Stephan Hagenbusch: We welcome the move of OutDoor to Munich simply because Munich, as a well-connected city, offers many location advantages for an international trade fair. It is obvious that the outdoor industry faces challenges such as digitalisation, an ageing population and competitive pressure from other industries. We are curious to see what thought-provoking impulses, new perspectives and horizons OutDoor by ISPO will open in cooperation with EOG.
Clearly, OutDoor is the most important trade fair for the outdoor industry. On the one hand, it is important for us to have a presence here, on the other hand we benefit, just like the entire industry, from the direct dialogue with customers, media and competitors. The move to Munich gives hope for increasing numbers of trade visitors. We expect more contacts to dealers from Germany, but above all also from abroad.
The term "outdoor" is undergoing a transformation. What does outdoor mean for you and your company?
Outdoor no longer stands for certain activities, but for an attitude to life that, in contrast to the digital, ever faster spinning world, enables us to have real experiences. Here we seek and find moments of freedom, come to our limits - and sometimes even overcome them - and spend time with people close to us. We try to take up this paradigm shift in our communication and the development of products and services and thus also address new target groups.
Despite the consumer-centric approach, the industry is sticking to the B2B trade fair. Why is the trade fair still so important? Will it remain so for the outdoor industry in the future?
B2B is an essential pillar of our business and will remain so. The trade fair, however, will have to adapt to changing budgets, for example. If it is to remain relevant in the future, an innovative link between B2C and B2B is needed.
Because one thing's for sure: The consumer is at the centre of all our considerations right from the start, whether it is the development of products or the preparation of quotations for our dealers. The expansion of our portfolio to include customized products and interactive/digital services plays an important role here.
Black Diamond Equipment is a US manufacturer of climbing, skiing and mountaineering equipment headquartered in Holladay, Utah. The company was founded in 1989 by employees of the insolvent climbing equipment company Chouinard Equipment, including Peter Metcalf. The later Black Diamond CEO led the company to success.
More reactions to OutDoor by ISPO