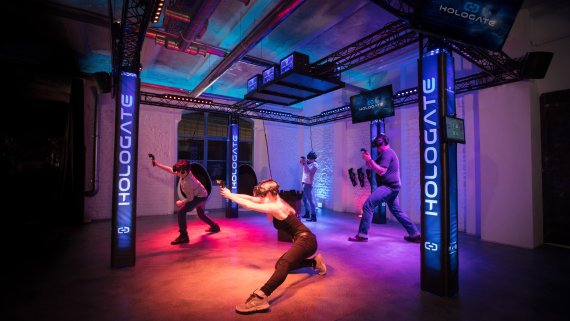 eSports and Virtual Reality (VR) inspire millions of people worldwide. This year they are also one of the highlights of ISPO Munich Sports Week. Hotspot is the Globetrotter Store at the Isartor in Munich with an exciting program from Monday to Wednesday (February 3rd to 5th).
The city will build a bridge to the specialist public at ISPO Munich on the exhibition grounds in Munich-Riem. Visitors in both locations can have a virtual snowball fight thanks to the Hologate VR multiplayer system. In the VR game "Groove Guardians", the virtual duel in teams of four in both locations even provides a real fitness effect for the participants.
In addition, a FIFA 19 tournament with 32 participants will take place every three days in the competition arena at Globetrotter (where the water sports area is usually located). Each day's winner can look forward to a shopping voucher of 150 euros. Before the soccer games on the computer will start, you can compete with eSports pros like Marvin "M4RV" Hintz from Bayer 04 Leverkusen or Stefan "Topik" Beer from Borussia Mönchengladbach.
So the event is a perfect chance for newcomers to get a first impression of computer sports or for gamers to meet some of the stars of the scene.
"eSports is a major trend and will also play a major role on the sports market in the future. In our adventure branch we consciously want to risk something new and address new customers", says Claudia Dreibrodt, Marketing and Event Manager of the Globetrotter branch in Munich.
Tobias Gröber, Head of ISPO Group, considers such campaigns an important instrument for the future of sports retailing: "With the possibility of live events at the point-of-sale (POS), specialist sports retailers have a modern and digital instrument at their disposal to attract the young generation to the retail, and to additionally emotionalize the shopping experience".
Quite fitting to the current snow and avalanche situation, Mammut is offering two exciting events not in the cinema but in real life as part of the ISPO Munich Sports Week 2019. The Snow & Safety Workshop on Wednesday (6th of February) will take place in the Mammut Store, and on Saturday (9th of February) there will even be an avalanche training session in Lenggries.