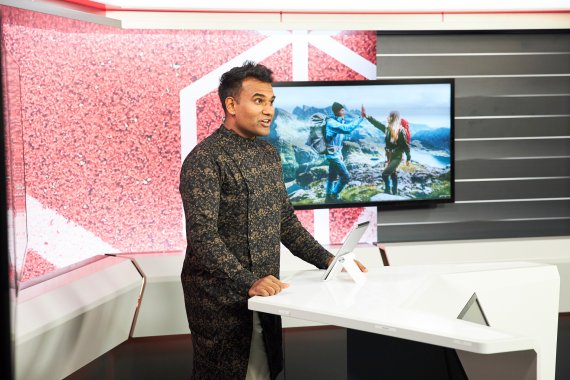 Outdoor multi-talent and top athlete Kilian Jornet made an appeal to the industry on the morning of the fourth day of the event. "We as outdoor specialists are the industry that is most closely connected to nature. We also experience the impacts like climate change or glacier melt the most," said this year's ISPO Cup winner in his Impulse Speech.
"It's great that ISPO is making sustainability a priority on its agenda. For the whole sports industry, collaboration is the key to change in this." The Catalan thus kicked off an event day that was all about sustainability.
The UN's Sustainable Development Goals (SDGs) are an ambitious framework for sustainability efforts in the sports and outdoor industry. But how can sports brands best implement them? Richard Collier, CEO of Jack Wolfskin, advises focusing on individual goals: "Figure out which SDG best fits your brand and pursue it vigorously. Because it's impossible to achieve all the goals at once."
Bluesign CEO Jill Dumain has a similar view. "Connect the sustainability goals to your core competencies: If you build kayaks, advocate for water quality," she recommends.
The EU Commission's Green Deal is also a step toward more sustainability, especially for textile manufacturers. "It is both an opportunity and an obligation. It's good for the outdoor industry, because it's already further ahead than other industries are. But there is still a lot to do, and it is now also demanded by the legislation. The sooner we adapt to that, the better."
 Rebecca Johanson, Sustainability and R&D Manager at Helly Hansen, cautions that in order to fight climate change, it is essential to radically reduce CO2 emissions as early as the next nine to twelve years: "There is a sense of urgency there."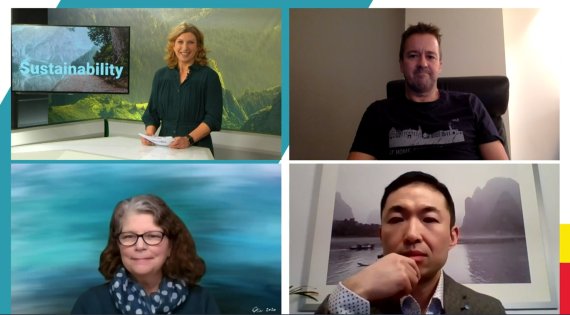 Adidas presented its holistic approach to sustainability, which aims to achieve the use of only recycled polyester by 2024 and climate neutrality by 2050. Today, Adidas already uses 60 percent recycled polyester. Carla Murphy, General Manager Adidas Outdoor, also explained the brand's material principle consisting of loops:
Recycled Loop: recycled material becomes products.
Circular Loop: old products become new ones at the end of their life cycle
Regenerative Loop: Materials made from renewable natural resources are used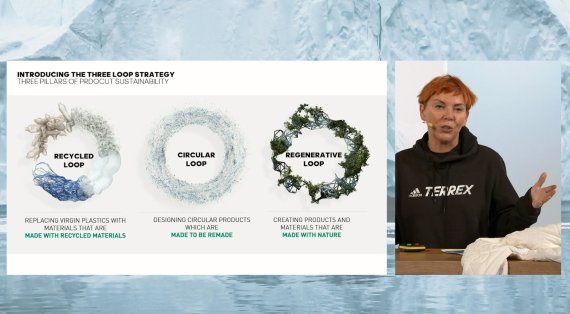 Gore also presented its sustainability efforts. Achim Löffler, Gore Global Business Leader Consumer Oriented Fabrics, presented in his keynote , among other things, the current research efforts for a new GORE-TEX membrane that will be free of ecologically harmful PFCs, as well as a project that is testing the rental of GORE-TEX clothing at selected U.S. ski resorts.
Gore aims to be completely carbon neutral by 2050 and is targeting a 60 percent reduction in CO2 emissions at its own manufacturing facilities and offices by 2030.
The Haglöfs Nordic Expedition Down Jacket is the ISPO Award Product of the Year in the outdoor segment! In the afternoon, the functional jacket that keeps you warm even in extreme cold was awarded. Its insulation keeps dry and warm for up to 10,000 minutes even in extreme, wet and humid conditions - and with a high warmth-to-weight ratio: in size L, it weighs just 850 grams.
For Victor Adler, Global Marketing Director at Haglöfs, the award is the crowning achievement of a special year: " "We are very happy, and honored, to receive the prestigious ISPO product of the year award for our Nordic Expedition Down Hood. This has been an exceptional year in many ways, and we are incredibly proud of being able to develop such a complex innovation in a year like this."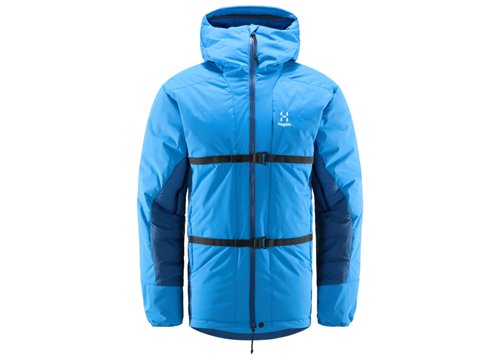 The sports industry must change decisively. This is the result of the premiere study by McKinsey in cooperation with the World Federation of the Sporting Goods Industry (WFSGI). According to the study, eight key issues will determine the future success of individual market players.
"We are at an inflection point. The New Normal is taking shape faster and faster and the sports industry has to change," Alexander Thiel, partner at McKinsey, summarized the results of the study "Sporting Goods 2021" at ISPO Munich Online.
At this year's digital edition of the Runner's World running symposium, Urs Weber and top-class guests took a close look at the latest trends and developments.
Weber himself summed up the basic mood of the industry post-2020: "In these very negative times, we are seeing some very positive figures." The number of runners went up in 2020, as was the willingness to invest more in quality running equipment. "2020 has completely turned around. Our launch became one of our best ever," also confirmed Sebastian Bär, CEO of Joe Nimble.
On Co-Founder Caspar Coppetti pointed to the trail running boom: "Everyone has fled the cities for the outdoors. In addition, trail running shoes are flexible and can also be used for light hiking, for example. They are benefiting from the outdoor comeback."
Andrej Zwer, Category Director Adidas Outdoor, reported on the rush to the Adidas Outdoor online shop, which was sold out throughout: "The world stood still, trail running never did."
The gyms on the other hand are forced to stand still in the face of the Corona lockdowns right now. What's next for the fitness industry and how can it restart? In a panel, high-profile industry representatives gave their assessment.
Martin Seibold, CEO of Fitness First, anticipates two difficult years in 2020 and 2021 with studio closures, but ultimately a doubling of gym goers in the next ten to 15 years. "Sports will benefit from the pandemic. Health is more of a focus than ever," Seibold said. He sees studios specialising in individual sub-sectors of fitness training in Europe in the future, following the US model.
Ralph Scholz, CEO of Leisure Connected, is banking on a run on the studios for the restart, as the second lockdown in winter lacked the compensation of outdoor sports: "This second lockdown will become very important in reactivating members afterwards."
Benjamin Roth, CEO and Co-Founder Urban Sports Club, sees a need for experiences in the future among end customers. He says this cannot be delivred by pure training at home: "Online training is an addon, but it won't replace studio visits."
Oliver Sekula, CEO at ACISO Fitness & Health, is also banking on this, calling on politicians to open up gyms quickly: "Gyms are part of the solution with their positive effect on the immune system. Governments need to understand this as soon as possible. People want to exercise after this terrible time. They need exercise, their bodies crave it. This is a real opportunity for studios and retailers." Sekula sees hybrid training consisting of studio workouts and workouts at home as an enduring trend.
In the afternoon, two innovative products, the running shoe On Cyclon and the Smart-Mirror VAHA, were chosen as ISPO Award Products of the Year 2021 in the Running & Fitness segment.
The Cyclon by On shines not only with top functionality and environmentally friendly production, but also with its subscription model: At the end of the service life, the worn-out shoes are exchanged for new ones.
The VAHA is design furniture and fitness trainer in one: It offers many workouts from the categories cardio, strength, yoga, dance and flexibility, in addition personal training via video call and nutritional advice on the mirror are possible.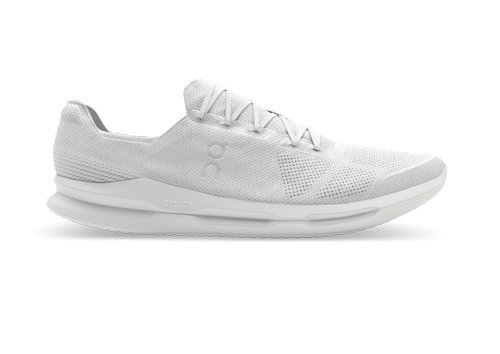 As a football goalkeeper, Timo Hildebrand was a German national player and German champion with VfB Stuttgart. In the meantime, he organizes yoga festivals and opens his own vegan restaurant "Vhy!" in Stuttgart. Host Jennifer Sarah Boone spoke with Hildebrand about his path to yoga and vegan nutrition.
"I knew yoga from my national team days in 2006 at the World Cup. I had hip surgery in 2015 and was looking for a way to feel better in my body. Yoga is a good way to get back into shape and balance after the football injuries," said Hildebrand, for whom yoga has now "absolutely arrived in the middle of society."
Especially in the Corona Lockdown, Hildebrand sees yoga as the path to physical and mental health. "A lot of people are home bound and there are a lot of online offerings. Basically, all you have to do is roll out your mat and you can get started with YouTube videos. It's a good substitute for someone who usually goes jogging, biking or goes to the gym."
Adam Ondra is one of the most successful sport climbers of our time. He successfully climbed the most difficult route in the world and established a new difficulty level - 9c. The Czech climber has also shown what he is capable of in big wall climbing: He conquered the Dawn Wall in just eight days - on his very first trip to Yosemite. The film "The A.O." in the Public Stream showed everything about the forces that drive Ondra to new heights.
And the star of the film himself was there live to answer questions about his unique career. For example, he revealed to the ISPO community that he carries protein bars and warm water or tea on every trip. "I pay a lot of attention to the quality of my ingredients. I avoid fast food and eat hot meals three times a day," Ondra explained his nutrition plan.
His biggest wish for the future is not to climb a 10a, but "to be able to keep climbing as long as possible, not necessarily at the highest level." But for now he focuses on the climbing premiere at the Olympics in Tokyo.