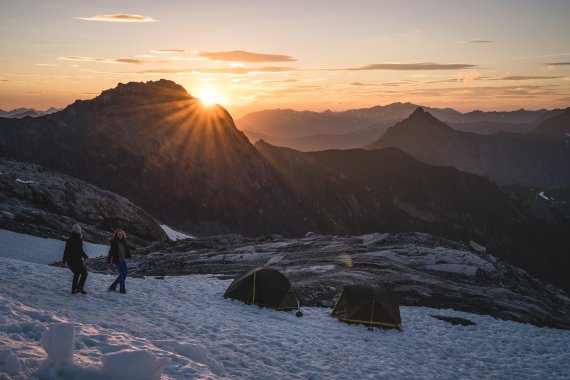 On Thursday, ISPO Munich Online will dedicate an entire day to the focus topic of sustainability in the conference program. Among others, representatives from Adidas, Gore and YKK will present their latest findings and projects in their keynotes. Industry experts will discuss in several panels.
ISPO.com presents the program highlights of Thursday.
The first highlight starts shortly after the beginning of the fourth day of ISPO Munich Online at 10:10 a.m.: Then endurance-superstar star Kilian Jornet will speak about sustainability in sports.
Starting at 15:30, the ISPO Award 2021 will be presented in the Outdoor category. Because every sports year not only brings new top performances on the tracks and slopes and in the stadiums and pools of this world. The sports industry also presents outstanding products time and again. After the jury meeting, the winners and gold winners will be presented. 
In the roundtable on the topic "Teaming up for circularity" at 5:05 p.m. Helen Braun from the European Commission and Adidas Director of Platform Innovation James Tarrier will discuss resource cycles and how to make them as environmentally friendly and sustainable as possible.
Three big brands from the sports and outdoor industry will be giving keynote speeches that will provide food for thought for a green future in the sports business:
3:50 p.m.: Sustainable Development Goals (SDGs) - an aspirational plan of action, Jill Dumain (CEO Bluesign)
Ziele für nachhaltige Entwicklung (SDGs) - was sind sie, warum wurden sie entwickelt und was sind die Konsequenzen - eine kurze Einführung mit 5 Ps.
4:50 p.m.: Environment & Community - YKK's Sustainability Journey
5:30 p.m.: adidas Sustainability - Full Commitment
Frank Henke (SVP Sustainability), Carla Murphy (General Manager Outdoor)
5:45 Uhr: Gore - Innovating for Responsible Performance
Achim Löffler (Global Business Leader)
The European Commission's Green Deal and Circular Economy Plan has identified the textile industry as one of its priority areas. Industry-wide challenges require action and collaboration to make an impact. What does the Green Deal tell us - an introduction for us as entrepreneurs and examples from the industry. Joining us will be Rebecca Johansson (Sustainability and R&D Manager Helly Hansen), Julian Lings (Senior Sustainability Manager Icebreaker), Jan Lorch (CSO Vaude). The panel starts at 4:25 p.m.
In the Gore panel "Sustainability is a Team Sport" starting at 6:15 p.m., industry representatives will discuss the extent to which the sports and outdoor industry can mobilize itself, as well as consumers, for sustainable action.
From noon to 2 p.m., brands will provide insights into innovative products, materials and strategies in more than 20 workshops. Some of the workshop highlights on Thursday:
Bluesign: Roadmap towards prioritization of brand sustainability initiatives

Mammut: Together for Glaciers

TTF: Sustainable Textile Innovation Online New Product Launch

and more to come by Buff, Helly Hansen, Vaude, DuPont, EOG, etc.