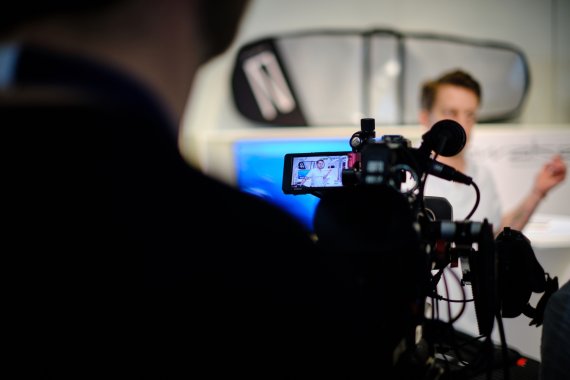 ISPO Munich Online offers keynotes, product presentations, workshops and exciting panel discussions. We have collected dates that journalists should not miss.
ISPO Munich stands for insights into trends and new products from the world of sports. At the inaugural presentations of the ISPO Award 2021, the "Products of the Year" will be unveiled, and at ISPO Brandnew, the industry's most exciting start-ups will pitch for the overall victory.
The dates at a glance:
Monday, 17:45 - 18:35: ISPO Brandnew Pitch for the title of Overall Winner.

Monday, 16:35 - 17:10: ISPO Textrends Awards

Tuesday, 15:30 - 15:50: ISPO Award Snowsports

Wednesday, 15:00 - 15:20: ISPO Award Fitness, Running, Urban

Thursday, 15:30 - 15:50: ISPO Award Outdoor

Friday, 10:00 - 10:10: ISPO Award Public Choice Award
The Scandinavian Outdoor Award of the Scandinavian Outdoor Group (SOG) will also be presented at ISPO Munich Online. On Monday at 5 p.m. the award ceremony will begin in the Scandinavian Outdoor Group's Brand Room.
SOG will also host its own media event in its Brandroom on Tuesday, 1 - 2:30, featuring the latest products from some of its 65 member companies.
Italian mountaineering and climbing shoe specialist La Sportiva has reserved Monday afternoon for the trade press: The outdoor company will present its new products in three livestreams:
Monday, 15:00 - 15:40: Vanguard Skiboot

Monday, 15:45 - 16:15: Mountain Running

Monday, 16:30 - 17:00: Climbing
Elan presents its new ski Elan Voyager Monday at 5 p.m. in its brandroom. The ski won the prestigious ISPO Gold Award. 
Rab and Lowe Alpin invite you to the Brandroom on Friday from 12:30 to 13:30 to present the FW 21 collection and the sustainability strategy.
Europe's largest outdoor trade show, OutDoor by ISPO, will take place online and on-site from July 5 to 8. In their Impulse Speech on Friday, 10:10 - 10:30, Mark Held, President of the European Outdoor Group, and Tobias Gröber, Head of Consumer Goods Messe München GmbH, will present the concept for this year's edition of OutDoor by ISPO.
The outdoor industry is a pioneer when it comes to sustainability, which is becoming a purchasing argument for more and more end customers. What is state of the art in terms of sustainable and responsible production and what challenges need to be solved will be discussed at the following dates. Info: Additional accreditation for the conference area is required.
Thursday, 13:00 - 14:00: Together for glaciers with speakers from Mammut

Thursday, from 15:50: Sustainable Development Goals with speakers from Bluesign, Sorona DuPont, Jack Wolfskin

Thursday, 16:25 - 16:50: Green Deal Panel with speakers from Icebreaker

Thursday, 17:00 - 17:15: YKKs path to sustainability

Thursday, 17:05 - 17:30: Teaming up for Circularity with speakers from Adidas, EU Commission, Fashion for Good, ISPO

Thursday, 17:30 - 17:45: Adidas Sustainability Commitment with speakers from Adidas

Thursday, 17:45 - 18:00: Gore - Innovation for responsible performance

Thursday, from 18:00: Sustainability - a Collaborative Imperative for the Industry with speakers from Gore, Mammut, Salomon, Higg-Index
The winter sports industry is facing particular challenges as a result of the Corona crisis. This panel shows how the decision-makers are looking to the future. Info: Additional accreditation for the conference area is required.
Monday, 15:00 - 16:05: Restart in Winter Sports with speakers from the German Ski Instructors Association, the Association of German Sports Retailers, Uvex/Alpina, Elan, Eurosport, Intersport and the German Sport University Cologne
What role do sports and the outdoors play in society? What are new creative trends? How are the markets developing? These questions will be addressed in keynotes, workshops, masterclasses and panels. Info: Additional accreditation for the conference area is required.
Monday, 14:00 - 15:00: Futurecraft - the role of sustainable innovation and insights into product creation with speakers from Adidas.

Monday, 17:10 - 17:45: On creativity and subcultures with speakers from Gore

Thursday, 13:00 - 14:00: Market data from the outdoor market presented by the European Outdoor Group

Wednesday, 10:10 - 10:30: State of Trade with speakers from McKinsey and the World Federation of Sporting Goods Industries (WFSGI)

Wednesday, 12:00 - 13:00: Development of the bicycle market with speakers from Sports Marketing Survey

Wednesday, 16:25 - 16:55: Runner's World Panel - How Corona is changing the running business with speakers from Runner's World, Adidas, etc.

Wednesday, 17:55 - 18:20: The opportunities for the fitness industry after the reopening with speakers from DIFG, Urban Sports Club, Lifefit, Aciso, among others
How do top athletes, sports associations and sports events look to the future? At ISPO Munich Online, the athletes themselves will have their say. In addition, the organizers of the European Championships Munich 2022 take a look ahead. Info: Except for the ISPO Cup  ceremony on Monday evening, additional accreditation for the conference area is required.
Monday, 10:00 - 10:10: Opening of ISPO Munich Online with Malaika Mihambo (long jump world champion) and Messe München CEO Klaus Dittrich.

Monday, 13:00 - 13:30 p.m.: European Championships Munich 2022 - from history to the future

Monday, from 19:00: Unveil Night - ISPO Cup award ceremony for an outstanding sports personality

Wednesday, 12:00 - 13:00: Workshop on Neuroathletic Training, Speaker: Lars Lienhard

Wednesday, 15:20 - 15:45: Relevance of sport in the pandemic with speakers from the German Sport University, Bundestag, Deutscher Turnerbund, DIFG

Wednesday, 16:55 - 17:10: Adventurer Mike Horn x Icebreaker

Wednesday, 17:10 - 17:25: Yoga, vegan nutrition and sports with Timo Hildebrand (ex-national football goalkeeper)

Thursday, 10:10 - 10:30: Kilian Jornet (top trail runner) with keynote about sport, nature and sustainability
Friday, 15:15 - 15:40: Kilian Jornet (top trail runner) in a panel on physical activity as a driver for sustainability