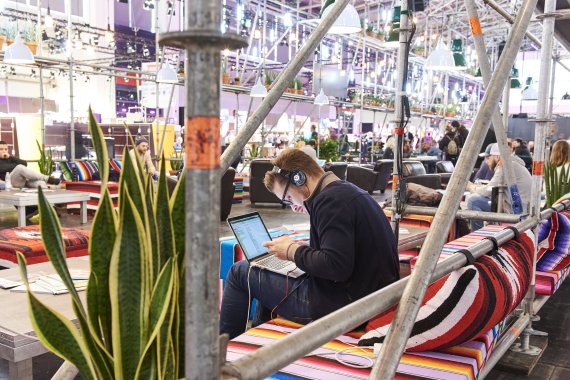 An official press accreditation with free entry to every day of the trade fair
ISPO Munich does not make a distinction between representatives of traditional media and established influencers from the sports sector
The most exciting new sports products for the coming year—all in one place
Opportunities to interview decision-makers from the sports industry, athletes and experts
Exciting activities, presentations and events
Lots of opportunities to network with other bloggers and media representatives
With more than 2,700 exhibitors and countless scheduled events, you could easily lose track of things. We've therefore put together some useful tips to help you plan your visit to ISPO Munich 2018 from January 28-31.
The themed focus areas for the eight segments including Outdoor, Snow Sports and Health & Fitness are your first port of call for networking at ISPO Munich. Here, you have a unique opportunity to get into conversation with the exhibitors. Workspaces and free WiFi are also available there. All bloggers are entitled to receive two coupons* in the Press Center West by presenting their press ticket. *the press accreditation has to be filed as a blogger
Entrance West: ISPO Munich & Women's Lounge    
A3: Snow & Safety–Vertical Fitness Lounge    
A4: Digitize 
A4: CSR Hub & Sustainability Kiosk
A4: Outdoor & Watersports Village
A5: Longboard Embassy
A6: Health & Fitness Forum
B4: Welcome to Snowsports
B4: ISPO Brandnew Village
B6: Heroes of Snowsports
C3: ISPO Textrends Forum
Influencer get-together: In cooperation with SAMSUNG we'd like to invite you to breakfast! Get to know other in-fluencers and start the second day of the trade fair with us                                                                  
Bloggers breakfast sponsored by SAMSUNG
When: Monday morning, January 29, 2018, starting at 10:00
Where: Nutrition Bar, hall A6
Where is the sector going?  What are the topics that will interest athletes, amateur sports fans, manufacturers and retailers in the coming years?  Numerous high-profile speakers will answer these questions at the ISPO Academy in the Conference Arena.
At the ISPO Brandnew Village tour, you can experience the hottest start-ups in the sports sector. On Monday, January 29, we'd like to invite you to an exclusive influencer tour of the ISPO Brandnew Village following the Influencer get-together breakfast.
On Sunday, January 28 and on Monday, January 29 at 15:00: Be part of the exclusive tour for influencers and journalists under the heading "Women in the Sports Business"
Meeting point: Women's Lounge in the west entrance. Registration via Sabrina Weiss: sabrina.weiss@fiedler-concepts.de
You are interested in ski touring and free riding? Join the Snow & Safety Summit tour in Hall A3. Current ski and safety trends as well as developments will be presented there on Tuesday, January 30 at 11:00.
Please note that your registration does not authorize the access to the trade fair itself. You will only receive a complimentary press ticket as an officially accredited blogger/influencer, which enables you to enter the fair.
For more than 170 bloggers and influencers from Australia, Germany, France, and many other countries, ISPO Munich 2017 was the place to meet up over four days to find out about the latest trends from the world of sport, chat with manufacturers in person about new products, meet athletes, and simply be inspired. 
You can find an overview and abstracts from exciting blog articles about ISPO Munich 2017 on ispo.com.