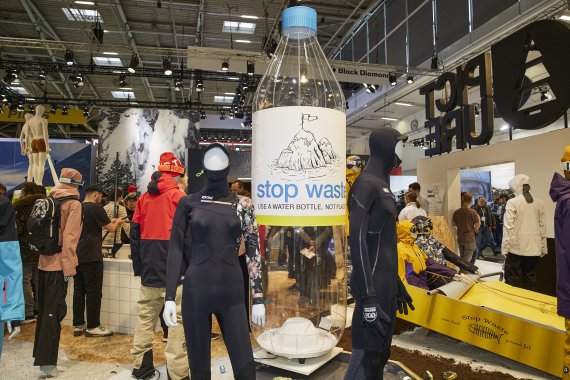 At ISPO Munich 2020, almost every manufacturer focused on sustainability. But one brand's stand was particularly eye-catching: A three-meter high plastic bottle jutted towards the ceiling at winter sports specialist "Picture". An oversized cereal bar packaging distracted from the latest collection. As if this wasn't provocative enough, someone had positioned two penguins in front of a huge thrown-away sardine tin as if they were in front of a carriage.
It was very much clear that nature conservation is important to the people behind Picture. The French brand won the ISPO Award with its organic snow sports hardshell jacket. Additionally, everyone visiting the brand's website will find the topic of "sustainability" at the top of the drop-down menu.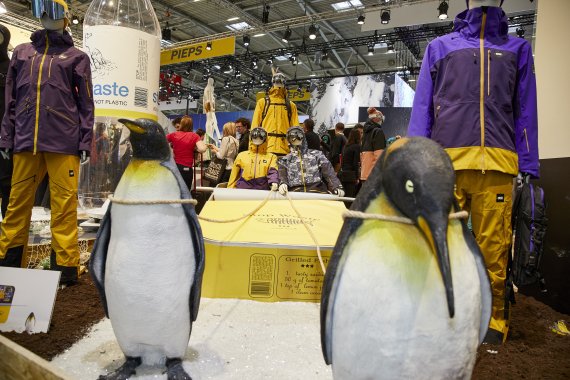 It is good and important that sporting goods manufacturers are now concerned with climate change. But it is certainly not only environmental protection that is behind such campaigns. Climate protection is in, flying is out. Many city dwellers are voting green, children are demonstrating for a better climate policy and the whole of Germany wants to save the bees. When a sports brand advertises recycling in times like these, then it's good news. It's appealing and it hits the nerve of our times.
Purpose Driven Marketing is the technical term used when brands appear as political actors, take a stand on social issues and show a certain attitude. This Purpose Driven Marketing is by no means only about climate protection.
Probably the most famous example of Purpose Driven Marketing was a Nike campaign in 2018: After football star Colin Kaepernick got down on his knees during the national anthem in 2016 in protest against police violence in the USA and President Donald Trump called him a "son of a bitch", Nike hired the NFL quarterback for its latest "Just-Do-It" campaign.
The sporting goods manufacturer not only set an example against racism, but also made its Swoosh a symbol against Trump. The action polarized, led to calls for a boycott - and a record high for the Nike share price. The case of Patagonia is also well known: In 2019, the outdoor outfitter explicitly distanced itself from Wall Street bankers, among whom Patagonia's vests were suddenly the big hit.
According to the Prophet Brand Relevance Index, for example, consumers are increasingly choosing their clothing according to the social values behind the manufacturers. They like it if brands show an attitude - which means that fewer and fewer brands are afraid to position themselves. The Irish company Accenture asked customers why they buy certain brands and published the following survey results:
62% choose a brand because it represents certain ethical values
62% choose a brand because it wants to reduce plastic and protect the environment.
66% choose a brand because it represents a particular culture and delivers on its promises.
52% choose a brand because its attitude matches their personal values.
Further data is provided by the "Purpose Success Study" commissioned by the organization "Advertisers in the Brand Association" (OWM): According to the study, 83 percent of customers demand that companies act responsibly and 60 percent try to "consume according to purpose". For many brands, this is an opportunity to set themselves apart from competitors, to retain customers on a more personal level for the long term and also to achieve something good.
If one believes the consulting firm "Globeone", however, most companies in Germany were not yet ready for Purpose Driven Marketing in 2018: Only 18 percent of the brands had a "higher purpose" two years ago. In the meantime, this figure is likely to be higher. Many manufacturers at ISPO Munich 2020, at any rate, communicated their higher purpose at their exhibition stand:
Arcteryx is one of the signatories to the "Fashion Industry Charter for Climate Action" of the United Nations. One of its goals is to reduce greenhouse gas emissions by 30 percent by 2030.
Bergans drew attention to itself with the "Save the Seasons" campaign: The Norwegian company wants to make the seasons a UNESCO World Natural Heritage and collected signatures at ISPO Munich 2020. "Nature is our fundament. If we carry on like this, this basis may soon no longer exist", said Anne Eggers at the outdoor outfitter's stand. "It's not just about our business. It's much more - it's about our future."
Icebug is the first shoe brand in the world that not only operates climate-neutral, but also in a climate-friendly way. Icebug Germany Managing Director Mathias Basedow said: "Last year at ISPO Munich, we committed ourselves to becoming climate neutral. At that time we didn't even know what it would cost us and we were sweating a lot. But it was easier than we thought and at some point we found zero is not enough for us, we want more. Now we're jumping higher than we actually need to and we're even climate-friendly."
Wool expert Ortovox shows attitude with "Ski local" and appeals to its customers to use the mountains on their doorstep and travel to the event by train. "Especially if you live near the Alps, it is absurd to fly around the globe and ski in Canada, for example", said Hendrik Reschke, Head of Communication at Ortovox, where a sustainability department has been introduced several years ago.
Many outdoor brands such as Arcteryx, Bergans, Edelrid, Keen, Lowa, Northface, Osprey, Patagonia, Schöffel or Ternua support the numerous nature conservation projects of "Eoca", the European Outdoor Conservation Association".
Reiner Gerstner, Head of Marketing at Schöffel: "As the oldest outdoor brand in the world, we have always taken sustainability for granted. For us this is not a marketing issue, but an attitude. We benefit from nature, so we must protect it." Katrin Lörch, Schöffel's PR officer, confirmed: "Sustainability is not a peak topic in our marketing because we take it for granted. We have had a repair service since the very first pair of hiking trousers, because it is important to us that things last a long time and become favourite parts for our customers".
Even if climate protection is particularly "in": Purpose Driven Marketing does not always have to be about sustainability. There are many other areas in which brands are involved.
These sports brands are also showing attitude, albeit not in relation to the climate:
In 2016, Adidas joined the German business initiative "Wir Zusammen" (We Together) to support the integration of refugees. The Herzogenaurach-based company also signed the "Berlin Declaration" against homophobia in sports and is considered a model employer for gays, lesbians, bisexuals and transsexuals according to the "Corporate Equality Index 2016".
Ski brand Blizzard strengthens women's winter sports with "Women 2 Women".
Decathlon launched a running hijab to enable Muslim women to exercise. But the company probably overstepped the mark and received a lot of criticism. In the meantime the sale of the product has been stopped.
The "Girlfriend Collective" brand advertises with ethically correct production and recycled materials.
Winter sports equipment supplier K2 supports "SheJumps", a project that aims to motivate girls and women around the world to do more sports.
Kinetic Balance has set itself the goal of "becoming the world's most important brand for wheelchair clothing" and "changing the world of wheelchair clothing".
The outdoor brand "Sherpa" supports people and communities in Nepal. According to the company, every item sold enables a child in Nepal to have a day at school. The company aims to generate 10 million school days by 2030.
Purpose Driven Marketing is now considered the supreme discipline of marketing. However, it has its pitfalls: If a brand makes false promises or does not follow up on them, it will be exposed in the public - and this will permanently damage the brand's image. This is because customers who buy products for a greater purpose are particularly sensitive.
91 percent of Millennials, according to the Deloitte Global Millennial Survey 2019, would turn away from a brand if they could no longer identify with its purpose. So a company needs to be careful if it wants to be successful with Purpose Driven Marketing. But with skill and credibility, Purpose Driven Marketing benefits everyone: the brand, its customers - and of course the higher purpose.