ISPO.com: Jan Tore Jensen, what is the idea behind "Save the Seasons"?
Jan Tore Jensen: It can be a very long story, I'll try to keep it short. In several workshops we found out that we always work seasonally and are dependent on all four seasons. So we wanted to combine both - the seasons and our product concept.  That was the beginning. Together with a PR agency, we developed the campaign and asked ourselves whether our goal could not be more comprehensive? That's how the idea came up.
Didn't you have economic reasons as well?
Of course it is an economic factor for us. We sell clothing, backpacks and equipment. When winter disappears, there will be no skiing anymore. In fact, it's so much more than just products - it's a much bigger reason and it feels right.
At Christmas, for example, I went skiing with my family. One day we had minus 18 degrees and two days later plus 6 and it was raining. When I was growing up, it wasn't like that. We used to have a lot of snow in the past. Now I couldn't take my son skiing because there was only some ice. So it really has a higher purpose for us. When we started communicating the campaign, we said: This is relevant to the whole industry.
When did you start with the petition?
The idea to save the four seasons was developed a long time ago. But the realization of putting them on the UNESCO World Heritage Sites list was in August 2019. Within the first two days of ISPO Munich 2020, more than 1,000 people had signed the petition.
To be honest: The idea sounds a bit crazy at first. Normally there are only physical things on the UNESCO's World Heritage list, protective areas or National parks ...
Yes, that is a part of the problem because the seasons cannot be classified into the criteria of UNESCO. It's a big goal and we know that. But we just need to work even harder.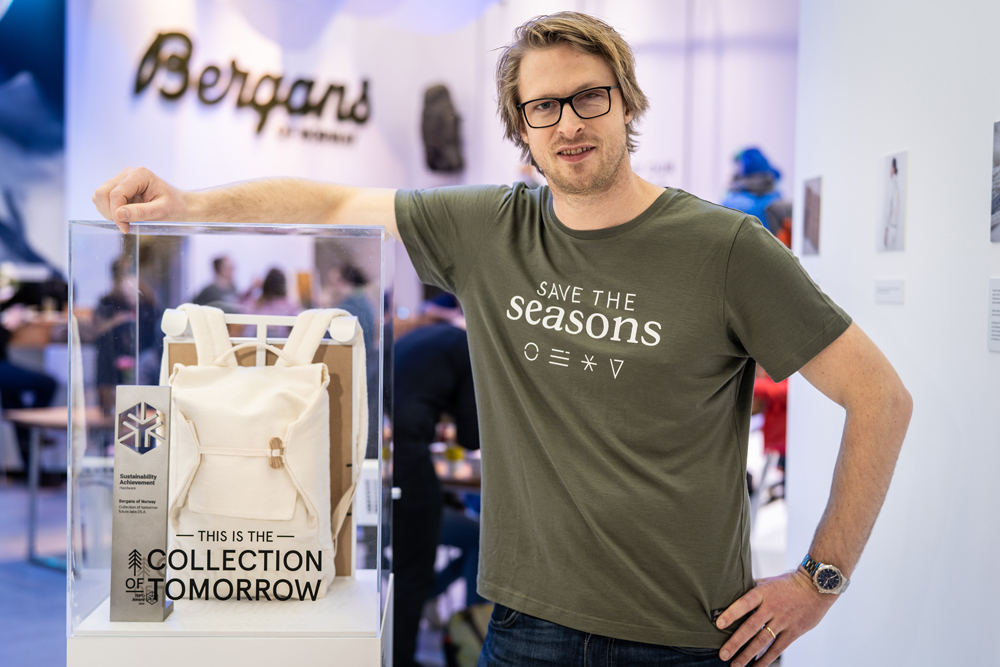 People who want to sign the petition can't do that on the Bergans website. Why did you create a new website for "Save the Seasons"?
We really want to disconnect this campaign from our products. We are not trying to sell products with this. "Save the seasons" has its own neutral website. I can't sit here and talk about products for snow and there is no snow. A connection to products casts a shadow on the higher purpose.
What are the next steps?
We didn't want to do this on our own. So we pitched the idea to WWF because they have the same ambition as we have. They know more about ecosystems. We just see the climate change like a disease but they know more about how this is affected. The strategic partnership with WWF is contracted for two years at least. Together with the WWF we have written a letter to the Department of Climate and Environment of the Norwegian government. They need to file the application for the UNESCO so we need them to be part of it.
We don't want a kind of finger pointing on politicians and say, hey; you need to solve this problem for us. They have power but they cannot do it alone either. We are pointing at everybody, including ourselves. We need to change, the consumers need to change and the politicians need to help. We want to raise the questions to the whole industry. Some brands, for example Icebug CEO David Ekelund already came up to us.
So you are willing to include other brands in case they want to join?
Yes, in fact we never really thought it was an option. That other brands come to us and say: Hey, we're interested in signing as a brand and want to support you. Of course everybody can join, we are open to all brands that support our project.
To support the petition you produced a very sad and emotional video.
We don't want to scare people, but it is scary and an important topic. In Oslo we had the first January in history without snow. Instead of snow in our huge botanical garden the flowers were starting to bloom. Everybody needs to care about this. When we showed the video in the main office, people started crying. It was so emotional.
Do you plan to write letters to other governments?
No, but if we get all the big brands on board, they could also influence their governments. As I said before, some brands approached us at ISPO Munich and we are in contact with them. Hopefully there are more brands that want to be part of the movement.
Do you think your campaign will be successful and the seasons make it on the UNESCO World Heritage list one day?
I definitely think they can. We believe it is possible. We want to be part of trying to help the climate. When our four seasons are on the World Heritage list, the logical next step is to preserve them. So if we get them on the list, the politicians need to act. That would be at least the first victory.