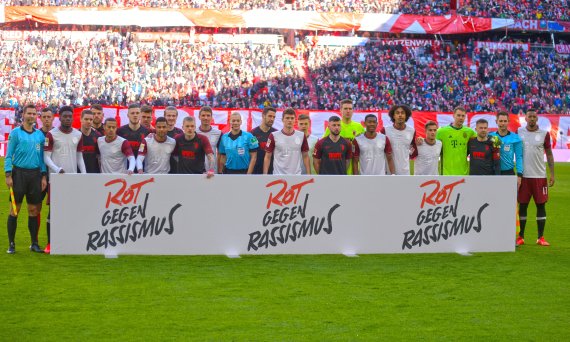 The running brand Willpower is positioning itself with a whole collection against racism: "Run Down Racism" is the name of the line of sporting goods from running shorts to shirts and beanies with the lettering. A few days before the Week Against Racism, company founder Chris Zehetleitner also positions himself clearly on his blog Too Far Gone: "Running is political. […] Raise your voice. Show where you are. Stand up to injustice when you see it.
Initiatives by football associations such as the "Red Card Against Racism" by DFB and DFL, "No to Racism" by UEFA and "Kick It Out" by the English Premier League keep raising awareness of racism with campaigns and initiatives on and off the field.
FC Bayern Munich launched its "Red Against Racism" campaign on March 5 2020, with which the club wants to set an example against exclusion, insult and intolerance.
President Herbert Hainer said: "With our action we want to show an attitude against hatred, agitation and any kind of violence. Racism is one of the worst forms of discrimination and has no place in our world. Football must be fun. That is what FC Bayern stands for - just like the values of tolerance, respect and diversity."
Chairman of the Board, Karl-Heinz Rummenigge further explained: "In the past few weeks, there have been incidents in the stadiums of the Bundesliga that we all cannot like. We are particularly concerned about the increasing incidents of racism. That's why we're showing racism the red card. With our long-planned campaign 'Red Against Racism', we want to help ensure that our stadium culture, which is envied all over Europe, is again determined by reason and humanity."
In the campaign, players from the club's football and basketball departments take up position alongside the club managers. Alphonso Davies explained with a view to his incredible life path from a refugee baby to a Bayern Munich professional: "I know football knows no boundaries". Oliver Kahn reported that he can easily identify himself with people who face hostility every day: "It's a feeling of devaluation, humiliation and exclusion."
Uli Hoeneß warned that in Germany "there are still people who trivialize the Nazi era". Player Lineth Beerensteyn tells how people in her home country, the Netherlands, deal with the issue ("we can all learn from each other"), and basketball player Alex King gives insights into how he felt as a child when he was confronted with discrimination. The German international says: "Open your eyes! Guys, racism has long been out!"
Already in January, the German Gymnastics Federation (DTB), the German Ice Hockey Federation (DEB) and the German Karate Federation (DKV) launched a joint campaign against racism back in January: Under the motto "With Pride for Germany", the current World and European Karate Champion Jonathan Horne, Olympic silver medalist and gymnast Marcel Nguyen and national ice hockey player Yasin Ehliz are promoting the integrative power of sport.
"This campaign against racism brings together three different sports federations with a total of more than five million members. This has social significance," said initiator Wolfgang Weigert.
The US brand Nike has been campaigning for athletes who have promoted equality and tolerance for years. For example, the company launched a campaign with football quarterback Colin Kaepernick, who drew attention to police violence against minorities with his kneeling anthem protest, thus not only turning US President Donald Trump and parts of the NFL against himself. Kaepernick, who still hopes in vain for a return to the NFL after his protest, became the face of a Nike commercial with the message "Believe in something. Even if it means sacrificing everything."
The English national soccer player Raheem Sterling is also a Nike face. Sterling was the subject of racist hostility from opposing fans at a 2019 Premier League match and subsequently campaigned vehemently against discrimination. He also accused three English newspapers of firing racism and aggressive behaviour. Nike stood by his side. "Speaking up doesn't always make life easier... but easy never changed anything," said a company campaign with Sterling's portrait.
Nike's campaigns were also well received by a lot of customers: The brand value increased further after the announcement of the cooperation with Kaepernick. The results of a study by PR company Edelman should also encourage other companies to show a clear edge against racism.
According to the study, 67 percent of all 8,000 customers surveyed worldwide bought a brand's product for the first time because it took a clear position on a controversial topic. In turn, 65 percent would avoid a brand's product if it preferred to remain silent on a social issue.