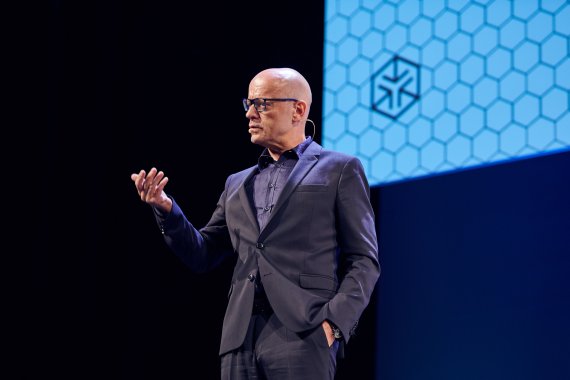 The two billion euro mark was crossed some time ago, sales in German e-commerce for sports and outdoor products are growing all the time. Greater choice, permanent availability, generous handling of returns – there are a number of reasons for this trend to continue.
Are the numerous small sports retail stores spread throughout Germany being pushed out? "We recently closed 600 stores. And this development is going to continue, because oversupply is reigning. I have to say it harshly: because some stores don't have the right to exist" – tough talk, with which Günter Althaus caused unease among many retailers at the ISPO MUNICH 2018. Althaus himself talks of a "shit storm" that his drastic words triggered at the time.
The 50-year-old manager is the Chairman of the ANWR Group and as such responsible for the purchasing cooperative Sport 2000, which has a membership of some 1,000 retailers with over 1,200 sports stores. During his keynote speech at the ISPO Digitize Summit, Althaus chose stark words, which were, however, meant to convey hope and a positive outlook. "Is the bricks-and-mortar trade dying? I say: look out! "Those condemned to die live longer!"
Althaus is totally convinced that the bricks-and-mortar trade will survive the digital transformation. The reason being that sports retailers have one great advantage that online shops cannot replicate: "It is down to our senses: feel, smell, taste, touch. That's something that the Internet cannot replicate," says the manager.
What does he mean by that in concrete terms? "Take the example of fashion: Studies have shown that certain colors elicit an emotional response from people. But that does not work online because the effect of natural light is crucially involved."
According to Althaus, the most important factor in the sports store is the staff. "A store's USP will be its staff – that is a great opportunity, but also the greatest challenge. During the last 10, 15, or 20 years, we have made the mistake of not investing enough in staff development."
What Althaus explicitly does not mean by this is training on products and sports equipment. Quite the opposite. "We have relied on specialist know-how for too long. We have sent our staff on specialist training courses where they learnt a great many details about the products. But you can look up all those things on the Internet, of course."
Consequently: "We must focus our investment predominantly on our staff," demands Althaus. "If we leave it too late we will have no chance of attracting the best staff."
According to Althaus, this will also require a rethink among the executives. "It is not about know-how but about learning," exhorts Althaus. "These days, decisions are taken so quickly that you have to learn something new every day. Fixed hierarchies often obstruct innovative processes."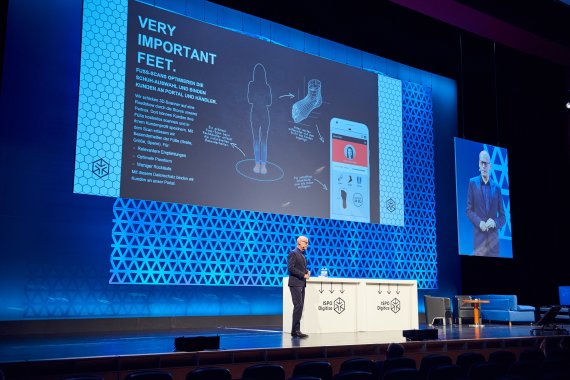 And what should the small sports retailer do to meet the digital challenges? Definitely not act as a lone warrior, thinks Althaus. "Failing to work together is the greatest threat that the SME sector is up against," he says. And he adds that that is why Sport 2000 has created online structures that all members can benefit from to lasting effect.
"We have built up large databases, in which we can analyze the trends and derive forecasts for the future from the results," explains Althaus. "The collaboration between specialists and generalists is helpful and strengthens our hand."  The data analysis enables small specialist retailers to recognize trends early and generalists to benefit from this knowledge as well. "Together, we have unbeatable power," reckons Althaus.
Sport 2000 also intends to become even more involved in e-commerce in the future. "We are setting up a new sports portal," reports Althaus. "We are sure that we will be successful because we have been involved in both areas: we know bricks-and-mortar as well as online trade."
According to Althaus, the objective is to provide comprehensive support to the consumer throughout their journey – offline and online. How? For instance with a 3D foot scanner that collects data on site in the stores and then uploads it to an online customer profile. "The data is then available for the customer to access and use at any time," says the head of Sport 2000. "With this valuable data, we tie the customer to our portal."
Will this concept work in view of the enormous online competition? Günter Althaus's words at the ISPO Digitize Summit definitely received a positive response. And the Sport 2000 figures are not at all worrying either. "We saw an eight percent growth during the first six months of 2018, although we did lose a few retailers," says Althaus. "But of course we gain new ones as well."
But there is one thing that is very important to him: He believes that Sport 2000 is not about trying to teach the numerous specialist sports retailers their job, but "to inspire them to address the challenge of digitalization," says Althaus. "The point is to enable others to up their game. You can also call it "helping them to help themselves"."