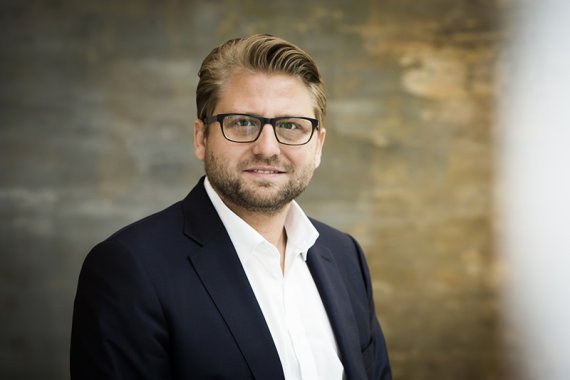 Since its foundation in 2010, eGym's vision has been to make the gym work for everyone. Before that, working out effectively at fitness clubs had been a difficult and cumbersome task, accessible to only a small insider group of die-hard bodybuilders.
In his ISPO Digitize Summit (June 28/29) keynote, eGym CEO Philipp Roesch-Schlanderer will describe how his company developed its smart training system, which seamlessly combines hard- and software, and which enables members to plan, track and analyze their workouts flawlessly with the help of the eGym trainer and fitness apps.
ISPO.com: What are the three most important learnings from digital transformation for you?
Philipp Roesch-Schlanderer: 1. Anything is possible.
2. Change and innovate nonstop! Or new players from outside, for example startups like eGym, will disrupt traditional, rusty industries and totally reshape them.
3. Find great partners and cooperate, rather than compete with everyone.
What are the biggest challenges that companies in the sporting goods industry face when it comes to digital transformation?
Turn your business around on the spot, if necessary. speed is of the essence when it comes to new mega trends. Attract and retain the right talent for your company.
How digital is the sporting goods industry compared to other industries?
Before 2013 or 2014, digitalization was merely seen as something quite exotic with 'nice to have' niche products or gimmicks. In our particular industry, digitalization simply wasn't there. This is why we decided to start building our own fully electric strength machines back in 2010/11.
Our software (which is our main value driver) just wasn't compatible with any existing hardware. Things have changed dramatically over the last three to four years: meanwhile, everyone has their smartphones and uses fitness apps to plan, track and analyze their training activities. Training devices become more and more connected.
I think that the sports industry recognizes the overall additional value of digitalization and is now very creative when it comes to new digital business models. So, bottom line, I would say we are well on track.
What are the hallmarks of successful companies in the digital age? Are the structures decisive or digital-thinking employees?
It's both. Successful companies are designed to take quick decisions with flat hierarchies, empowered employees and – of course – great products. eGym has grown incredibly quickly over the last six years – from 15 people in Munich Schwabing to now almost 400 employees in 20 countries.
In order to have a grip on our fast expansion, we have restructured and improved our organization several times – and brought in a number of experienced hires to manage both our growth and our people. I'm very happy with our mix of young, highly motivated talent and our older guys, who sometimes tell me in confidence that for them, working at eGym is like a fountain of youth.
How do employees develop a digital mindset?
For our employees at eGym, a digital mindset is simply a prerequisite. We have been fully digital from day one in 2010, when eGym was founded. As for other companies, I think it is essential that the added value of digitalization and the new opportunities for the individual firm or for the entire industry become apparent. And here's a secret: Creating new ideas in the digitized world is actually a lot of fun!
Which product that combines the digital world with sports inspires you the most?
Actually, I'll go for eGym ONE, our open cloud platform, which intelligently networks studio equipment from all major fitness manufacturers that before remained isolated, in order to create a comprehensive training experience. eGym already connects devices from more than 50 industry partners, including Matrix, Precor, Polar or Runkeeper and brings our vision of the connected gym to life.
With eGym you are a trendsetter in digitalization. What can the audience learn from you and your company at your ISPO Digitize Keynote?
With my speech, I would like to encourage the audience, and especially those who have a great idea and are reluctant to bring it to life, to tackle bold goals.
When I studied at Columbia University in New York in 2009, I worked out at the uni's gym – a smelly underground place with outdated training equipment. At the same time, I had my very first iPhone and I was wondering: the world is changing rapidly through all these new digital services and devices – but people are still training like Arnold Schwarzenegger 20, 30 years ago.
Everything was very complicated and only accessible for a small insider group of die-hard bodybuilders. People like myself had no clue where to start and how to train in order to achieve my training goals. That was the time when I developed the vision of making the training floor work for everyone. Today it's safe to say that through our unique combination of smart hard- and software and our intelligent training system, we have reached the point that even my mother can walk into a gym and train target-oriented, highly motivated, safe, successful – and she has fun, too.
Needless to say, how many "experts" have told us over the years that our idea won't work? Well, here we are – our products are successfully used by more than a million members in thousands of gyms all over Europe and the US, we have just acquired the San Francisco based no.1 provider of mobile apps for health clubs, Netpulse, and one of the leading German companies for corporate fitness, qualitrain.
And yes, everyone at eGym is very proud that we are indeed one of the main drivers for digitalization within the fitness industry.
At the ISPO Digitize Summit (June, 28th/29th) digital thinkers, well-known entrepreneurs and greats from the sports industry will speak. In advance, they told ISPO.com about their most important learnings from digitalization.