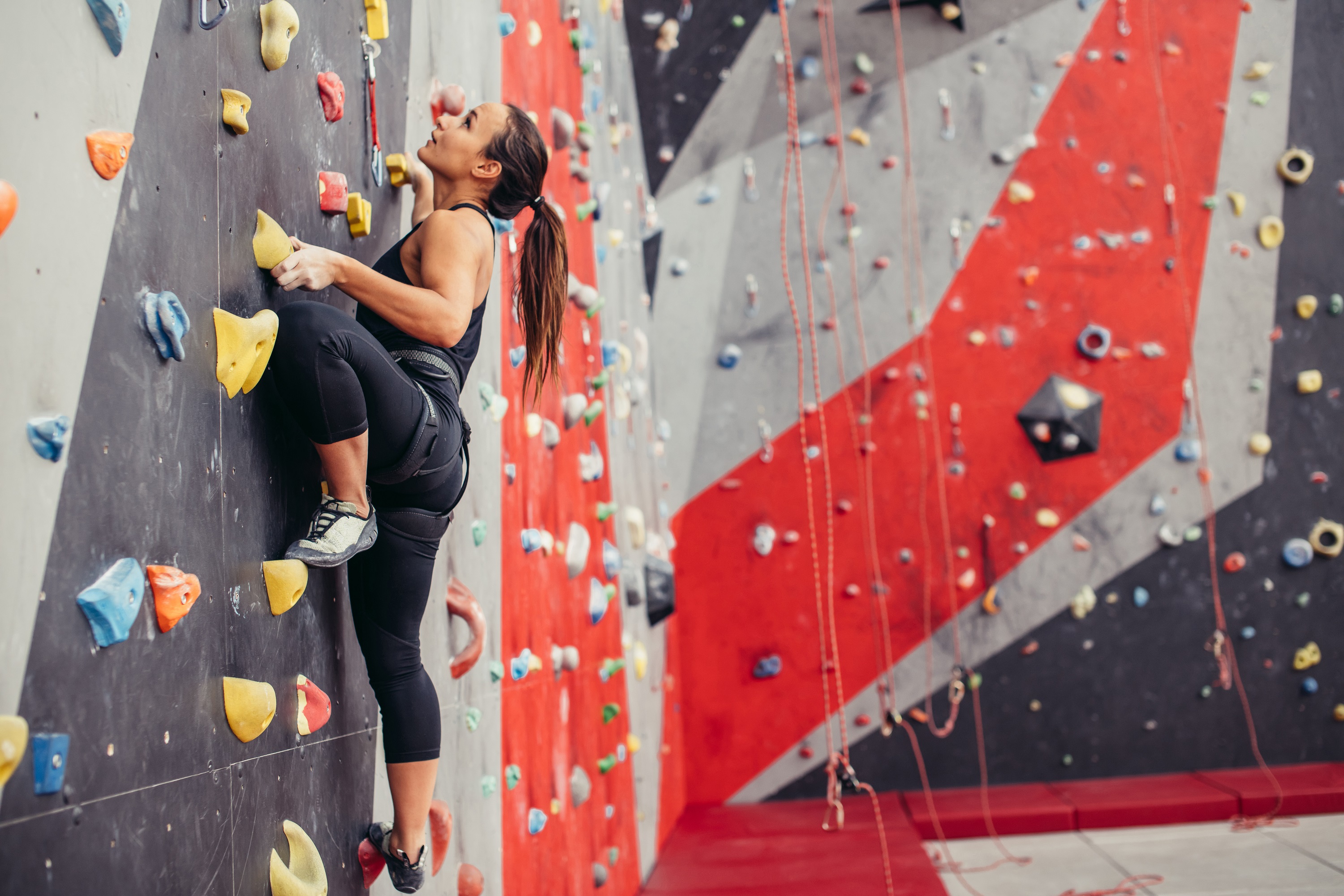 Climbing has become a city sport. But especially in the interaction of climbing brands with the increasingly popular climbing gyms, both sides still have some catching up to do.
Because the boom in indoor climbing is a chance for the entire industry, findsGrégoire De BelmontWe can climb in the city, that's unique," explains the person in charge of Arkose. Arkose is more than just a climbing gym concept, as De Belmont explains at OutDoor by ISPO 2019. The label, founded in 2013, has understood what the new generation of climbers is all about: Friendly gyms, a safe sport, conviviality with beer afterwards and the right clothing and backpacks to match the urban lifestyle.
De Belmont - who has established 14 climbing and bouldering gyms including bistros, beer and clothing with Arkose & Co. within six years - does not understand why other hall operators or climbing brands find it so difficult to connect with the new community. For him it's clear: "Climbing can be the new surfing." In other words: Much more than just sport, but an attitude to life, a philosophy that is not least expressed in clothing.
The Frenchman is backed by Christian Lehmann from Black Diamond. For him it is certain that climbing gyms should cooperate much more closely with Brands. Because: "We can look our customers in the face in the climbing hall." Where else are there such opportunities to be so close to the end consumer?
And yet it doesn't quite work out, as Lehmann explains using the example of the newly built climbing gym in Innsbruck. "The climbing centre in Innsbruck is one of the largest and had no shop in the beginning - why?" Nobody could get an answer on that question. Perhaps because the consciousness of some gym builders is not yet given. And: Because it is difficult to order and then possibly remain sitting on the goods. A problem for which solutions must be found.
One way to get your merchandise - order back, order here - more easily to the customer would be a loving shop design, according to Ged McDomnhail. The Briton, CEO of The Climbing Hangar, throws impressive pictures on the wall: first of all from a stylish and very invitingly designed Adidas Urban Lifestyle Shop. Then in the next slide from a sports shop in a climbing gym: Lieblos. Unemotional.
"Something has to change if we want to inspire the new generation of climbers for the climbing brands. It certainly doesn't work with unimaginative shops." No changed order system will help in this case.
From McDomnhail's point of view, only two or three brands are interested in the generation of indoor climbers. He sums it up as follows: "The new climbing community knows nothing about climbing brands - and the brands know nothing about the community."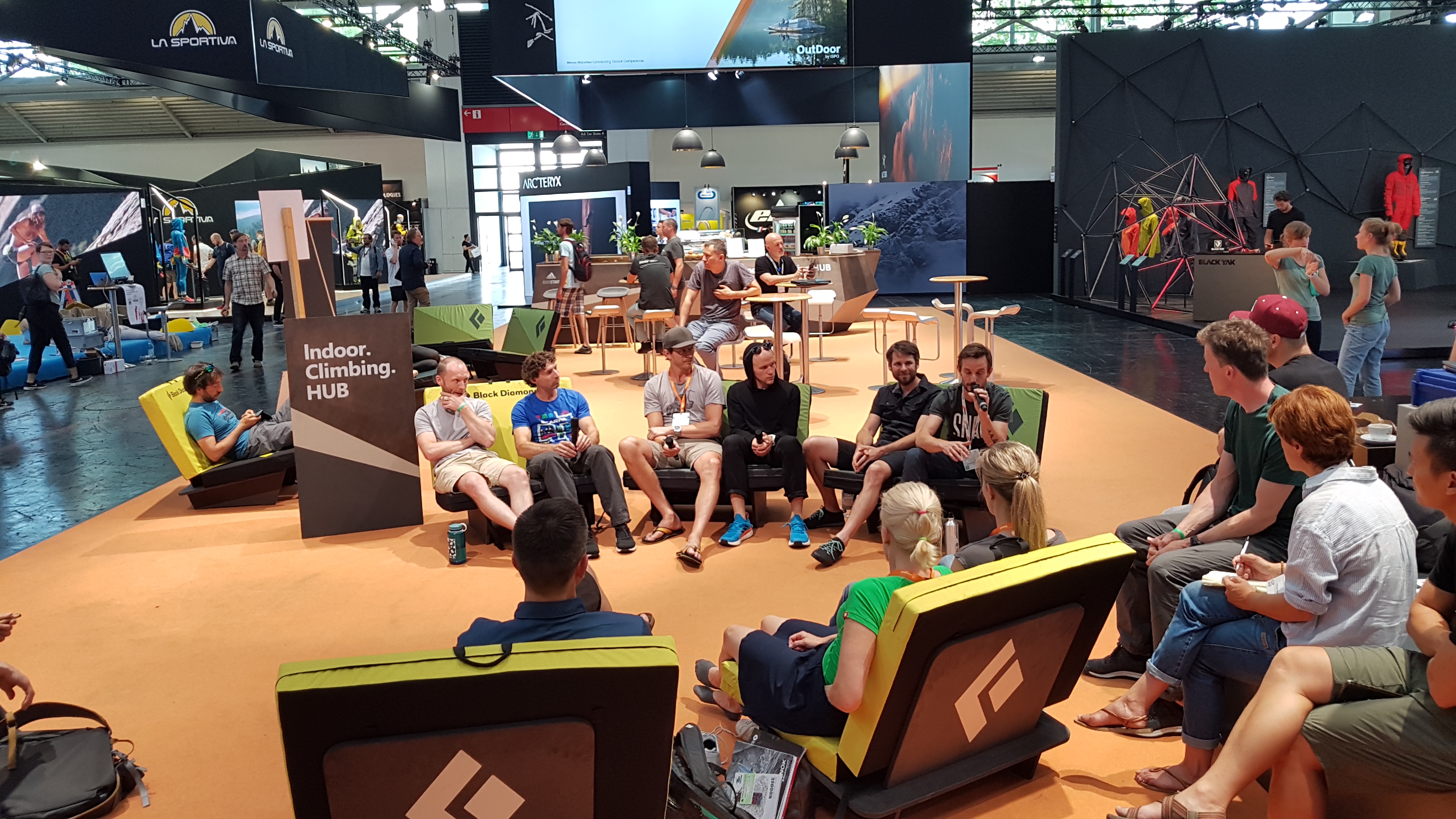 Unlike in the past, when climbing idols such as Glowacz, Moffat, Hörhager and Co. were the emotional drivers and climbing brands were promoted as a side effect, the new generation pursues completely different goals and follows different models. The urban environment is in the foreground and the leaders today are influencers, mostly from the sports, yoga or wellness sector. What they're wearing is interesting. What Chris Sharma wears - who cares ...
In many cases the climbing gymhas become a cool fitness centre. On the other hand, training for the rock is sometimes a relic of the past.
Björn Pohl from Klättercentret Stockholm takes a clear stand: "We don't have to create new outdoor climbers, but bring the new (indoor) climbers to the brands. We're the storytellers. We need to perceive the new climbing scene, and explore what their needs are and what suits them" Climbing gyms occupy a crucial position as the hall becomes an influencer, including merchandising.
Ged McDomnhail agrees with this opinion and argues that the climbing outfits should also be made simpler. So that you can go directly from the office to the boulder gym. For many modern city dwellers, climbing is part of their lifestyle - anyone who wants to be perceived as a brand here has to move away from tradition and push the urban environment a little more into the foreground, because Björn Pohl says: "Indoor climbing is our future!
Everyone agrees on one point: We need more women in climbing. At the moment, women are often still too masculine to respond to bouldering and the collections are often still very limited for female climbers. Grégoire De Belmont states that in France the proportion of women in bouldering is only 25 to 30 percent. The situation is different with rope climbing, where 45 to 50 percent are female.
Adidas understood as a brand how to appeal to women. In the climbing segment, the company advertises exclusively with female climbers. Christian Lehmann of Black Diamond and Nathan Hoette of Scarpa also confirm that their companies are already increasingly relying on female ambassadors.
But in addition to the ambassadors, it is also important to expand the range - also in terms of purchasing power, which should not be underestimated.