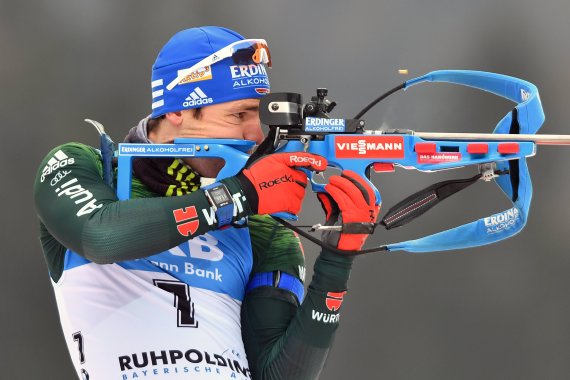 The starting signal for the packed 2021/22 biathlon season will be given in Östersund, Sweden, on 27 November. The biathlon elite will be competing for the World Cup until 20 March. In addition, another highlight awaits in February with the 2022 Olympic Games in Beijing. Medal decisions are on the agenda there in eleven biathlon competitions.
In addition, after the cancellation last year, the return of the World Team Challenge in the Arena auf Schalke is planned for 28 December 2021.
In view of the worldwide Corona pandemic, changes and cancellations in the race calendar are possible at short notice.
The men's World Cup was firmly in Norwegian hands: Four of the first five in the overall ranking were Norwegians: Johannes Thingnes Bö secured the overall World Cup just ahead of compatriot Sturla Holm Laegreid. Only Frenchman Quentin Fillon Maillet was able to break through the Scandinavian phalanx at the top as World Cup third. From Germany's point of view Benedikt Doll and Erik Lesser are the most promising starters after Arnd Peiffer's career end.
In the women's race a Norwegian has been the measure of all things: Tiril Eckhoff won an incredible 13 races in 2020/21 and is also the top favourite in 2021/22. Behind her also compatriot Marte Olsbu Röiseland, Sweden's Hanna Öberg and Dorothea Wierer from Italy have good chances. With Franziska Preuß, who finished third in the last overall World Cup, and Denise Herrmann the German team also has promising starters.
| | | | |
| --- | --- | --- | --- |
| Date | Time | Place | Discipline |
| 27.11.2021 | 15:00 | Östersund (Sweden) | 20 km individual competition |
| 28.11.2021 | 13:45 | Östersund (Sweden) | 10 km sprint |
| 02.12.2021 | 16:30 | Östersund (Sweden) | 10 km Sprint |
| 04.12.2021 | 15:10 | Östersund (Sweden) | 4x7,5 km relay |
| 05.12.2021 | 15:15 | Östersund (Sweden) | 12,5 km pursuit |
| 10.12.2021 | 11:25 | Hochfilzen (Austria) | 10 km sprint |
| 11.12.2021 | 12:15 | Hochfilzen (Austria) | 12,5 km pursuit |
| 12.12.2021 | 11:45 | Hochfilzen (Austria) | 4x7,5 km relay |
| 17.12.2021 | 14:15 | Le Grand-Bornand (France) | 10 km Sprint |
| 18.12.2021 | 15:00 | Le Grand-Bornand (France) | 12,5 km pursuit |
| 19.12.2021 | 14:45 | Le Grand-Bornand (France) | 15 km mass start |
| 06.01.2022 | 14:15 | Oberhof (Germany) | 10 km Sprint |
| 08.01.2022 | 12:15 | Oberhof (Germany) | 4x7,5 km mixed relay |
| 08.01.2022 | 14:45 | Oberhof (Germany) | Single Mixed Relay |
| 09.01.2022 | 12:30 | Oberhof (Germany) | 12,5 km Pursuit |
| 13.01.2022 | 14:30 | Ruhpolding (Germany) | 10 km Sprint |
| 15.01.2022 | 14:30 | Ruhpolding (Germany) | 4x7,5 km relay |
| 16.01.2022 | 14:45 | Ruhpolding (Germany) | 12,5 km pursuit |
| 20.01.2022 | 14:15 | Antholz-Anterselva (Italy) | 20 km individual competition |
| 22.01.2022 | 12:50 | Antholz-Anterselva (Italy) | 15 km mass start |
| 23.01.2022 | 12:15 | Antholz-Anterselva (Italy) | 4x7,5 km relay |
| 04.03.2022 | 14:30 | Kontiolahti (Finland) | 4x7,5 km relay |
| 05.03.2022 | 15:30 | Kontiolahti (Finland) | 10 km Sprint |
| 06.03.2022 | 14:40 | Kontiolahti (Finland) | 12,5 km pursuit |
| 10.03.2022 | 14:30 | Otepää (Estonia) | 10 km sprint |
| 12.03.2022 | 13:00 | Otepää (Estonia) | 15 km mass start |
| 13.03.2022 | 12:30 | Otepää (Estonia) | 4x7,5 km mixed relay |
| 13.03.2022 | 15:15 | Otepää (Estonia) | Single Mixed Relay |
| 18.03.2022 | 15:45 | Oslo Holmenkollen (Norway) | 10 km Sprint |
| 19.03.2022 | 15:00 | Oslo Holmenkollen (Norway) | 12,5 km pursuit |
| 20.03.2022 | 15:00 | Oslo Holmenkollen (Norway) | 15 km mass start |
| | | | |
| --- | --- | --- | --- |
| Date | Time | Place | Discipline |
| 27.11.2021 | 11:45 | Östersund (Sweden) | 15 km individual competition |
| 28.11.2021 | 11:00 | Östersund (Sweden) | 7,5 km sprint |
| 02.12.2021 | 13:45 | Östersund (Sweden) | 7,5 km sprint |
| 04.12.2021 | 13:00 | Östersund (Sweden) | 10 km pursuit |
| 05.12.2021 | 12:35 | Östersund (Sweden) | 4x6 km relay |
| 10.12.2021 | 14:15 | Hochfilzen (Austria) | 7,5 km sprint |
| 11.12.2021 | 14:15 | Hochfilzen (Austria) | 4x6 km relay |
| 12.12.2021 | 14:30 | Hochfilzen (Austria) | 10 km pursuit |
| 16.12.2021 | 14:15 | Le Grand-Bornand (France) | 7,5 km sprint |
| 18.12.2021 | 13:00 | Le Grand-Bornand (France) | 10 km pursuit |
| 19.12.2021 | 14:45 | Le Grand-Bornand (France) | 12,5 km mass start |
| 07.01.2022 | 14:15 | Oberhof (Germany) | 7,5 km sprint |
| 08.01.2022 | 12:15 | Oberhof (Germany) | 4x7,5 km mixed relay |
| 08.01.2022 | 14:45 | Oberhof (Germany) | Single Mixed Relay |
| 09.01.2022 | 14:45 | Oberhof (Germany) | 10 km Pursuit |
| 12.01.2022 | 14:30 | Ruhpolding (Germany) | 7,5 km Sprint |
| 14.01.2022 | 14:30 | Ruhpolding (Germany) | 4x6 km relay |
| 16.01.2022 | 12:45 | Ruhpolding (Germany) | 10 km pursuit |
| 21.01.2022 | 14:15 | Antholz-Anterselva (Italy) | 15 km individual competition |
| 22.01.2022 | 15:00 | Antholz-Anterselva (Italy) | 4x6 km relay |
| 23.01.2022 | 15:15 | Antholz-Anterselva (Italy) | 12,5 km mass start |
| 03.03.2022 | 14:30 | Kontiolahti (Finland) | 4x6 km relay |
| 05.03.2022 | 12:45 | Kontiolahti (Finland) | 7,5 km Sprint |
| 06.03.2022 | 12:45 | Kontiolahti (Finland) | 10 km pursuit |
| 11.03.2022 | 14:30 | Otepää (Estonia) | 7,5 km sprint |
| 12.03.2022 | 15:15 | Otepää (Estonia) | 12,5 km mass start |
| 13.03.2022 | 12:30 | Otepää (Estonia) | 4x7,5 km mixed relay |
| 13.03.2022 | 15:15 | Otepää (Estonia) | Single Mixed Relay |
| 17.03.2022 | 15:45 | Oslo Holmenkollen (Norway) | 7,5 km Sprint |
| 19.03.2022 | 12:50 | Oslo Holmenkollen (Norway) | 10 km pursuit |
| 20.03.2022 | 12:50 | Oslo Holmenkollen (Norway) | 12,5 km mass start |
| | | | |
| --- | --- | --- | --- |
| Date | Time (CET) | Discipline | Men/Women |
| 05.02.2022 | 10:00 | 4x6 km Mixed Relay | Mixed |
| 07.02.2022 | 10:00 | 15 km individual competition | Women |
| 08.02.2022 | 09:30 | 20 km individual competition | Men |
| 11.02.2022 | 10:00 | 7,5 km sprint | Women |
| 12.02.2022 | 10:00 | 10 km Sprint | Men |
| 13.02.2022 | 10:00 | 10 km pursuit | Women |
| 13.02.2022 | 11:45 | 12,5 km pursuit | Men |
| 15.02.2022 | 10:00 | 4x7,5 km relay | Men |
| 16.02.2022 | 08:45 | 4x6 km relay | Women |
| 18.02.2022 | 10:00 | 15 km mass start | Men |
| 19.02.2022 | 10:00 | 12,5 km mass start | Women |