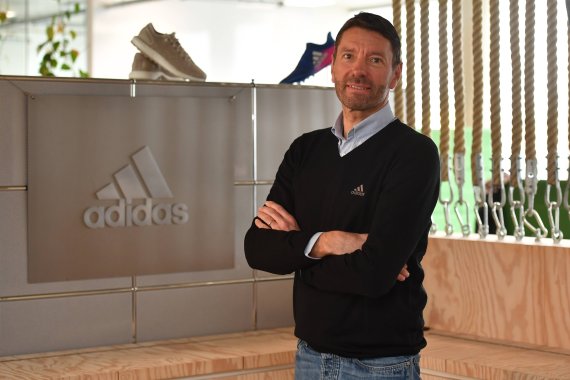 In 2018, Adidas' sales increased by eight percent to 21.9 billion euros. In terms of profits, the sporting goods giant even increased by 20 percent to 1.7 billion euros. These are fantastic record figures for the company from Herzogenaurach in Central Franconia, which will celebrate its company anniversary shortly. CEO Kasper Rorsted was therefore quite euphoric at the Annual General Meeting: "We will be 70 years old, but we feel absolutely fit."
In the early days, company founder Adi Dassler made the first sneakers in his mother's laundry room. In the meantime, Adidas has grown into a global company with 57,000 employees of which "Adi Dassler would be proud," as Rorsted put it. The CEO has trimmed his company for growth, also through its digitalization strategy. In 2019, growth is expected to continue with revenue increases of 5 to 8 percent and profits to rise by 10 to 14 percent.
Shortly before the annual general meeting, Adidas had extended its agreement as supplier to Real Madrid until 2028, which had been in effect since 1998. "This agreement will help us achieve our mission of being the best sporting goods company in the world," commented Rorsted. This shows where the giant duel between Adidas and market leader Nike is headed: to the top. And this does not only apply to social media.
Yet, the fact that the path to growth is not without obstacles became equally clear at the general meeting. In North America, where Adidas sees the greatest growth opportunities, there are supply bottlenecks. For this reason, goods are even transported to the USA or Canada by air. In its core European market, the brand with the three stripes lost market share to its rivals Nike and Puma while sales stagnated. Rorsted announced that they want to react more quickly to trends again. This is why the focus is once again on sports products instead of the lifestyle line.
The subsidiary Reebok remains a problem child, whose value in the balance sheet had to be adjusted downwards by 572 million euros. Rorsted nevertheless wants to stick to the brand that returned to profitability in 2018 because of the potential in the fitness market. Overall, the outlook is rosy and the shareholders can also be satisfied: the dividend will increase by 75 cents to 3.35 euros per share and the share price has risen above 30 percent to a new all-time high.