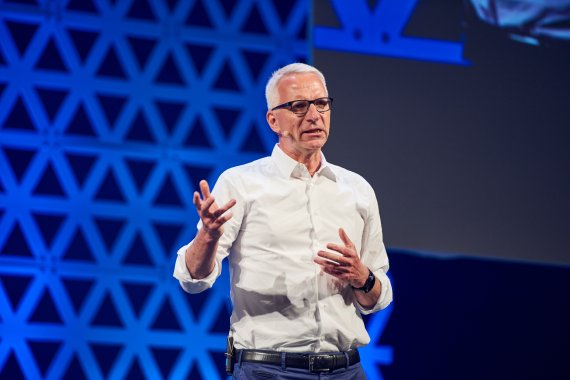 The early out of the German national soccer team at the World Cup in Russia isn't to Adidas' liking, as Roland Auschel, Chief Sales Officer and member of the executive board, implies. He and Jacqueline Smith-Dubendorfer actually wanted to hold their keynote at the ISPO Digitize Summit in Munich in jerseys: him in DFB garb, her in Swiss colors. "But after yesterday's game I scrapped that idea," said Auschel with a wink.
As a representative of a global sporting goods giant, Auschel is convinced that despite Germany's elimination "we are still going to see a fantastic World Cup in Russia." For Adidas, the World Cup plays a major role not just because of the millions in sales of soccer jerseys and balls, but also because it's meant to push the digital transformation that the Herzogenaurach-based company has devoted itself to one step further.
Such was the case during the group match between Germany and Sweden (2:1) when the Adidas app was advertised on the advertising boards in the stadium for the first time, Auschel reports: "The number of downloads increased by 14 percent as a result." Adidas wants to draw important conclusions for its digital platforms and e-commerce from the data obtained during the World Cup in Russia. More data means better user appeal, which means more sales – that's how the basic formula can be summed up.
Adidas is investing several millions of euros into digitalization, aiming to be everywhere consumers are. It's therefore more of a vision than a strategy that everyone at the company is sworn to. "Digitalization as a whole isn't schedulable," Roland Auschel makes clear in his speech, "but the individual digital steps are."
Direct sales on the company's own e-commerce platforms are expected to generate four billion euros in sales by 2020 – a huge increase. During her lecture in the ICM Jacqueline Smith-Dubendorfer, Vice President of Digital Partner Commerce, presented how these goals are to be reached and compared digitalization with a cycle race. "Let's go to the head of the peloton together. Only together can we win the race," the manager said.
That Adidas, as a global player with roughly 57,000 employees, views itself as a star of this cycling team is needless to say. But on the difficult stages, Adidas needs a lot of helpers. "Collaborations like those with Zalando or SportScheck are important and valuable," emphasized Smith-Dubendorfer.
To be successful, the question must be answered together: "How can we maximize customer satisfaction on- and offline?" Smith-Dubendorfer presented three prerequisites for a partnership with Adidas:
Commitment to Adidas and its associated brands.

A close strategic partnership when generating and utilizing data.

Growth through optimizing existing structures and adapting new business fields.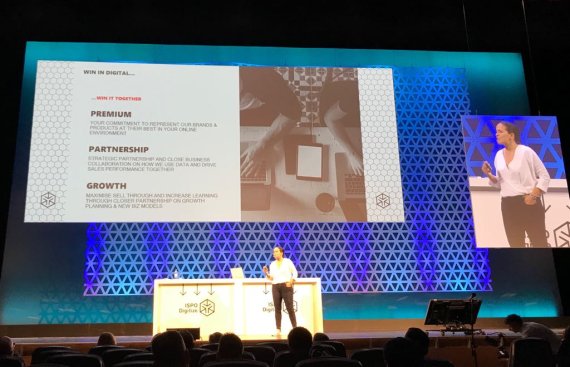 Smith-Dubendorfer chose clear words in her lecture and – to stick with the imagery of the cycle race – made clear: Not everyone still pedaling along at the moment will reach the finish line.
Specialty sports retailers have to ask themselves unpleasant questions, the manager said. "Do you want to win the digital race? Then you have to ask yourself if you can really keep up the pace. Do you have the right people to survive? Is your IT infrastructure ready for the new era?" the Adidas representative asked the auditorium. "We are ready to communicate with our partners."