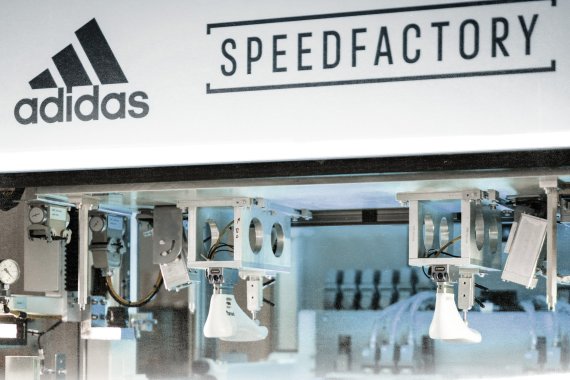 This summer, robots began making running shoes in the Speedfactory in Ansbach. The AM4LDN is the first production model. Models for Paris (AM4PAR), Los Angeles (AM4LA), New York (AM4NYC), Tokyo (AM4TKY) and Shanghai (AM4SHA) will follow.
As versatile running shoes, the AM4 models are expected to be ideal for running in the city with regularly changing surfaces underfoot. The "Adidas Made For London" (AM4LDN) was developed with runners from London and is completely tailored to the terrain in the British capital.
The other cities' models will be much different from AM4LDN. After all, runners in rainy London require different things from their shoes than runners in the considerably warmer city of Los Angeles, for example.
Adidas intends for the AM4 project to be in continuous beta mode. Athletes' data is constantly being fed into the manufacturing process. Consumer feedback will also be taken into consideration for the product's further development.
With the unveiling of the AM4, the Speedfactory in Ansbach is now fully operational. A second facility in Atlanta, USA, is expected to open soon.
Paul Gaudio, Adidas Global Creative Director, says: "The Speedfactory makes it possible for us to create one-of-a-kind products based on the needs and wishes of the individual athletes."
The AM4 represents the future of manufacturing, Gaudio adds. It will involve greater speed and precision, as well as more personalization. With the help of the Speedfactory, Adidas wants to react more rapidly to trends and customers' requests. From the design to the production stage — theoretically, it's possible in just a few hours with the Speedfactory.