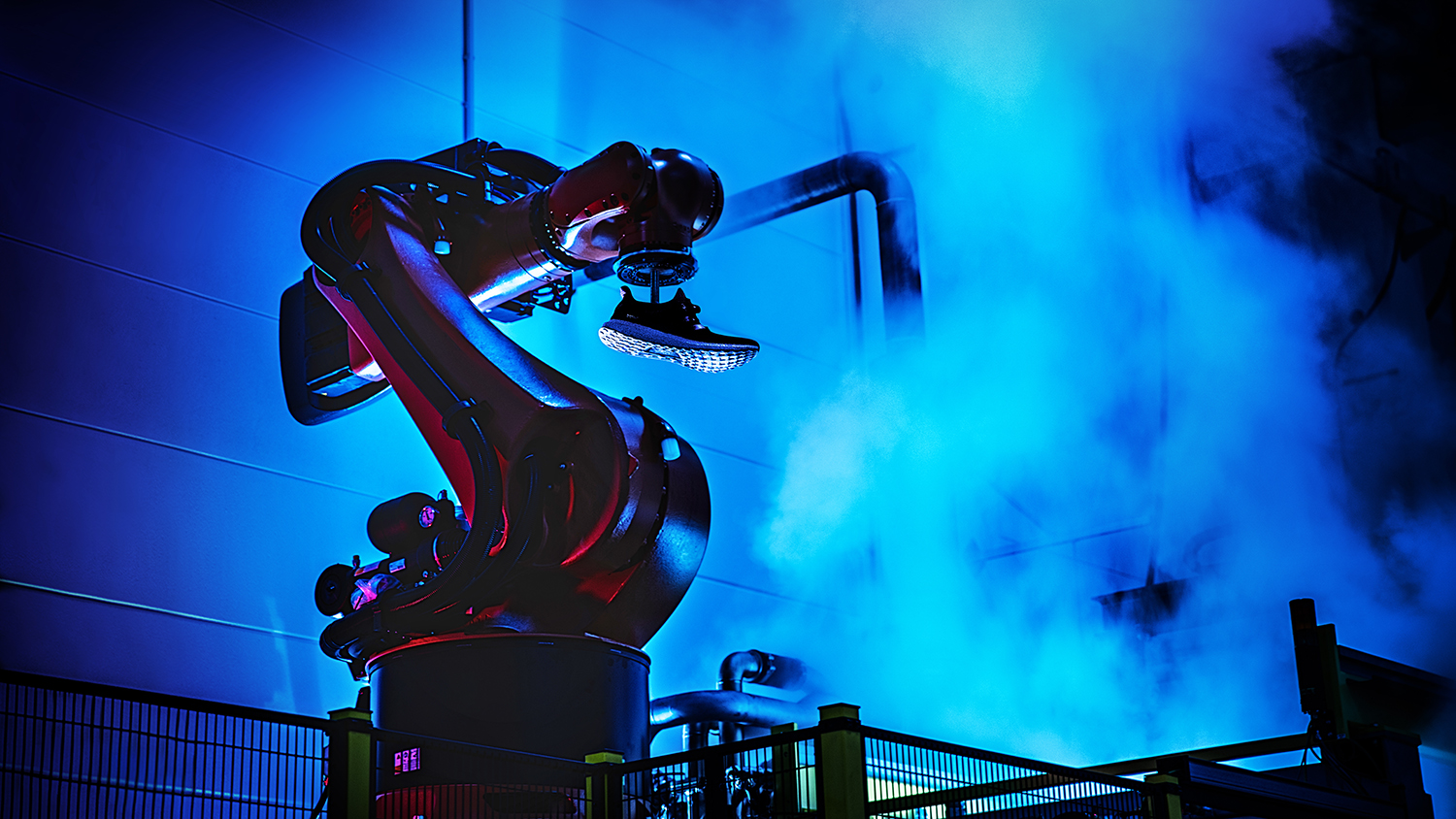 Granted, the idea does sound a lot like science fiction. Are robots to make our shoes in the future? We're already familiar with this high degree of mechanization from automotive production, but how will it work in the clothing industry, which now varies in materials, designs, and quantities within the shortest of deadlines? In previous decades in the clothing industry, it was a still a question of finding cheaper production locations, in order to be able to finance the handiwork-intensive production.
Today Ethiopia, Bangladesh, and Myanmar are the new China, as the People's Republic has already become too expensive. And is production in the middle of Europe soon to be economical? The industry is convinced that the Speedfactory, as Adidas calls the production facility, will be a success. That's because, thanks to digitalization and networking of production procedures, the new high-tech factories of Industry 4.0 are operated fully automatically and thus get along almost without any manual work. Additionally, they could produce more cleanly and more sustainably.
Speedfactory: Production on site
When it comes to Adidas, we don't have to wait much longer until this vision becomes reality. With the idea of the Speedfactory, the sporting goods manufacturer wants to soon be capable of installing small, fully automated production hubs all over the world, where shoes can be manufactured and shipped in a fraction of the former production time. In December of 2015, the first of these production plants was built as a pilot project near Herzogenaurach in Bavaria. Together with multiple partners from different industry divisions and with support of the federal government , there Adidas is researching new technology which (with the help of digitalization) is make a fully automatic manufacturing process possible.
"We're already making the first models," says Gerd Manz, Vice President of FUTURE at Adidas, who's leading the Speedfactory project. The first complete shoe is to be presented to the public "over the course of the year." He doesn't want to give a specific time; ultimately, they practically started with nothing. Manz: "Almost nothing exists yet; we have to develop all of the processes and plants in cooperation with our partners ourselves."
Currently, it's especially a matter of testing different materials and processes. That's because the materials will have to change along with the innovative manufacturing method. "We'll need different materials in the future than we do today. For that reason we're putting the supply chain far at the forefront, so that the basic materials we need are available in every market," says Manz. Adidas is breaking the first ground with the development of performance shoes, while in a further step, apparel is also to be produced fully automatically. As early as 2016, it's going exceptionally well for Adidas, but innovation is nevertheless to keep going.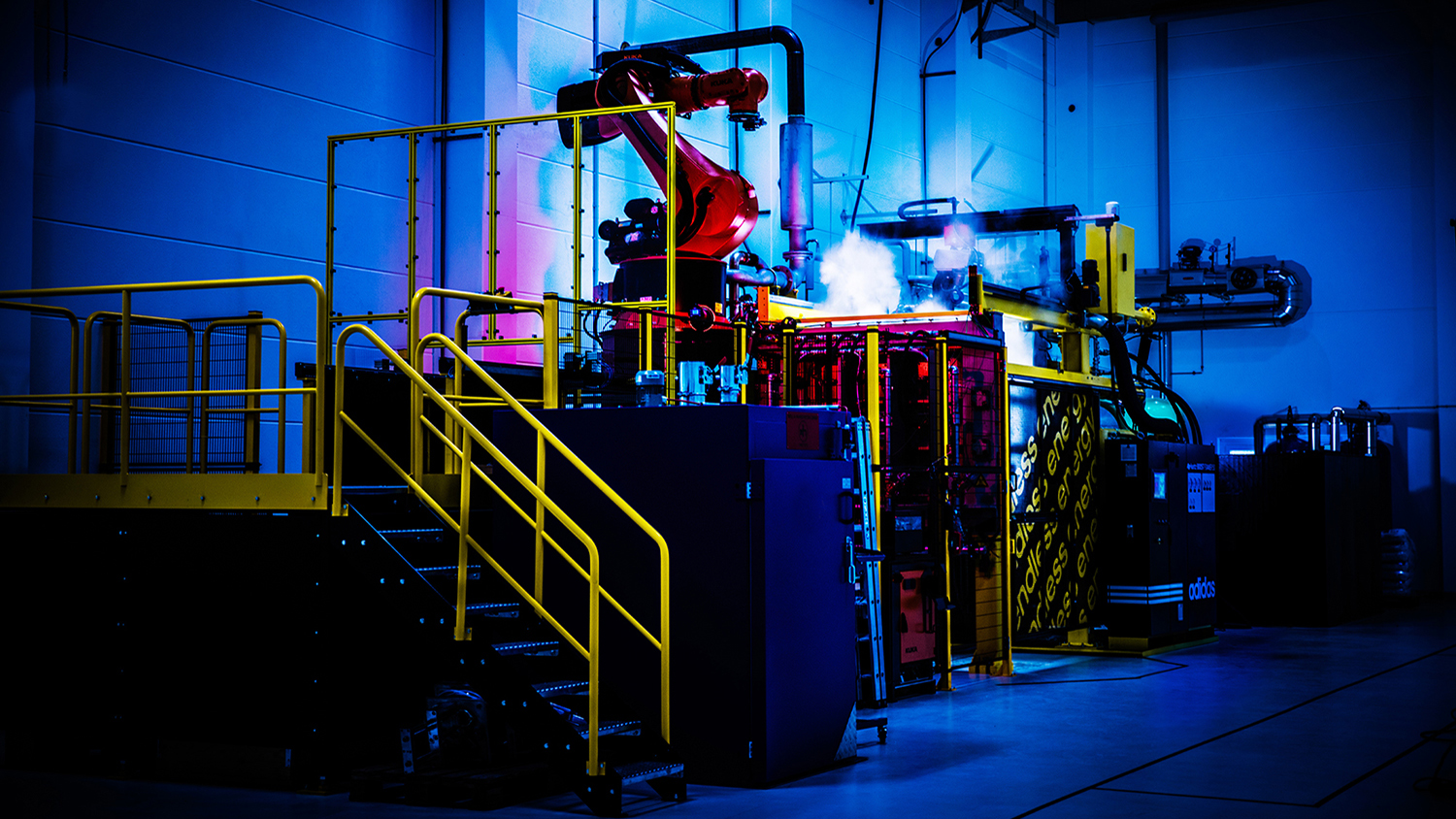 Adidas: The Speedfactory saves production time
The reasons why Adidas is investing in an expensive project of this type are manifold. The Speedfactory is supposed to expand and supplement the existing procurement chain, in order to be able to handle planned growth in the future. However, they're not meant to replace conventional production. It's primarily a matter of shortening transport routes, and thereby saving valuable time. "We want to create the technological basis for how production can be brought closer to the customer," explains Manz. "The new generation of our consumers has less and less patience to wait for products. Therefore, we want to find faster solutions."
Production processes aren't just to be expedited, but at the same time also be made more flexible. That means production should once again take place exactly where the consumer is located. For this, a network made of many small, widely independently reacting Speedfactories are to emerge which can also take up in regional trends.
The visions of Industry 4.0 are majorly changing our notions of work. Work by hand, according the idea, will gradually be replaced by fully automated manufacturing processes. The factories of the Future 4.0 are generally devoid of humans. But Adidas doesn't want to go quite that far. "Full automation isn't our goal," explains Manz. "We'll also employ people in production in the Speedfactory who perform certain work steps by hand." Similar to in other divisions, a lot is technically doable, but not always necessarily reasonable from a cost perspective. 
Industry 4.0: man versus machine?
With its Speedfactory concept, Adidas is among the pioneers in the field of fully automated production. But the topic has long since spurred the entire industry. That way, not only well-financed companies like Adidas can benefit from the new productional possibilities of digitalization. The German Textile and Fashion Confederation, textil & mode, is also getting involved and, together with Forschungskuratorium Textil, is organizing workshops and series of lectures.
"We still won't get full automation of production that soon," relents Dr. Hartmut Spiesecke of textil & mode. "Overdigitalization of the supply chain will become a reality much sooner."  That means ordering processes and orders themselves are meant to run automatically in the future. That alone is already a mammoth task.