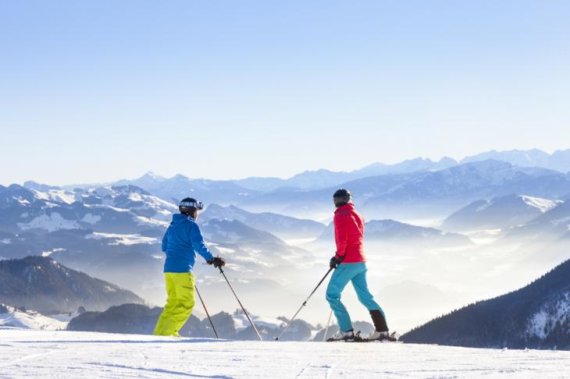 Christoph Engl is a tourism brand expert, author of the book "Destination Branding," managing director of the management consulting agency BrandTrust – and one of the highest-profile experts in his field worldwide.
Mr. Engl, at "Dein Winter. Dein Sport" you gave the lecture "Winter is a Product, Not a Season." Against the consensus that winter sports need to reach as broad an audience as possible to be viable, you go in the other direction: Winter sports need to go from a wide base to the elite. Why?
It's an unsanitized market assessment. Outside of the Alps, winter sports – measured across the broad spectrum of all travel motives – are a marginal topic. Talking about broadness of appeal in the overall population and big market shares is the self-image of the industry. Moreover, the product of winter will continue to increase in price, which means an additional intensification. That's why it would be more realistic and more honest if the industry saw itself as elite in relation to other travel types, as the cruise industry has been doing successfully for years now.
Nonetheless, you have to do everything to make sure the populations local to winter sports regions can still do winter sports, too. That's because, if winter sports regions lose their own people as fans, it can't be compensated for by any marketing promotion. Every euro that makes winter sports possible for everyone in the region is therefore well-spent. By contrast, winter sports will evolve into an elitist type of vacation in the markets themselves.
You criticize the interchangeability of winter sports brands. Are there examples of ski regions that are well-positioned as brands in that regard, or on the way there?
For example, the Dolomites region "Tre Cime di Lavaredo" in eastern South Tyrol/Tyrol/Veneto, which has positioned itself for experienced experts. Or the ski region "La Grave" in France, which has established itself as the El Dorado for off-piste skiers. Or Serfaus-Fiss-Ladis, with a successful alignment towards families. Or the Snowbird region in the US, which cautions beginners away.
What does a winter sports destination brand need to offer in the future to be truly attractive?
A consistent experience chain is necessary. Winter sports destinations need much less marketing and much more marketing for their future success. Not only the slopes need to be perfectly managed, the parking spaces and local transport do too. Sled runs and cross-country ski tracks need to be good quality, just like the perfectly prepared winter hiking trail. It's about winter and not just about alpine skiing anymore – which nevertheless remains a core task.
Another one of your assertions reads: "Growth always means more of the same." How does the winter sports industry need to grow to truly set new impulses and make innovations possible?
The tourism industry is suffering from a lot of "too" products. Because it worked for other people, you want it "too." This leads to weak copies, a horrible mediocrity, and little that's independent. The result: Interchangeability and a serious price war as a consequence. The industry will only grow when it starts to distrust the old templates for success. The biggest amount of courage needs to be mustered up to develop ski regions into (winter) sports regions that still work in the summer. Many have addressed this change, but still aren't brave enough.
You present the example of a Manolo Blahnik shoe: People don't buy products, they buy desires. What desires can winter sports satisfy, and how can they be triggered in customers?
Winter was hard in the Alps. You were happy if you survived it. For the agricultural population, the winter brought barely any joy other than free time. That's why the even the biblical story of longing, salvation, and paradise has no winter, no snow, and no cold. Milk and honey flow where it's warm and where the sun gives plants and animals the fertile soil for growth.
Winter is the antithesis to life in abundance, and can silence the desire for reduction. Winter calms, the air and light are clearer, the landscape is sparse and limited to the essentials. This feeling and pattern are hot trends - think Scandinavian design and the new "hygge" lifestyle (comfy and simple).
You recommend that the winter sports industry no longer work with "where to?" in the forefront, but rather the question of "why?" Is the industry aware it's in a saturated market? And if so, why does it continue to work and advertise as if it wasn't?
That's a good question. The overview of the situation is often unclear. Marketing serves the surface, with no substance. You live off of the successes established in the past that still have an effect. The fact is that marketing with target groups and budgets is at its end. In the future all that will matter are brand, trust, and importance. It needs to be put bluntly: If you're not a brand, in the future you'll have to buy your place as a product with Google with some serious money. It also makes an economic difference whether the customer enters "winter vacation" or "winter Arlberg" in the search field.
The glance to the future of the industry is shaped by the hope for snowy winters. You recommend management instead of hope. What kind of measures can lessen the dependence on snow?
Winter is a product, not a season. All established destinations on the sea have built heated swimming pools in hotels so they don't need to hope for calm waters. With the latest technology, winter can be "created," at least in parts of a destination. But because that isn't possible across the board, winter also needs to play on the abundance of other aspects to establish its attractiveness as a product. The potential is clearly in everything that means exercise – even outside the classic winter sports activities like skiing and sledding.
Winter hiking has already established itself as a new category, why not winter mountain biking and winter jogging? What about culinary winter travel as an equivalent to the countless spring asparagus offerings? When will the first winter cookbook emerge? When will the first season of winter festivals launch? And: Winter is the ideal environment for maintaining the community and celebrating conversation: why no winter poetry slam, why not literature and reading offers by the open fire in beautiful hotels?
Where do you personally like to ski – and why?
Primarily in my home of South Tyrol, on the slope and in the countryside. As a rare luxury product every five years, there's also heli-skiing in Canada or Alaska. Making your own trail – that's one of the few remaining freedoms that an over-regulated world still allows.