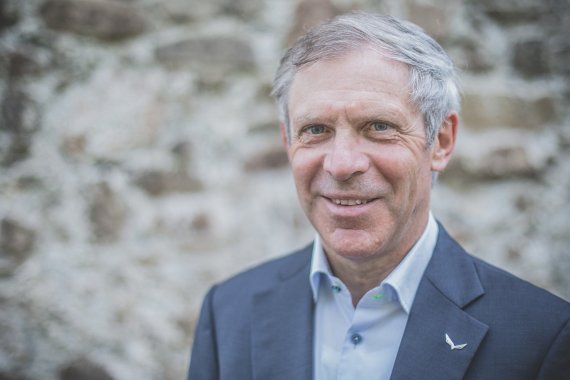 My name is Christoph Engl and I am CEO of the Oberalp Group, which is fully focused on the mountain sports experience with six brands under its ownership. Our owned brands include Salewa, Dynafit, Pomoca, Wild Country, Evolv and LaMunt. We are a group of adventurers and mountaineers who, in our quest for the next peak, are also concerned with what brands are for mountain sports.
When is the right time to start a new brand? When there is a need for a group of people to identify themselves. After all, you can't fall in love with a product, you can only fall in love with an idea that created that product. So many brands are founded exactly when the time is right -but you never really know.
To illustrate this with our new brand LaMunt as an example: In fashion, there are plenty of brands that deal with women - exclusively. Such a brand did not yet exist in sports and certainly not in mountain sports, the area to which we at Oberalp have dedicated ourselves. The proportion of women in the collections of our established brands, such as Salewa and Dynafit, has of course risen steadily in recent years. However, we have always first drawn the collections for men and subsequently adapted them to the female requirements.
When the share of women's collections went towards 40 percent, we noticed, something is happening. A "new woman on the mountain" is growing up. A new self-confidence is emerging, Instagram communities are being created that connect women on the mountain. There are women who go alone on the mountain, without men or that they are only company.
Thanks to women, there is also a new approach to the mountain, which is no longer just about conquering it, but about finding myself in this nature and this seclusion, as a counterweight to everyday life. This does not necessarily have to happen through performance, but can also be the direct experience of temperature, air, smells.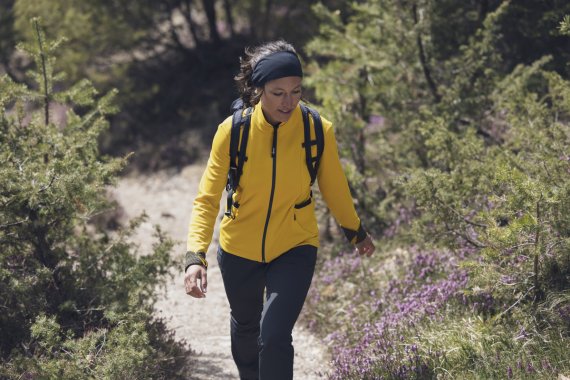 It was precisely on this breeding ground that we as the Oberalp Group continued to consider. Because if we want to be the brand house worldwide that deals with the topic of mountains in an inclusive, focused and future-oriented way, there were really only three options: First: We massively expand our existing collections in the women's segment. Second: We buy a brand in addition and make it big. And third: We might have to found a new brand.
Our research in the market has shown: There is nothing that fits us and has potential. On the other hand, we also didn't want to continue building larger collections and, with the female line out of history, always have a second product of a "male" brand. Because in this way, women always have the feeling that Salewa or Dynafit are actually brands for men that carry a women's collection on the side. However, full identification is hardly possible in this way. The brand is not "their" brand.
In the next step, we looked at the fashion sector. There, women-only brands have been established for many decades. Another point is to say that we need a new brand to create an identification factor for women who have a different approach to the mountain, their behavior, their idea of what mountain sports are. Who no longer approach the mountains only from this mentality of conquest or performance.Here, spirituality, confrontation and community also play a role.
With all this knowledge, this year we built LaMunt, the first mountain sports brand for women. The initial success we've had with LaMunt's collections at retailers speaks for itself. LaMunt is sold very selectively in specialty stores, but at the same time is strongly community- and online-driven. The first collection is available in the online store in a smaller selection since December to further increase brand appeal before it hits retailers in spring 22.
LaMunt's first collection is already special because it has nothing to do with what else can be found on the market. The collection is strong in detail, not brute in make. The brand comes on quiet soles, but all the stronger for it. This finesse is also in the brand DNA of LaMunt.
If you go too broad with brands and want to be everything for everyone, then you lose focus. The customer then no longer knows what the brand is all about or what the brand stands for. There is a great risk that brands will dilute themselves by democratizing themselves. We don't want to allow that to happen with any of our brands. On the other hand, we've seen that it doesn't hurt the Dynafit brand to lower the barrier to entry in the ski touring segment, for example. For example, if you offer a beginner skis, bindings and skins as a set. Why does that work? Because as a leading brand in ski touring, you are also recognized as someone who has a responsibility to grow and solidify the ski touring community.
At the same time, as a brand, you have to create clear distance between the one and the other. The person who feels like a pro must have the feeling that what is offered for the beginner is really for the beginner. That's why the beginner's set doesn't have the lightest and most technically demanding binding on it and doesn't have the lightest ski on offer.
This balancing act must be well balanced, but works if you rely on the DNA of the brand. Dynafit is an athlete brand, but there are also beginner athletes who want to feel like full mountain athletes. If I can make it easier for them to access the sport, this is not seen by brand fans as an attack on their favorite athlete brand. But actually rather recognized as an achievement of the market leader in this segment.
What we don't do is dilute ourselves too much into the outdoor segment. We remain mountain brands, we remain athlete brands, we remain performance brands. That goes for Salewa to the same extent. We can build a shoe that is now far from what an old mountain fex imagines a crampon resistant shoe to be. But as long as this shoe still has all the codes of the Salewa brand in it, it can happily be compared to a sneaker in terms of comfort and fit. - as far as comfort and fit are concerned - in nothing inferior.
Here it is important to keep the balance: Not to leave the DNA of the brand, not to let any dilution take place in the basic idea and to remain true to itself, but on the other hand to allow the brand to transfer from other worlds, to learn and to evolve. This has happened strongly at Salewa in the area of fashion and aesthetic awareness.
How repairable does a product need to be? Sustainability, passing on to others, considerations of how I can share equipment with others, these are all topics that take on a whole new dimension with new generations. When I look at my children or even my grandson, who is now just under two years old, I ask myself what these generations will demand of mountaineering equipment. Technical functionality will certainly continue to be a prerequisite. But other issues will be important to my grandson. Whether the product is shareable with others, keyword sharing economy. Perhaps also whether I can only borrow for the moment I need something.
This will give rise to new values and new value clusters that will soon have to be incorporated into our products. That's why from 22/23 we at Dynafit will offer a life time guarantee on all technical products. "life time guarantee" on all technical products, be it boots, skins, bindings or skis. Because we see that this is now becoming important and it is what consumers want. We follow the principle: The most sustainable product is the one you already have. And our brand products must also be created in this quality, so that this is possible.