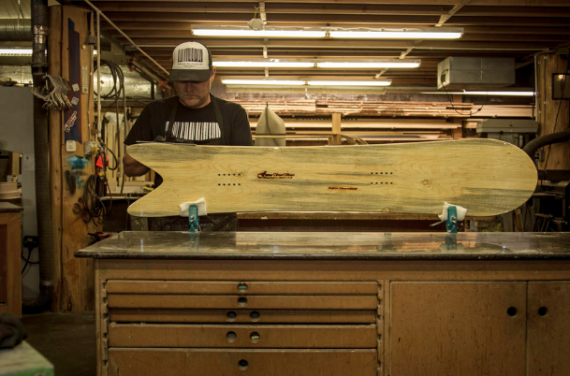 In the past years, snowboarding developed a highly technical go-big-or-go home dynamic, with boards focusing on high-tech materials and new technologies accordingly. Now the US snowboard designers start to focus more on the actual shape of the boards again. It is time to experiment: surfboard-like shapes, volume distribution and custom mades – It is all about truly enjoying the ride, indulging the spirit of "soul riding".
Brian Limoges, Director of Merchandising at evo.com, one of the biggest US online retailers explains: "Snowboarding is currently having an interesting revival with emphasis on turning, fun and playful shapes, shorter boards, pow boards,...". In short, we are in an era, where modern technologies and materials team up with a throw back vibe to the pioneer days of snowboarding.
Anybody who gets themselves into a snowboarding target group by liking and commenting on Facebook or Instagram, now gets to see not only "sponsored posts" with great action footage, but actual shopping recommendations tailored to his or her needs and preferences.
With new targeting and advertising options, snowboard brands take advantage and place their products just one click away from the most accurate target group possible. Especially big players such as Burton, Volcom or Dakine use these tools to link the community with their well-maintained online shops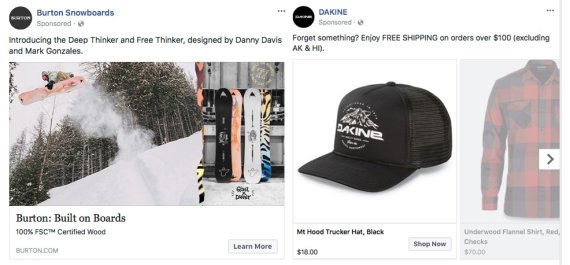 While well known, mid-sized brands owned by pro snowboarders, such as Jones or Yes snowboards are already established, on top of that, a whole new armada of "community owned brands" pop up and get a fair share of the core market. And even at more commercialized online retailers like evo.com, the new small to mid-sized brands are successful.
Brian Limoges, Director of Merchandising at evo.com says: "Capita, Union, Jones, Yes, and other relatively small players in the market have been doing exceptionally well for evo thus far."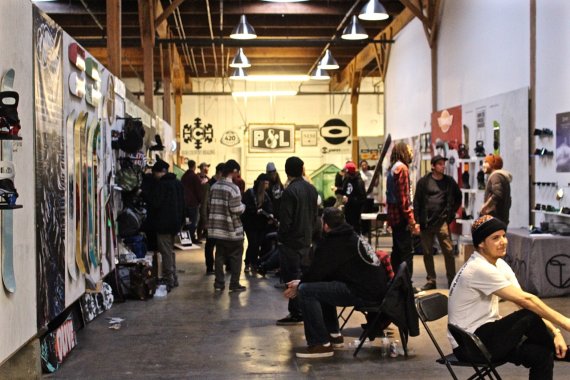 Brand new companies, such as Tribe snowboards, Salmon Arms gloves, Public snowboards, Ovan eyewear or Origin Snow kids snowboards can count on their inside knowledge of the market and their high credibility when competing with the big players of the industry.
This development lead to newly formed snowboard trade show "Parts & Labor US" happening for the second time already this January in Denver, Colorado. This second show is evidence enough for the need of a core show next to SIA.
Yobeat Magazine's Paul Boudon sums it up: "Taking up maybe 10% of the footprint of SIA, P&L is focused solely on snowboarding. No tuning equipment, no GoPro display, no extras. Just snowboarding."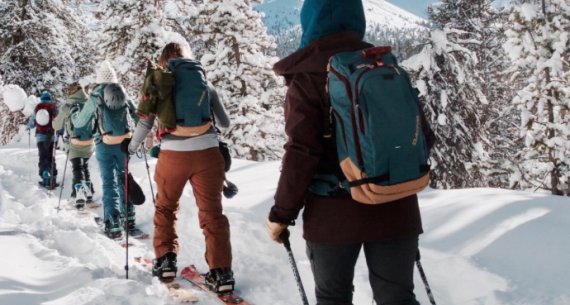 Women in backcountry snowboarding aren't a novelty. However, what is very new indeed is the fact that the US snowboard industry has discovered women's splitboarding as a market opportunity.  "All-women's" avalanche camps, such as Backcountry Babes are growing constantly.
Emily Hargraves at Backcountry Babes explains that they offer women's only, splitboard specific trips and adds that these courses sell out faster than they can find instructors to teach them. In terms of products the trend is most evident in the newly increased offer of women specific splitboards, boots and bindings.
A lot of companies expand their offer, for example Never Summer Snowboards just added a 148cm size to their Aurora model due to its' growing popularity or Thirty Two boots, who just launched the first woman specific splitboarding boot.
Except everyone who actually lives in a ski town, every American snowboarder needs to travel to get on the slopes. Two major trends helped traveling for snowboarding to become even more popular in the US lately: Almost monthly the acquisition of new resorts by the two mega-resort companies is announced.
Vail Resorts' "Epic Pass" is a no-brainer season pass for example, with top resorts in Colorado, Utah, the Mid West and California as well as Whistler, Canada, Perisher, Australia and even some resorts in Europe such as Les 3 Vallees and Arlberg.
And here is where the second trend becomes interesting: All major airlines announced that they are adding more seats and routes into the big ski resort regions." It's exciting times for Eagle County and the Vail region as the Eagle County Regional Airport will now be offering non-stop service to at least 14 cities during the peak winter season," said Kip Turner, aviation director for the Eagle County airport in Vail, Colorado.