Mobile payment by smartphone is regarded as a technology of the future that will massively change our buying behavior. No one has to carry cash or bank cards in their wallet anymore, even small amounts are accepted, cash registers are no longer necessary, and there are no lines. Check-out can be done anywhere, quickly and easily.
It's been talked about for years - but so far, very little of it can be seen in Germany. This is quite different in Scandinavia and China, where people pay by smartphone at every snack stand. According to the Gartner market research institute, more than 141 million people in Asia used mobile payment applications in 2017 – more than anywhere else in the world. Why not in Germany yet?
The first problem with mobile payment is that everyone has a different understanding of the term. In the past, it primarily meant the payment process at the end of a mobile purchase made via smartphone or tablet. This form of mobile payment has established itself as an everyday practice.
But it can also mean payment at mobile card terminals at the in-store point of sale. Up to now, mobile card terminals are rather unknown in sports retailing. SportScheck is an exception in that the company plans to introduce mobile payment in its new branches at the end of October. This refers to a mobile payment service that enables payment directly by debit or credit card with employees. This means that customers can pay their sales consultants right away and no longer have to line up at checkout. This was made possible by the introduction of tablets and a self-developed, in-store app that the employees carry with them on the sales floor.
When we talk about eliminating cash, we are talking about paying via a pay app on our smartphones. That's why these apps are called "wallets." Sometimes they work via scanned QR codes, sometimes via scanned barcodes, and sometimes via NFC technology.
Payment transactions can take place between the smartphone and POS terminal, or between two smartphones. As long as an Internet connection can be established, you can use it to pay practically anywhere in the world.
There are also good examples from the world of sports: Since mid-2018, Garmin Pay has been offering German bank customers mobile payment via smartwatch and an integrated digital VIMpay Mastercard, as well as a boon by Wirecard card. boon by Wirecard is bank-independent in Germany, France, Ireland, Italy, Spain, Switzerland, and the United Kingdom, and wherever Mastercard is available for touch-free payment. 
"That's convenient when, for example, you don't have to take your wallet out of your pocket for every small amount", explains Peter Weirether, Head of Category Management DACH at Garmin. "And for athletes, it's naturally a great advantage if they can leave their entire wallet at home during their run and still buy a bottle of water at the nearest gas station."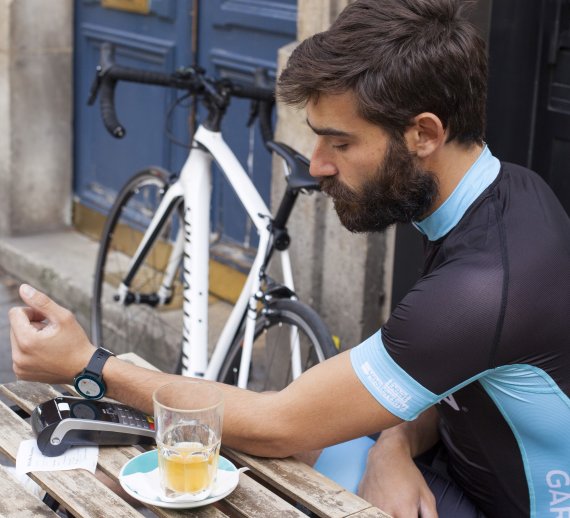 One of the biggest hurdles so far is that there are too many different isolated applications on the market. Mobile payment will only become suitable for the masses if one and the same application works in several different everyday situations, and on as many devices as possible. That is difficult to imagine without big international names like Google or Apple.
Over 80 percent of German smartphone users have an Android device, and thus also a Google account: The step to Google Pay isn't far off. 20 percent use Apple devices. Google's mobile payment service, Google Pay, was launched in Germany in 2018 – but only a few banks support the payment system. Apple Pay doesn't even exist in this part of the world yet. It's not expected to be launched in Germany until the end of the year.
At the same time, banks are investing in their own payment apps and equipping their credit cards with NFC technology for touch-free payment.
Retailers are currently finding it difficult to keep track of the many different providers and technical solutions, and to integrate the corresponding functions into their own POS systems. This, however, would be essential to keep from losing the connection to or scaring away foreign customers who are used to paying by WeChat Pay or Alipay from China, for example. What's certain is that payment processes are facing a profound change. Preparing for that would be advisable.