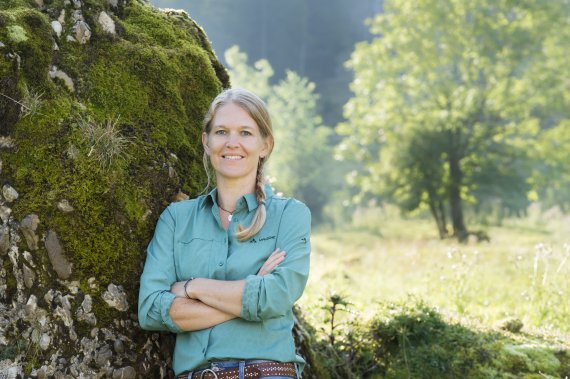 ISPO.com: What is currently the most important goal regarding sustainability and Corporate Social Responsibility (CSR) at Vaude?
Antje von Dewitz: We are setting ourselves ambitious, science-based goals in order to manufacture all products worldwide in a climate-neutral way in the future. With the so-called Science Based Targets (SBT) we want to make our contribution to limiting global warming to a maximum of 1.5 degrees Celsius in accordance with the goals of the Paris Climate Agreement. In order to achieve this demonstrably, we are working with SBTs to gradually reduce our CO2 emissions in the global supply chain, among other things. Our company site in Tettnang and the Made in Germany products manufactured there have been climate neutral since 2012. With the SBTs, we are significantly expanding our climate strategy.
How is Vaude working on it right now?
For climate-neutral product manufacturing, we collect energy and material consumption data from the global supply chain and successively reduce CO2 emissions. One of the focal points is the switch to renewable energies. On the other hand, we optimize the supply chain processes from material production to the finished product to ensure maximum conservation of resources and high material and energy efficiency. We then compensate for unavoidable emissions. The first concrete sub-target is that by 2024, at least 90% of all Vaude products will be made from predominantly bio-based or recycled materials. In doing so, we follow the principle of closed loop recycling management: By using renewable raw materials or recycling materials, fossil resources are conserved and CO2 emissions in material production are significantly reduced. We are making good progress with this, already half of our new clothing collection for Winter 21/22 consists mainly of recycled or bio-based materials!
Topic sustainable success - what does Vaude succeed in doing?
Our own sustainable label Green Shape, which is based on the highest ecological and social textile standards, already accounts for 96% in our new collection (clothing alone 99%). The share of products certified with the state seal Green Button is correspondingly high. We have been recognized as the leader of Fair Wear for many years and thus also see ourselves as a best practice for a positive and fair way of globalization. For years, a major focus has also been on extending product life. Whether through our own repair workshop, the easy ordering of spare parts, our cooperation with the repair platform iFixit, the RepairCafés or through our Vaude Second Use Shop on eBay: It is important to us that our customers have easy access to repair or resell products, and this is excellently accepted. With our repair index, we also systematically anchor repairability in product development, i.e. we make sure that products are designed in such a way that they can be repaired as easily as possible.
Sustainability has many facets. How can I best contribute as a consumer?
On the one hand, by expressing wishes and needs as a consumer and asking for them! At the beginning of our journey to become a sustainable company more than ten years ago, our retailers repeatedly said that nobody asked for sustainable products and that they therefore saw no need for them. That has changed today, but there is still potential! It's like an election: every vote counts! On the other hand, it makes sense to either find out about the most important seals and standards such as the Green Button, Bluesign, Fair Wear, GOTS or Green Shape, and let the findings be incorporated into the purchasing decision. Or to orientate yourself towards brands that deserve trust through their holistic commitment.
Who is your sustainability role model?
I don't really have role models, but there are people who inspire me. For example Greta Thunberg, whose consistent commitment has finally succeeded in making global warming a broad topic. I also find the commitment of our Development Minister Gerd Müller to more sustainability in supply chains just as inspiring and right.
Who is currently making a difference with a special idea/project?
Federal Development Minister Gerd Müller has been fighting for many years for sustainable textile production and a supply chain law that generally obliges companies to meet their responsibilities in the entire global supply chain. Thanks to his commitment, the Green Button was introduced a year ago as the first state seal for fairly and ecologically produced textiles. Since then, this seal has provided consumers with valuable guidance on how to buy responsibly. In the meantime, many more companies have joined the Green Button. The Green Button shows that it is possible for companies to fulfil their responsibility in the global supply chain and that this can be verified. We support Gerhard Müller in his fight for a supply chain law and are proud that the majority of our products carry the Green Button.
Sustainability is one of the focus topics at ISPO Munich Online from February 1 to 5, 2021. In addition to the status quo of the industry in terms of responsible trade, the spotlight will be on the topics of cooperation and creations. Experts and decision-makers from the industry will discuss the significance of the UN's Sustainable Development Goals for the sports industry and clarify which goals must be met for retailers and brands in the future.
The chances and possibilities of circular flow economy are shown and discussed with participants of ISPO Munich in many interactive workshops.
In addition, there is of course no lack of information about the different seals of approval, their contents, meaning and sense. 
The participants can look forward to a versatile, informative and stirring conference format.