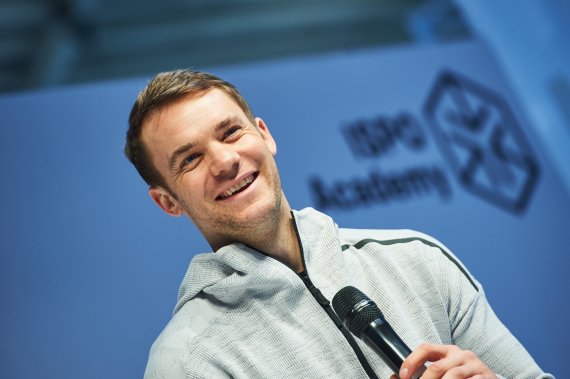 Halftime! For the non-celebrating part of the ISPO Munich community, working day two is coming to an end, and you can't really say that it was less eventful than day one: Lots of Olympic champions, soccer and other world champions, seemingly flying stand-up paddlers and a symposium that dealt with nothing less than our digital future: That's ISPO Munich, day two!
While Javi Martinez from FC Bayern Munich came to ISPO Munich 2018 as a private visitor in the morning, his teammate Manuel Neuer entered the big stage of the ISPO Digitize Area at the Adidas Symposium in the evening. In a grey jogging suit he debated with Lena Gercke, famous German model and TV presenter, who introduced her campaign "Early Bird". The question of whether he has any influence on the design of Adidas jerseys? "With restrictions," says Neuer. A jersey color he'd veto? "I wouldn't like to run in the pink Tim Wiese jersey."
Klaus Dittrich, CEO of Messe München GmbH, spoke to more than 200 visitors in the ISPO Digitize Area about Messe München GmbH's digital approach. Digitisation demands everything from every top manager, said Dittrich: "We have to build bridges between the old and the new. And both areas must show respect for each other's performance." ISPO is not only a pioneer within the Munich Trade Fair Centre but also "worldwide".
At the Adidas Symposium at ISPO Digitize, ISPO Group Director Tobias Gröber explained the successes of ISPO.com: "ISPO.com is a milestone with 20 million page impressions, 7.5 million unique users, at least 300,000 unique users on the hub throughout the year, this month already 1.5 million users. Our business is no longer selling square meters. We create valuable connections."
Professor Karl Peter Fischer developed the Digital Readiness Check for ISPO and presented it on the ISPO Digitize stage. With this check, companies can test the degree of digitization they have achieved. Far too many dealers and brands are still "in shock paralysis in front of the Amazon snake".
Even if you get a bloody nose at the beginning of digitalisation, you have to tackle it now. "Because otherwise it's really too late." And Roland Auschel, Chief Sales Officer at Adidas, said on the ISPO Digitize stage: "We are back at ISPO Munich to demonstrate our commitment to the specialist trade. Open and transparent. We are pleased that ISPO is breaking new ground and offering much more than the possibility of a physical product presentation."
Away from the ISPO Digitize stage, ski star Felix Neureuther announced that he has now become a businessman ("I have to think about my professional future too") as a partner in the avalanche airbag manufacturer ABS Protection, and then ski colleague Markus Wasmaier did not spare the International Olympic Committee with criticism: "The IOC broke the Olympic Games."
"The IOC would benefit from humility and modesty - with President Thomas Bach at the forefront. He has a close friendship with Vladimir Putin, he has celebrated in Sochi in the evening - and incidentally, the military has marched up to assault the Crimea ".
Henry Maske, former world champion in the light-heavyweight category, meanwhile chatted about how he still contributes and what innovations might change boxing on a broad level.
World champion colleague Philip Köster from the windsurfing department, on the other hand, told us about a different kind of encounter: "Last week I saw a great white shark when I was windsurfing in Australia. As a professional, one prefers to go to the shore and warn the others", said the champion during his visit to the Outdoor & Watersport Village of ISPO Munich.
Speaking of Watersport Village. There you talk about being able to fly over the water with a "wing board": Foiling is next to SUP Yoga the next big trend in water sports. Instead of the traditional fin, a large fin with wings is mounted underneath the SUP-Board.
If the device is brought to a speed of about 20 kilometers per hour by paddle or with the thrust of a wave, it lifts itself completely out of the water. "You become super fast and feel like you are floating", says Sonni Hönscheid, the ten-time SUP World and European Champion.