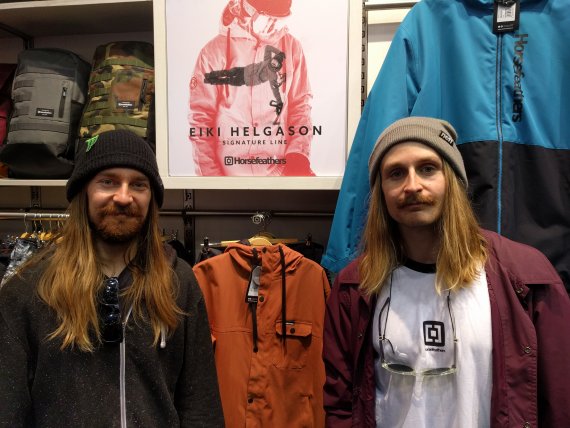 The special thing about clothing for snowboarders is that you don't wear it most of the time when going snowboarding. Halldór and Eiki Helgason take this fact into account. Each of the two brothers from Akureyri in the north of Iceland has designed a signature collection for boarders at the Czech sports outfitters Horsefeathers. And they know what matters: Halldór and Eiki Helgason are two of the best snowboarders in the world.
"Most of the time you wear them when you're out and on the road," said Eiki Helgason, who designed jackets, trousers, t-shirts and hoodie for his collection, at the ISPO Munich 2018 at the Horsefeathers stand (Hall B4.202). That's why clothes must not only be thick and cold resistant, but also practical and cool. "That's why everything is a little more street-focused."
After two years at the Horsefeathers branch of Stigma Distribution, the brother Halldór and the company have decided to intensify their cooperation. His collection "Horsefeathers atrip line by Halldór Helgason" is integrated directly into Horsefeathers. It is not yet available. It will not be on the market until autumn 2018. It will consist of several jackets and trousers and some accessories for boarders.
The Helgason brothers have visited ISPO Munich many times, they said, so often that they have forgotten the exact number of visits. "Seven or eight times, maybe," said Halldór Helgason. Unfortunately, they would have been unable to make it in the past few years. All the more they were happy to have returned now.
The two have already planned several projects in the coming year. For example, several film shoots are planned: A new snowboard film from the "Beyond Medals" series (BYNDXMDLS). "This is gonna be a cool movie, we're looking forward to it," Halldór said. A new issue of the "Cream Week" of their board manufacturer and outfitter Lobster is also on the agenda. Eiki for his part is planning a new season of his little movies on Instagram. Making the first one was great fun for him. "I've got a plan for the second one, but I'd rather not tell you yet."