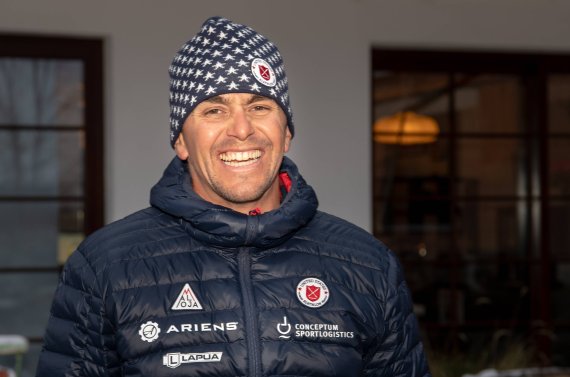 ISPO.com: Mr. Greis, you retired six years ago. How do you experience the transition from athlete to coach? Did you already consider becoming a trainer back then?
Michael Greis: No, I had no idea. I studied International Management in Ansbach and worked as a specialist for Eurosport afterwards. Generally, it's quite relaxing to take a step back at some point. Since I was 13, I engaged a lot in biathlon. Later on, I worked as a youth coach in Lenzerheide, and now I coach the US team. But I'm as ambitious as I was before.
Speaking of ambition, how do you evaluate the development of Laura Dahlmeier? Do you think that this could spell the end of her career?
I'm confident that Laura will stick with the sport for a couple more years at least. Her career has been absolutely phenomenal so far, she has already won all of the important titles. It seems like she's going through a rough time at the moment, so she's taking it easy for a couple of weeks before the start of the season. This all shows how much pressure Laura's under, but, given how professional she is and the fact that her support team is giving her as much space as she needs, she will hopefully strengthen from this experience.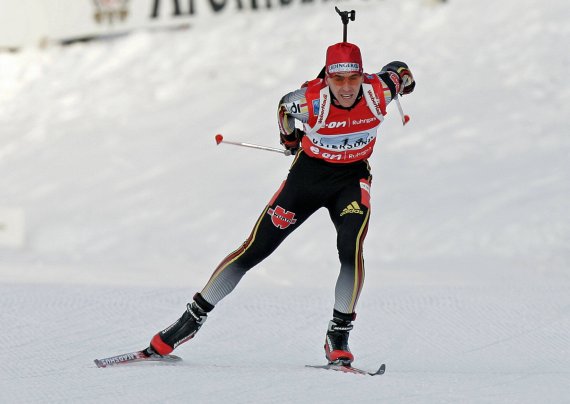 The power of public demand is a big factor here, considering that biathlon is one of the most watched winter sports on television. Is that still the case, or is the younger generation migrating straight to the internet?
Biathlon and ski jumping are still the top winter sports. They have around five million viewers and a market share of 20 to 25 percent. That is huge. If you watch winter sports on television on weekends, you can see that the broadcast always focuses on biathlon and ski jumping competitions. There's a good reason to be optimistic about the future.
German athletes have been consistently successful for years. What happens if that stops being the case? What if a Laura Dahlmeier would rather go climbing in the future?
Looking back, women have always outperformed their male counterparts in biathlon. It's certainly true that the women's team has seen better lineups than the current one. But there have been times when at least one of the German women has been on the podium. It's obvious that this won't always be guaranteed. Someone like Laura is very important. She is a leader who paves the way for her teammates and can help them grow as athletes. This is something she's done very well over the couple of years. And in four years the male lineup will be very different. It will be interesting to see if the next generation of athletes can rise to the challenge. This won't be the first time that there has been a generational shift and the German Ski Association's (DSV) biathletes coped with that very good. So I'm feeling quite optimistic.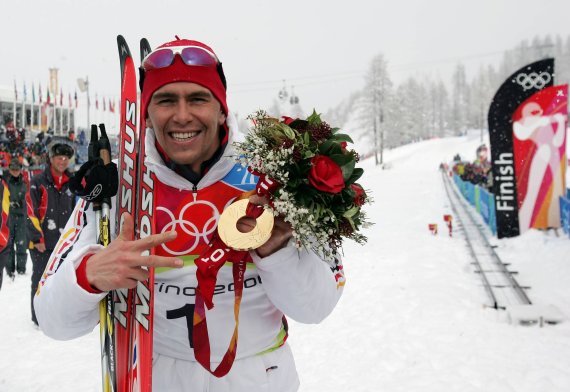 Now, they decided to change the coaching board...
Right now, they are working with a young coaching team. I do not know their strategy and don't know what led to the decision, but considering that biathlon is the second biggest winter sport,  any transformations should be thought through carefully. 
The DSV has implemented a new strategy based on establishing a team of young trainers. I am eager to see how they will manage the challenge, and I am sure that the whole team will live up to the success of recent years.
Were you approached by the DSV?
There were some talks about whether or not I'd be interested in working with the junior team. But at that point I was already engaged in discussions with the US team, a job which I am extremely enthusiastic about. 
Prior to this, you've been coaching young biathletes in Switzerland for two years. Why did you decide to head to the USA?
Last summer it was sure to cancel what I was doing. So at the beginning of last winter, Bernd Eisenbichler, the U.S. Biathlon Association's Chief of Sport, got in touch with me because he was looking for a coach. At first, we didn't talk as much. We met at the Pyeongchang Winter Olympics and discussed the matter. After that, things looked a lot more concrete. It's a big challenge for me, my own little adventure. It's a very different culture, so there has been a lot to learn about. But so far, I'm really enjoying it, even with all the traveling involved.
How are you organizing yourself, given that your training facilities are spread all over the country? In Lake Placid, in Vermont, in Anchorage...
Our main facility, the Olympic training center, is in Lake Placid. Most of the training takes place there, and it's also where most of the athletes live. The US is obviously a very big country, but it's now Tim Burke's job to coordinate the junior team and the different locations. It's my job to keep the stress level from traveling in check while arranging the training unities. At this point it's mainly about establishing a certain dynamic within the group.
How often do you manage to head home to the Allgäu?
I try to get back to the Allgäu whenever I can, or otherwise to my girlfriend in Munich. During the preliminaries, I flew back and forth every other week. The team actually ended up spending a couple of weeks in Germany in June/July. The younger team members handle the stress level quite well, but a couple of the athletes are married with children, and obviously want a chance to spend some time at home. You really have to bear this in mind when you're coming up with schedules and plans, otherwise some team members will struggle to stay completely focused. 
What do you hope for in your first season as head coach?
Our goal at this stage is to retain 13th position. With Sean Doherty, the four-time Junior World Champion, we have a very talented team member who will follow the footsteps of Burke and Bailey, which won't be easy. He definitely has the potential, but, based on our training sessions, I believe he  needs a couple more years. Therefore it's important to keep building and to keep training over the next four years. But we're already taking steps in this direction this season. My own experience that I can pass on to the team, is quite helpful. Everyone is on their own once the start signal resounds, but to know that they're well trained and in good shape helps the guys enormously.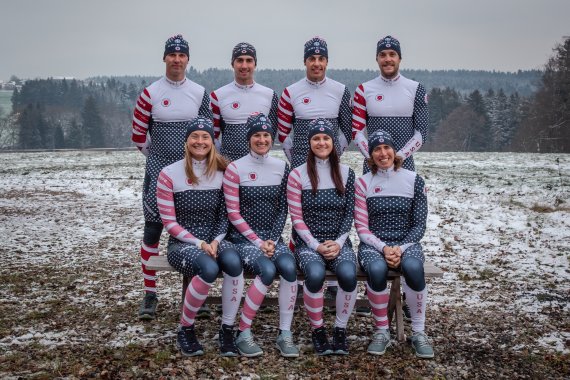 How well do you know the team?
We've been training together since May. After so many training sessions you really become closer as a team. I'm looking forward to the upcoming season and am excited to see how my athletes acquit themselves. They haven't complained once, even though my training philosophy is a bit different to what they're used to. A change of faces can help to introduce a lot of new things, even if there are some cultural differences. I can't check in on them every day due to the large distances involved, so a lot of the training simply depends on trust. 
How are you coping with the language barrier?
Having to talk about the technical side of things in English, like skiing techniques and shooting positions, is definitely a challenge. How can I get my point across to the athletes? How can I motivate them? It's something that takes time, and where I can definitely improve.
How do you approach that?
Learning by doing. I do my best to completely immerse myself in English, whether with films or certain texts. At the end of the day, I believe that practice defines the master. Even when you're a coach you don't know everything, regardless of who you're coaching. If one thinks he knows everything he's wrong. But the guys realize that I'm always fully motivated. In any case, I want to see them fighting for every second and every position from the very first competition. That's the be-all and end-all.
And how important is a sensible racing suit?
Quite a lot of progress has been made there since my active days. My pants used to get worn out at the sides by my poles. To address this problem, Maloja has established a special, extremely high quality material. Furthermore, they applied special pads on the overarm, hip, and elbow for extra grip when shooting.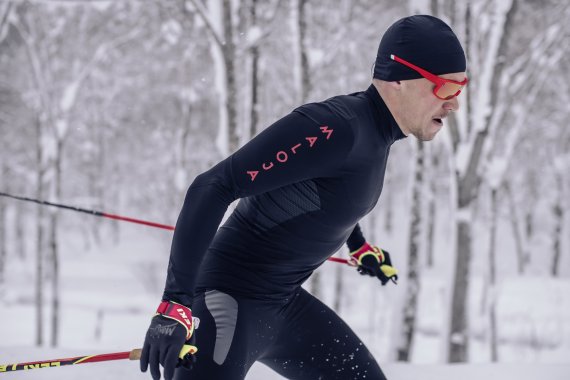 What sort of relationship do you have with Maloja, the Chiemgau-based brand that has been equipping the US team since this World Cup season?
I got to know Maloja at a little get-together back when we were training near Ruhpolding in the summer. A super young, innovative, and clever brand – exactly the kind of team we want to be. I'm sure that this will be a great collaboration. In any case, we're very enthusiastic. The CEO introduced their vision and the development of their brand to us. We can transfer a lot of that to our sport. It will give us that extra bit of motivation for the new season. After Tim Burke and Lowell Bailey left the team, this season also marks a new beginning for the team. Our aim is to continue performing at the same level.