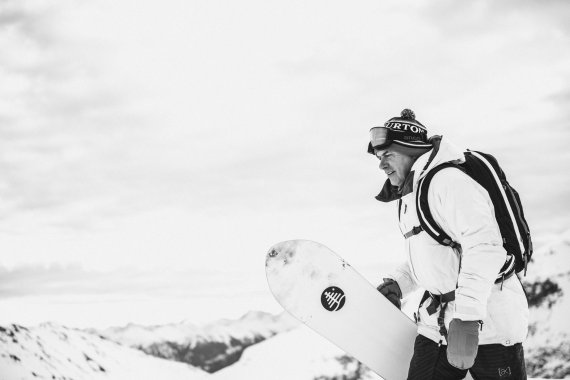 A Day for Jake on March 13, 2021
Snowsports brand Burton is honoring its 2019 deceased founder on March 13, 2021, with "A Day for Jake," a global day shared to celebrate the legacy of Jake Burton Carpenter. No matter where you are or what you're up to, Jake's spirit is what brings us together. Ride, hike, surf, skate, wax your board, whatever, just be creative and have as much fun as you can!
Share your day with the hashtag #RideOnJake and pick up a free sticker sheet at your local Burton store and select snowboard stores and ski resorts.
Who invented snowboarding?
Where was snowboarding invented? Several US surfers are credited with the invention of the snowboard in the modern sense. There is only agreement about the origin and the name of the original snowboard: It came from the USA and bore the beautiful name "Snurfer" (short for "Snow Surfer"). Like the monoglider, this was also just a board; however, the decisive difference was the lugs for the feet mounted on the side of the board, which improved stance and guidance.
The next great leap in development was delivered by a certain Jack Burton, who mounted adjustable rubber straps for the feet as well as an anti-slip surface on the board.
Considering that Jake Burton - he almost never used his real surname Carpenter - was a legend of winter sports since the late 70s, he was a very approachable person, down to earth. One you'd have a beer or two with.
On the day of the interview almost ten years ago at the Burton European Open in Laax, he opens the door with dripping wet hair, fresh out of the shower, just off the slopes after riding with Shaun White. "Very inspiring," he says about the high-flyer of the scene. If anyone's inspiring here, it's Mr Burton himself. But instead of putting the reporter off for later, he asks him in, dries his hair with a towel and is available, barefoot - no idea where the socks are right now. But who needs socks to talk about snowboarding?
From Snurfer to Snowboard Thanks to Burton
It's January, and yet Burton has been on the board for 58 days already. "I always count from June," he explains, "those are the last days of snow for us at Mount Washington." A few hours further west in Burlington, Vermont, he founded his company in 1977. "When I started, there was the snurfer," he remembers, "it was ten centimeters wide, barely a meter long, had no binding, only this rope in front, like reins. I knew it right away: the boards had to be wider and longer and need some kind of binding."
If you look at the snurfer action pictures today, you can only shake your head in bewilderment: without attachment to the board, only this piece of string in your hand - hard to imagine, the whole thing.
Burton's Beginnings: No Shop Wanted to Buy These Things!
So, Burton went to work: "Before I founded the company, I built a hundred prototypes, with 15 or 20 different constructions, with fiberglass like surfboards or laminated wood like skateboards. I started in December 1977 and thought I could sell snowboards in the same winter - and just made it for the next season. But no shop wanted to buy these things! With two relatives and a friend I wanted to build 50 boards a day, but at the end of the first year we had only sold 300 boards. We, who invented snowboards, were in the red. In summer, I had to work as a waiter and give tennis lessons on Long Island to earn money."
The Snurfer cost ten dollars back then, the Burton board almost 90 dollars. "In the second year I worked alone with an aide," says Burton, "I still remember how we built our 700th board and thought: Whoa! We wanted to make 50 a day. But then we managed to double our production every year - for 15 years. Twice the amount every year." The rest is snowboarding history.
One Year Time-Out for a Snowboard World Trip
But as eager and ambitious as Burton was, he knew when he needed a break. In 2004 he took a sabbatical to travel with his wife and three children for ten months to snowboard on all continents, always following winter.
"On the one hand, we wanted to show our children the world with its different cultures," he recalls, "and I didn't want to travel so business-like anymore: one week in Japan for a trade fair, New Zealand for ten days. You're barely get comfortable somewhere, and you gotta move on. That makes you bitter: Damn, now I have to go back to Japan. I wanted to stay longer, see Africa and Asia. I had never been to Australia before - and then for a whole month. I went to the rugby, went snowboarding, letting the surf culture take over. It was fantastic for the kids. American children are so isolated. When I brought some of our snowboarders from California to our European headquarters in Innsbruck, they got off the plane and said: "Hey, they don't speak American here!"
Burton Spoke the Language of Athletes
Jake Burton, snowboard founder, always spoke the language of the athletes, exchanged ideas with them about every little detail of how invented snowboarding, of the board structure - and simply enjoyed boarding with them, as in Laax with Shaun White. It's hard to say which of the two enjoyed this more.
When the employees learned of the passing of their boss, everyone gathered in front of the company building in Burlington - and they decided to do what Jake Burton would certainly have done on such a winter day: go snowboarding.
Ride in peace, Jake Burton!