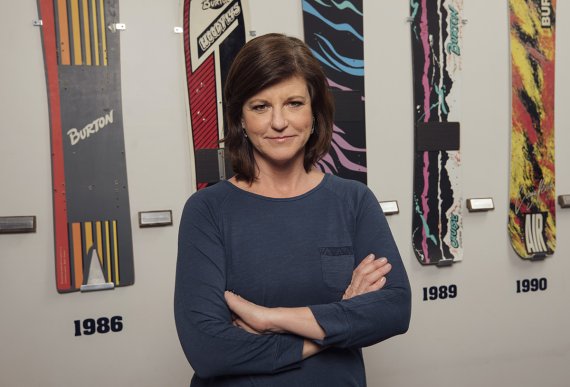 Environmental protection and sustainability have established themselves as an essential topic in the textile and outdoor industry. ISPO Munich 2019, among others, demonstrated this. Those who market sport and recreation in nature do not want to burden nature at the same time.
Donna Carpenter, Burton co-founder and wife of Jake Burton, considers her brand, which has recently joined the European Outdoor Group (EOG), and the entire industry responsible in making a difference. Donna Carpenter says, "We must use our power to demand change."
ISPO.com: What does sustainability mean for Burton?
Donna Carpenter: At Burton, we divide sustainability into two areas: On the one hand, there are the chemicals that we use in our products. On the other hand, working conditions and human rights.
We try to use the safest chemicals available on the market and are therefore Bluesign certified. Every company, whether Patagonia or The North Face, wants to be 100 percent Bluesign certified. We at Burton are already 86 percent Bluesign certified, making us the company with the largest share of Bluesign products.
In the beginning we were very cautious not to do a mere "Green Washing". We wanted to be sure that we had the best possible materials until we went public with the issue of sustainability. It has taken us years to acquire the knowledge we possess today.
I quickly realized that what we were doing was great, but that we could only make a difference if we united as an industry. That's why we've been working with Protect Our Winters for years to fight for change in politics. With regard to human rights, we are part of the Fair Labor Association, which has the highest human rights standards in the UN.
ISPO.com: Is there an exchange among the companies regarding sustainable production possibilities?
Donna Carpenter: Yes, there is! And that was very difficult for me at the beginning (laughs). Sharing our knowledge with companies such as Patagonia felt strange at first, but we mutually benefit from the exchange. If we really want to make a difference, we need to work together on important societal issues such as sustainability and equality.
Especially in the hardgoods sector, where toxic adhesives etc. are used, there are great opportunities to be innovative. For example, we are the only snowboard brand to make a life cycle assessment of the products. This allows us to say exactly how much emissions a single product has caused. This contains the raw materials, the transport routes, the adhesive, the processing etc.
We would like to pass on this knowledge and help the industry to become more sustainable.
ISPO.com: What responsibility does the outdoor industry take in terms of sustainability?
Donna Carpenter: In my opinion, we have a great responsibility, but we are not yet using our strength. The outdoor industry in the USA is huge. If you put it all together, it's even bigger than the pharmaceutical industry. We must use our power to demand change. However, the road is difficult, because not everyone wants to talk about this topic and admit what is happening to our world right now.
In the outdoor industry we use many environmentally harmful products, and we have to look for alternatives. We are aware that we have a great responsibility, and we try different things to use less plastic and find chemicals that are less toxic.
ISPO.com: Do you think buyers are willing to pay more for sustainably produced products?
Donna Carpenter: I honestly don't know. But I believe that this issue is becoming increasingly important for today's generation. I have three sons in their twenties. All three are very demanding when it comes to the companies they buy from. My sons demand and expect that companies produce sustainably. This has personally awakened me and motivated me to become more active in this area. But I can't say whether the majority of buyers would pay more to make their production more sustainable.
In any case, it would be very helpful if all companies complied with the Bluesign standard, because then not only the positive effects for the environment would increase, but also the production - and thus also the products - would become cheaper.
ISPO.com: At Burton, you are not only responsible for sustainability, but also for products for women. Does the female target group need special attention?
Donna Carpenter: Yes, it does because snowboarding is still portrayed as very masculine. In the early days there were as many women as men - snowboarding was shaped by men and women.
Back then, it was no less likely to see a woman on the magazine covers than a man. But then snowboarding was very much influenced by the surf and skate scene and men dominated the action. Since then, women have been underrepresented in snowboarding.
ISPO.com: What can companies do to change this?
Donna Carpenter: If there are no women who make decisions and work in management positions, you will never reach the women's market. In my opinion, the number of female managers and the growth in the women's sector are tied to each other.
Many companies have tried to appeal to women, but in the wrong way. Because it's important that a woman decides what's cool for another woman. If all these decisions are only made by men, nothing will change - they don't know what we women really like. When I first talked about the women's collection with one of our engineers, he asked me if he should put flowers on the product...
At Burton, 52 percent of our senior executives are women. The senior team I work on is 50/50 split.
ISPO.com: What should happen in general to get more women interested in snowboarding?
Donna Carpenter: We should show more pictures of women - of women who have fun snowboarding. Action pictures of men don't appeal to women. I think there's a big scene with strong snowboarders, we just have to keep supporting them. That's why Burton runs women's snowboard camps. Because women learn differently than men.
When I wanted to learn to surf, I went into the water with my husband and was so frustrated that I finished with the subject. One day I ended up in a surf camp for women and it was great. They explained surfing step by step and other women supported me. So I think it's important not only to provide the right equipment, but also the right environment.
ISPO.com: Burton is now part of the European Outdoor Group. What were the main reasons for this?
Donna Carpenter: As in the USA, we want to share our knowledge and strengthen our industry, be it on sustainability, equality or other issues.
Burton has always been a mountain lifestyle brand. For over 30 years we have been producing jackets, fleeces, hoodies etc. for snowboarders and all mountain lovers.
Burton is the biggest snowboarding brand in the world and has proven itself in that position for almost 50 years. With Donna Carpenter as Co-CEO, the company gets more reponsible in sustainability and reaches out to snowboarding women. 
Following, we will answer frequently asked questions about Donna Carpenter. 
Donna Carpenter is Co-founder and Co-CEO of Burton. The company was founded by her husband Jake who passed away in 2019. 
In 2021, Donna Carpenters net worth was estimated at around 700 million US dollars.