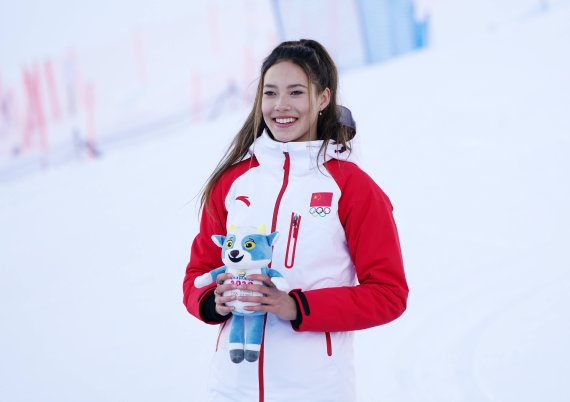 Nothing about the 2022 Olympics is apolitical anymore. At the latest since the USA announced a diplomatic boycott of the Winter Games in Beijing at the beginning of December. Subsequently, the United Kingdom, Australia and Canada also confirmed that they would not send any political delegations to the Games in Beijing.
China's government, in turn, countered that no invitations had been extended to politicians anyway, given the global Corona pandemic. According to Zhao Lijian, spokesman for the Chinese Foreign Ministry, the boycott "violates the political neutrality of sports" and is "based on lies and rumours".
All sides stressed that the athletes would not be affected by boycotts. But one young freeskier with a special history is suddenly thrust into the spotlight by the conflict of world powers. Eileen Gu is 18 years young, a California native, a student at Stanford University starting in 2022 - and China's biggest gold hope in freeskiing.
"Since I was little, I've always said, when I'm in the US, I'm American. When I'm in China, I'm Chinese," Gu told "ESPN", describing her self-image. "I am proud of my heritage, and equally proud of my American upbringings".
She was born in San Francisco in 2003 to a US father and Chinese mother. Her mother Yan Gu migrated from China to the USA in her 20s to study, stayed there and signed Eileen up for a ski course when she was a toddler. The start of a stellar career: even as a junior, both the U.S. and Chinese ski federations courted Gu, who hinted at her talent on the pipes, ramps and rails of the world early on.
In 2019, at the age of 15, she finally decided to compete under the Chinese flag. A choice that also met with incomprehension in the USA, but which she made for young Chinese women.
"The opportunity to help inspire millions of young people where my mom was born, during the 2022 Beijing Olympic Winter Games is a once-in-a-lifetime opportunity to help to promote the sport I love," Gu wrote on Instagram, " If I can help to inspire one young girl to break a boundary, my wishes will have come true."
She will compete at the Olympics under her Chinese name, Gu Ailing, and then wants to bring a little U.S. lifestyle to China through sports. "Sports are engrained in the youth culture in the US. Almost every American kid play some sport at least one time in their childhood. I hope to inspire more of that to happen in China," said Gu, who speaks fluent English and Mandarin.
In fact, Gu has good chances as a medal candidate: She was the first Chinese woman to win gold at the X Games in 2021. At the 2021 World Freestyle Championships in Aspen, she took halfpipe and slopestyle gold and bronze in the big air contest.
In November 2021, she became the first woman on the planet to pull off a Double Cork 1440 - a jump with four spins and two flips.
Without skis, she cultivates her role as a small-scale bridge builder between the two superpowers through "having friends and being able to communicate with people. Because that's the best way to transmit culture." Gu has already been the cover face of the Chinese edition of "Elle" in an outfit by Louis Vuitton and jewellery by Tiffany & Co.
Gu, on the other hand, has so far avoided clear political statements. On her social media channels, too, the focus is on sport and the belief in overcoming one's own limitations - in addition to posts for advertising partners from all over the world. It's a course that is increasingly difficult to maintain in the face of simmering political conflict.
So at the 2022 Olympics, Eileen Gu will have to master arguably her greatest feat, even before the Double Cork 1440: a balancing act between two world powers.