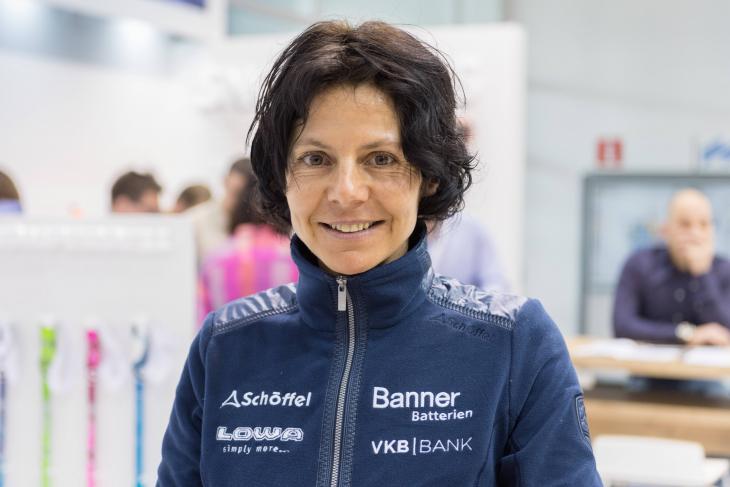 The K2 is her fateful mountain. It took extreme mountain climber Gerlinde Kaltenbrunner seven attempts before she finally reached the summit on August 23, 2011.
Just a year earlier, the now 47-year-old was anchored in the ice slope, forced to watch as Sweden's Fredrik Ericsson, a good friend, fell 1,000 meters into the depths. The K2 was the last of a total of fourteen eight-thousanders on earth, all of which the Austrian native conquered. At ISPO Munich 2018, she talks about her experiences in an interview with ISPO.com. 
ISPO.com: Ms. Kaltenbrunner, you aren't climbing any more eight-thousanders. Why?
Gerlinde Kaltenbrunner: There are only 14 eight-thousanders, and I've been able to summit them all. So the subject is completed for me. I don't want to do any repetitions. I'm very happy that I've been able to return safe and sound each time. There are also very lovely five, six and seven-thousanders that I'd still like to pick up.
Spontaneous thought: What comes to your mind immediately from your ascents?
A lot has remained very strong in my memory. A lot of sad things, too. Mountain climbers who went up with me and didn't come back. But a lot of beautiful moments, too.
Give us one special experience.
Being able to stand at the top of the K2 after so many attempts and coming back down safe and sound. That was my most wonderful, but also my most difficult expedition by far. I arrived at the summit in the most beautiful evening light. That moment will last a lifetime, as if it was yesterday. There was just silence, a great feeling of gratitude.
Here at ISPO Munich, you talk about "easy" seven-thousanders. Give us an advice: What do mountain climbers need to bring with them for these?
First and foremost is true enthusiasm for this goal. It has to come from within. Detailed planning is important to give yourself optimal mental preparation, even for the unforeseeable. Then it's important to reflect on the mountain over and over again. To ask yourself during an expedition whether this is still within the bounds of what you have taken as a risk.
Extreme mountain climber Gerlinde Kaltenbrunner at ISPO Munich 2018
It's about humility?
Calmness, composure, humility – that comes automatically when you've been in the mountains for years. To approach an enterprise with respect. Time and time again, it's important to realize that only nature dictates the framework conditions. A mountain climber needs to trust his intuition, always pay attention to how he's faring on the mountain. Becoming one with nature, not wanting to force anything and, if need be, returning when it's time. There's no use to a mountain climber reaching the summit if they down survive the descent.
And the equipment is very crucial. Mountain boots, backpacks, functional apparel – everything is brought together under one roof at ISPO Munich. How important is this trade fair to you?
It's magnificent. Over just three days, you get the opportunity to inform yourself completely. What innovations there are. What's been reworked. How each exhibitor has further developed, what new products they've brought forth. And retailers have the opportunity to learn about one another in just a few days.