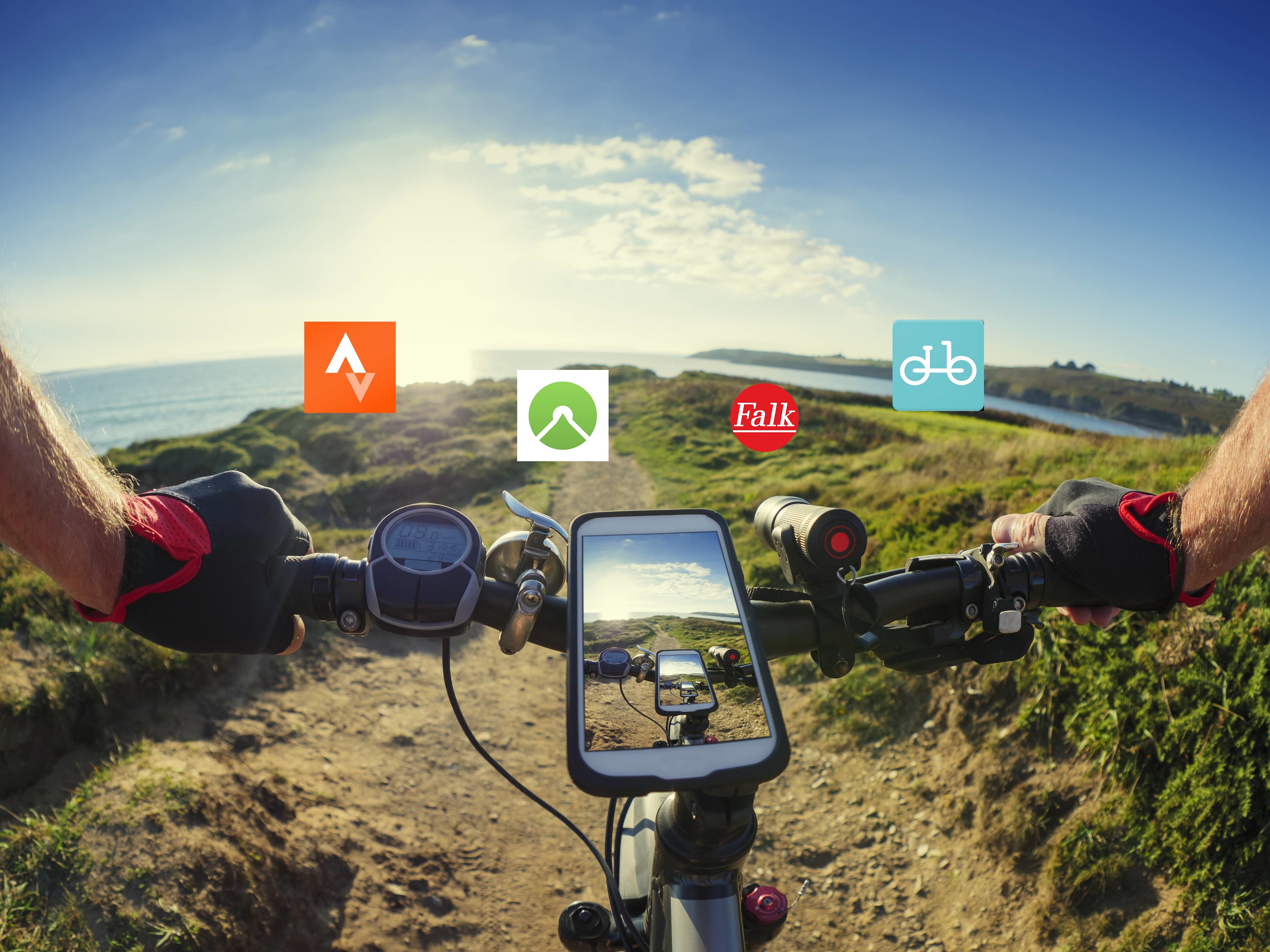 Apps can make cycling easier, more pleasant, safer, more comfortable, cheaper or simply more entertaining. But when looking for the best bike apps in the Google Play Store and Apple Store, the choice is huge. ISPO.com provides an overview of the best free bike apps for Android and iOS.
Practical Tips for Bike Apps
Especially with navigation apps or video tutorials, the amount of data downloaded can be enormous. Therefore it is recommended to download apps already in the WLAN before the bike tour.

Before a tour you should always make sure that all necessary maps are already downloaded and installed. Far away from civilisation, subsequent downloads are often expensive, slow or not possible at all without a network.

Depending on the thickness and material of mobile phone cases, they can impair the GPS reception of the device.

Activated location, bluetooth and a permanently activated display cost a lot of power. If the mobile phone has to work as a navigator for a long time, unnecessary functions should be switched off and a power bank for charging should be carried along for safety reasons. Another option is a dynamo with USB charging port.
Apps for First Aid and Emergencies
First Aid IRFC: In the event of a bicycle accident, the Red Cross and Half Moon Association app provides step-by-step instructions on first aid, wound care and emergency numbers. Emergency information for many countries is pre-installed. The app is helpful on the road and informative even without an acute emergency.
Apps for Navigation
1. Komoot.
Komoot is not just an app, but the most popular route planning and navigation website for outdoor enthusiasts. The huge community is constantly putting together new routes for cycling tours of all kinds - including directions and precise information about the level of difficulty. The app is a great way to get the content prepared on the net onto your bike. But it can also be used self-sufficiently. The app is very accurate and stable, but some functions cost a few Euros.
2. Bike Citizens.
A navigation app specially designed for the city. The routes are specially optimised for cycling and take into account current danger points and short-term closures. The rule is: The bigger the city, the more extensive the function of the app, but the portfolio is constantly growing.
3. ViewRanger.
This advanced application is actually for hikers, but can also be used by cyclists for other purposes. Using a camera and GPS, the software recognizes prominent landscape points such as mountain peaks or lakes and names them in the camera image via augmented reality. This can be very helpful for orientation in the terrain or is simply extremely interesting. In addition, a target point can be selected in the image. The app also shows the best way to get there, also cross-country.
4. GPSies.
The GPSies are an association of 500,000 registered outdoor enthusiasts who have created a kind of open source navigation on a professional level. Especially interesting is the abundance of 4 million uploaded routes, which the users have already driven, improved and provided with comments. The GPSies are also available as a website. Similar to komoot, routes can also be recorded and managed. Bonus: Via live tracking, friends or family can follow the journey in real time on the computer.
5. Falk Maps and route planners.
The best app for bike navigation for tourists. As with navigation devices with Falk maps, Falk has equipped maps, routes, points of interest or possible accommodations with lots of additional information. Although the scope offline is not as huge as with Falk's payment products, direct web links to hotel pages are stored, also rail connections are implemented.
6. Bikemap.
With more than 4.5 million routes in over 100 countries worldwide, Bikemap is a large route portal. Users can profit with trails for mountain bike, cross bike, e-bike, racing bike or pedelec. According to user surveys, the app should be better than competitors such as Google Maps. There is also a premium version for 29 euros a year with offline maps and offline navigation as well as support from experts.
Apps for Training
1. Strava.
Currently the standard app for all cycling enthusiasts. The app records driving and training data, pulse can also be integrated. Strava serves as a database and at the same time as a competition platform, as users can set up so-called KOMs. These are routes for which rankings of the fastest passages of all participating users are created. Personal records can be shared and evaluated via social media.
2. Exercise Bike Workout.
The application does not replace a personal trainer, but guides the user in conjunction with a heart rate monitor through programmed or individual training sessions on the exercise bike. The app calculates training zones based on the user's data, displays intensity and remaining time of the interval during training and evaluates the training at the end. Above all, the protocol of the units is a top motivator especially in the winter months.
3. Interval Timer HIIT.
Helpful training app for everyone who writes their own interval plans or gets them from a trainer, especially when it comes to High Intense Interval Trainings (HIIT). This training method consists of very many and very fast changes of loading and unloading. It helps a lot if an app takes over the annoying alarm setting fully automatically. The app is programmable to individual interval sequences and displays the countdowns clearly.
Apps for Bikefitting
1. Saddle Adjust.
Small cause, big effect: A badly or incorrectly adjusted saddle can spoil the pleasure of cycling. With Saddle Adjust and a mobile phone with a position sensor you can at least avoid gross mistakes: simply place the device on the saddle, answer short questions about the bike and rider, and the app will guide you step by step to the perfect individual saddle setting.
2. Bicycle Gear Calculator.
Modern bikes often have 30 gears and more. This can be confusing for some, as the ratios overlap considerably depending on the chainring and sprocket used. This app calculates which gear ratio is applied to which gear and how many meters you cover with one turn of the crank and then displays this clearly. Also interesting and almost indispensable if you want to change your translations without a specialist.
3. The Foot Fit Calculator.
Not only sporty cyclists use pedal systems today, which can be connected to the pedal by means of a cleat similar to a ski binding. Since the mounting position permanently fixes the position of the foot, it should be determined professionally. The app helps with the camera and tilt sensor. Attention: Second person necessary!
4. Bike 3D Configurator.
A tool for mountain bike experts. In virtual space, you can put together your dream bike from hundreds of parts and "color" it. Slides and grips are just as changeable as tyres, decor or dampers. Spring movements of frame and fork can even be simulated. Thanks to Augmented Reality you can even admire the finished bike in your own room.
5. Kahaki Sprocket Tool.
Replacing spokes on the wheel yourself or even spoking in an entire wheel sounds too complicated for most bikers. This work requires skill, but is much easier to do with the app. After measuring the rim and hub and selecting a spoking pattern, the app determines the correct spoke length and gives assembly instructions. An assembly stand for wheels is a worthwhile additional investment.
Other Bike Apps
1. GPS Speedometer.
The best bicycle speedometer app for those who only wants to know how fast, how far or how long he or she drives, and can do without map displays, route tracking or training information, gets here a simple representation of his or her driving data.
2. Radbonus.
If you find it difficult to motivate yourself in the morning to ride your bike to work, you've come to the right place. The app stores the kilometers driven. Once you have collected enough, you can wave premiums or small vouchers similar to Payback.
3. Tour de France 2019 Vuelta Edition.
The bike game for your personal day of rest: Free of charge despite original Tour license! As with almost all career games, you can upgrade, train and restack a team that is initially rather simple and you can specify the tactics on the actual stage. The game is not only entertaining, but also gives insights into the inner workings of the team during a bicycle race. In contrast to the PC game with costs real teams and racing drivers are missing, nevertheless a good pastime.
Good bike apps
Now there are a large number of applications for cyclists, and you can plan a route tailored to the terrain, do a workout, and adjust your saddle for a more efficient ride. The presented apps are some of the best according to the reviews of professional and amateur cyclists.