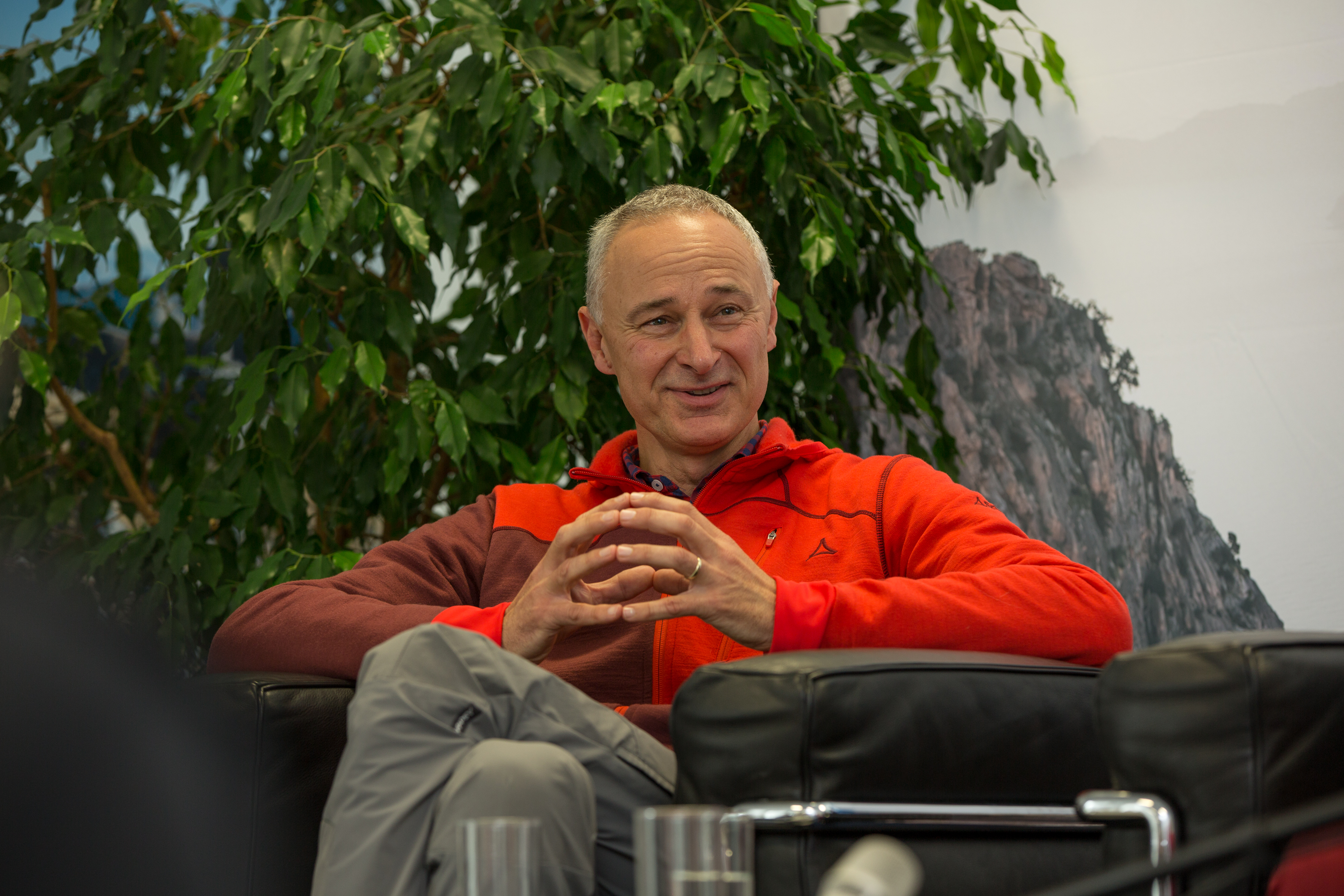 Over 50 years ago, Schöffel discovered the wonder of the great outdoors. By the time it had begun selling the revolutionary Gore-Tex clothing in the 1980s, the brand was already well on the way to establishing itself as an outdoor specialist.
Under company director Peter Schöffel, the family business now combines tradition and innovation. The newly created position of innovation manager is Schöffel's way of laying down a marker – they now want to set trends, not follow them.
In an interview with ISPO.com, Peter Schöffel explains how his company wants to shape the next 50 years of outdoors and how important the ISPO Munich is for Schöffel.
ISPO.com: Mr. Schöffel, after years of apparently unlimited growth, the outdoor market is now complaining of stagnation. Where is the industry at, in Schöffel's view?
Peter Schöffel: The outdoor market is a very big market in which we have enjoyed plenty of success over the last few decades. In the last five years, however, it has shown signs of saturation and found itself in a consolidation phase. We see this development as a new opportunity. We are an owner-managed company that has been profitable for decades, and we are in a very solid position financially. This gives us the scope to take chances and swim against the tide, especially in difficult times.
You are celebrating "50 years of outdoors" with Schöffel right now, while at the same time preparing for the future. Tradition and innovation – isn't that a contradiction?
No. Innovation also stems from experience – and from a certain substance. I like to compare it to an old tree: When you've been around a while, you can withstand the odd dry summer. A younger, smaller plant, on the other hand, could perish very quickly. It's not a contradiction at all – as long as the company culture is suited to the time.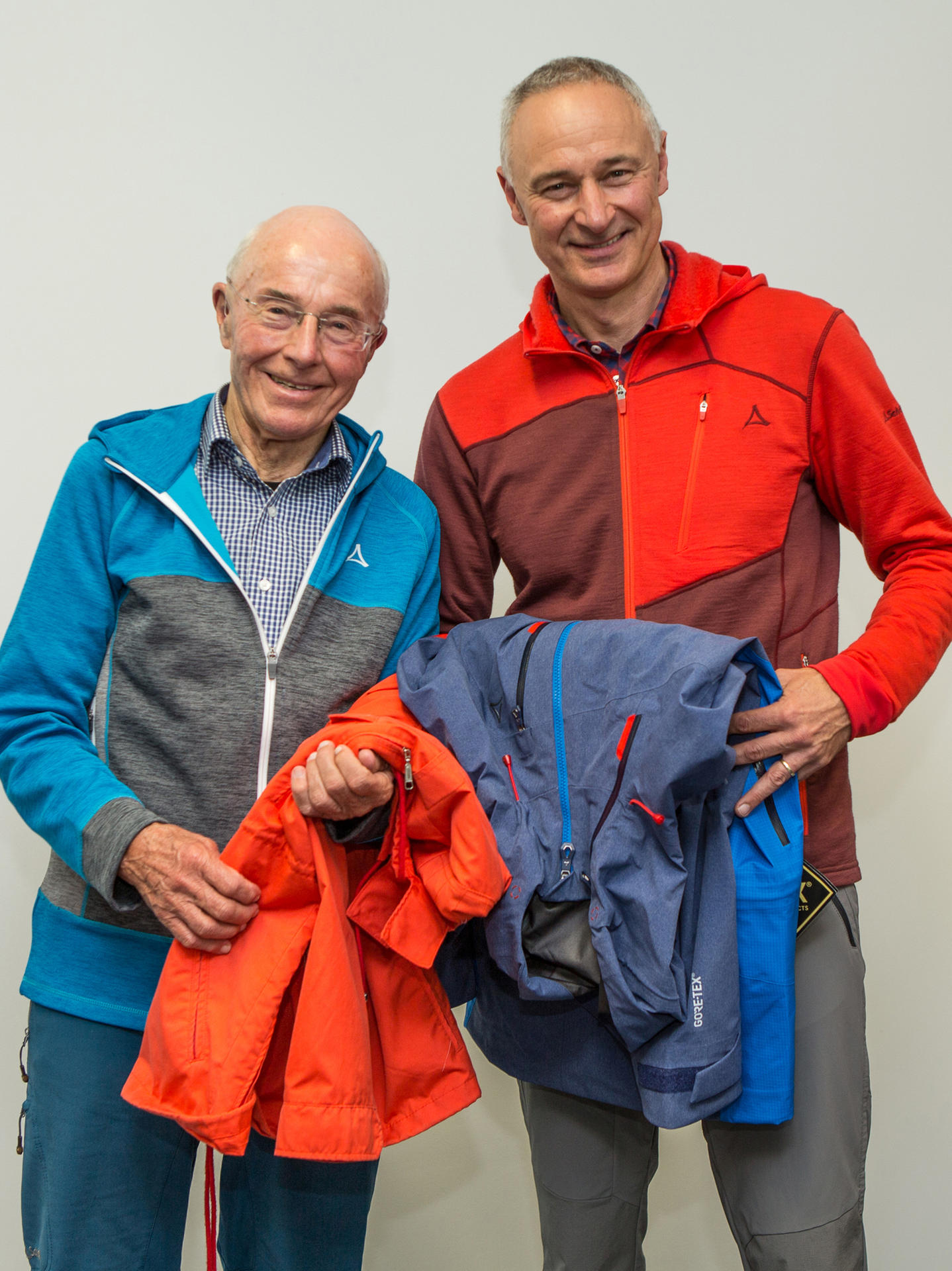 During phases of consolidation, listed companies are often quicker to make extensive changes to their staff or structure, a many of your competitors in the outdoor market have done. Do you take a more relaxed position – that of the observer?
We are not a market observer – we are a strong brand. And as a family business, we are not driven by differing interests. Instead, we are independent and completely capable of acting, and are in the perfect position to keep an eye on the long term and a calm hand on the tiller. But that doesn't mean we can just sit back – the current climate is too challenging for that.
The circumstances for some of your competitors is a little different in terms of what measures can be taken to influence on the workplace situation: The holding company shareholders at Jack Wolfskin recently changed, and a new Mammut CEO was appointed over a year ago. Neither of these would be options for you.
I can't and won't speak for other companies. I can only say how we handle it at Schöffel. Here, I'm lucky enough to wear several hats: I'm both the owner and the CEO, and also the main person responsible for the strategic focus of the products. For me, what's important is to work with passion and a committed team on high-quality products, and to ensure sustainable growth. This puts a natural pressure on us to keep improving every day – and we expect the same of our employees.
Have you had to announce any compulsory redundancies, then?
Almost two years ago, we moderately downsized a raw materials warehouse during liquidation. That was an exception, however, and the opposite is normally the case: In fact, we are currently advertising one or two positions that we want to fill. This is because we believe that the opportunities presenting themselves in the current climate are enormous – a once-in-a-generation chance.
In which areas are you looking for employees?
Right now, we have vacancies in our sales areas. We are in the process of massive expansion in terms of specialist retail training and recruiting. Positions in the product development area will also follow.
You have recently created a new, high-level position: Schöffel now has an innovation manager. Is that your marquee signing?
It's a key position. If this industry wants to grow, we have to keep developing. With these new positions, we want to look past the seasonal horizon and find answers for the long-term future in terms of products, services, sales and purchasing. The innovation manager reports directly to me, and will hopefully become a driver for the whole company.
What are the innovation manager's tasks and areas of responsibility?
The name says it all: It's about innovation – in all sorts of ways. Everything the innovation manager deals with will only arrive on the market in three years' time, at the earliest. He isn't a prehistoric dinosaur who's been in the outdoor sector since time immemorial – he actually comes from the consultation and innovation management business, so he can offer an outsider's perspective on what we are doing.
His job is to work with my teams and the management in order to find ways to install processes and increase efficiency. We have clear ideas in this area. What we want is 10 percent more Silicon Valley.
"10 percent more Silicon Valley" – What does that mean exactly?
The industry is too focused on the short term at the moment. This makes it hard to push through any long-term innovations. As a businessman, I anticipate that creating an innovation management role will enable me to know where to make serious investments, because in the end I will have a business that is more innovative than today. Being a businessman is all about making investments, after all.
Is he getting his own department?
That wouldn't really be innovative. We've already had a lot of experience over the past few years with liquidating departments. We think a lot more in terms of processes like those in our development center – an open office in which important players from all areas work together.
The innovation manager is attached to the management board and has access to all the relevant team players: human resources, the organization and processes sector, the traditional product area, creative purchasing, design and product management.
How much design thinking is already involved in your processes, then?
My company is not allowed to ask what Peter Schöffel or the individual departments want. For me, design thinking for me means focusing everything on the customer. And then you need to allow space for conflicts, space to say, "Fight now – in the name of the customer!"
Of course, there are a lot of contradictions here: quality against design, modernity against functionality, durability against function. There's no perfect solution. But if you know your customer, then you'll find the right approach. The prerequisite for that is to get rid of divisions.
Getting rid of divisions – you've already started with that. Where else do you see room for maneuver?
That's a question of the company culture. Today it's more and more about developing a desire to scrutinize yourself daily and allow new ideas to come through – for the greater good. You have to spring out of a defensive position and into an attacking one.
I want to cultivate this culture further. You can order a change, you can fill a few positions – but at some point, the organization has to have its own innate desire to live.
Digitization is the buzzword. As a medium-sized company, do you have any chance at all when faced with the holding companies who have – and, crucially, will always have – access to completely different structures? Do you not see any competitive disadvantages there?
We don't need to be a global player to be successful. Nevertheless, we have reached a sufficient size to make a big impact. Cleverness, emotionality and direct communication have all played a role in that. However, I'm convinced that we have a good concept for digitization.
You like to emphasize the importance of retailers for Schöffel, and yet you see digitization as a big opportunity.
Let's look at the centerpiece of digitization: digital sales. My assessment of this is fairly conservative: Schöffel will continue to work with good trade partners in the future, and that's a good thing. But with our best specialist retailers, we enjoy excellent, omni-channel collaboration through brand shops that we run together.
We also have our own online shop, which gives us direct experience with our end customers. Together with our strong partners, both digital and brick-and-mortar, we will do everything we can to ensure that we are prepared for the future. I am completely convinced that there will still be good specialist retailers for many years to come.
Let's come to another important point now: discussions with retailers. Trade fairs used to be the main opportunity for this kind of exchange, but both brick-and-mortar retail and the fairs themselves are changing, becoming all-year-round platforms. How important are industry gatherings like the ISPO Munich for you nowadays?
They are indispensable because they offer a great snapshot of the industry in a very short time. Stopping going to the ISPO Munich due to the cost or any other reason would be the wrong decision. For us, for Schöffel, professional industry platforms like ISPO are important.
We also want to confront the competition. And I don't want to only do that at the order fairs. It may have its price, but it's worth it.
What do you specifically want from the ISPO Munich 2018?
My main hope would be for it to come round earlier next year, maybe in the second week of January. If it were held at that kind of time, we would get more focus on information characters and less on sales.
Specifically for ISPO Munich 2018, I'm hoping for: Modernity. An optimistic mood. Concepts. Real added value. Inspiration. Passion. Lifeblood. And for the professionalization of the market: We all need to be better, more exciting, more surprising.