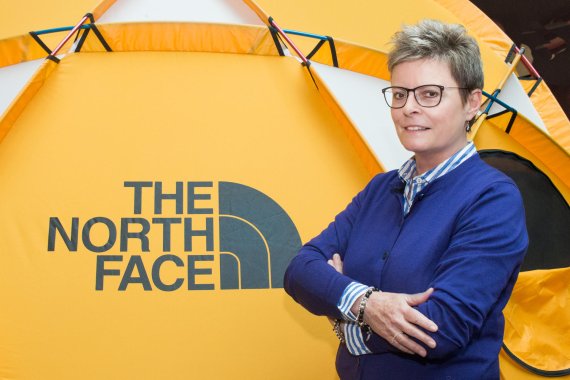 Since March, Kath Smith has been at the helm of The North Face, where she has been General Manager and Vice President of EMEA (Europe, Middle East and Africa).
What are her plans for the brand's future, and how does her strategy of getting more women interested in outdoor activities look like? We asked Kath Smith what we can expect from her in the next few years.
ISPO.com: Mrs. Smith, you worked a long time for Adidas and Reebok. Within the outdoor business you are "a new face". How is your perception of the outdoor market? What do we have to expect from you the upcoming years?
Kath Smith: I enjoy being called a 'new face'. Having over 20 years of extensive experience working in the sporting goods sector, a further 2 years working specifically for a European outdoor ecommerce business and most recently being at The North Face since 2015, I'm not sure I can be called 'new' any more.
The outdoor market is one of the most exciting to be in right now, given the opportunity for growth and innovation. Our overall goal is to inspire people to get outdoors but also to enable them to do so by developing the very best in performance apparel, equipment, and footwear. We remain deeply proud to be the first choice of the world's most accomplished climbers, mountaineers, freeride skiers and snowboarders, endurance runners, and explorers. We hope to continue to shape the outdoor market by remaining committed to our strong sustainability initiatives and protecting our precious planet, whilst having a few adventures along the way.
What kind of expertise and knowledge from Adidas and Reebok will you be able to apply particularly well for The North Face?
The past 17 years with the adidas group across both European and Asian markets, has given me a deep and thorough understanding of the fundamentals of cutting edge business practices. It taught me how important it is to listen to your consumers and to always remain agile and responsive to their needs.
What are the most important targets in your new role?
To lead the EMEA marketplace, to ensure The North Face achieves continued success and to work closely with and invest my efforts into our fantasic The North Face team.
Women were not perceived as consumers in the outdoor business for a long time. Only in the last few years this changed. What does The North Face do to bind women more to the outdoors?
We have always made outdoor apparel for both men and women, but in 2018 we are proactively opening up broader conversations with our female consumers. We want to inspire and enable women to get outdoors and are proud to have one of the most impressive female athlete teams in the world. Most excitingly we have our best ever female collection launching in Spring 2018.
For summer 2018 The North Face will launch a special women campaign – does this somehow stand in connection with you and your takeover of the GM role?
Our women's focus is a high priority for me. As a woman who personally loves and enjoys the outdoors, I am passionate about making phenomenal products that encourage more women to go exploring. 
Do you think it's harder for women to be successful in a male dominated business like the outdoor industry?
I am a strong believer in meritocracy but the statistics speak for themselves. There are clearly very few women in top positions, particularly in our industry. I am keen to be a positive role model for women in the workplace and to reassure women that it is possible. Things are changing but they need to change faster.
Since several seasons, the outdoor market is suffering from an oversupply – there are too many equal products on the market and too many of them can only be sold at discounted prices. Do you see a change in that development?
The North Face takes a very responsible approach to business. We work hard to differentiate our brand and our products from our competitor set. We develop well fitted, technically excellent, comfortable and durable clothes. Products that are athlete tested and expedition proven – we would argue no product is equal to ours.
The North Face was among the first outdoor brands to mix fashion und outdoor and offer products for a more urban target group. But dealing with fashion retailers is not easy – different margins, different rhythms. How many fashion retailers do you have in EMEA/Germany? Do you expect growth in that area?
The North Face brand has an enormous wingspan. We cater for wide ranging consumer needs, be it for an elite alpinist, a weekend hiker, or a city dweller. Consumers are blurring the lines between sportswear, outdoor wear and everyday fashion and it's up to us as brand leaders to adapt and listen. All of our products were born in the mountains, but The North Face's lifestyle range is the city expression of our brand and we have a handful of fashion doors in the German market. The collection balances utility with fashion and delivers high quality outdoor inspired silhouettes translated to the city.
Do you see potential for a luxury outdoor segment? Like we can see many new performance sublabels from high-fashion brands or Athleisure brands now?
Yes, where there is a demand supply follows. Luxury means innovative design, premium detailing, technology-enhanced fabrication and materials. Our urban ex collaborations and collections are where we marry the best in technical outdoor functionality with beautiful design.
The outdoor segment is becoming more and more subdivided into several single segments, like e.g. trailrunning. How is this segment growing at The North Face and can you please give me some numbers?
Trail running is growing in popularity as a sport.  Whilst exact numbers across Europe differ, we continue to invest in the development of our Run and Train collections as a core staple.
In which countries of EMEA do you see the most growth potential in the upcoming years?
We expect and hope to continue the strong brand momentum we are seeing across EMEA as a whole.
What is your expectation: Will the brick and mortar retailer still be relevant in the future?
Yes absolutely. Consumers still want to touch and feel products, especially when it comes to premium high functioning products like ours. The in-store retail experience is one of the pinnacle expressions of our brand.
With its parent company VF, The North Face attaches great importance to sustainability. What are your current tasks to become more sustainable? Are you also working on circular concepts?
We want future generations to forever keep pushing their limits through exploration – without compromise for people or planet. In practice this means we continue to not only create groundbreaking innovative products, but also products that leave an ever smaller footprint on the planet. 
For example, through our long-standing partnership with Bluesign, using recycled materials in our products, and driving innovation in chemical management through the use of VF's ground breaking chemical management system, Chem IQ. 
We are already working hard to integrate concepts of circularity throughout our business. Our growing use of recycled materials is just one of many areas where we will look to advance this agenda further.