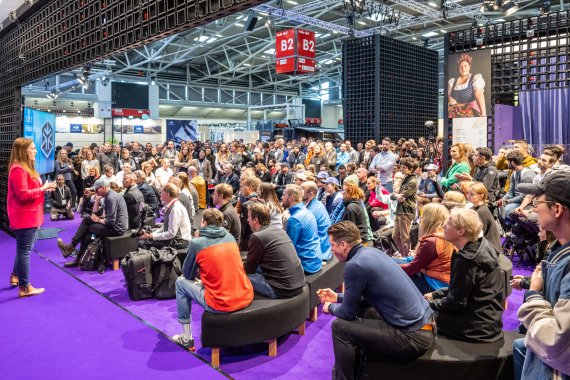 Lucky who could still get a seat here: The best of the best were honored at the ISPO Award Gathering in the Future Lab. A total of 58 award-winning products received the sports industry's renowned seal of quality on stage, and a whole 96 brands exhibited their winners at ISPO Munich.
The winner of the ISPO Public Choice Award, chosen by the Consumer Experts from the ISPO Collaborators Club, was also unveiled. The shining winner: the MIUtech insulation jacket by Muntagnard in cooperation with Innovation Unit. The functional jacket is not only timeless in its design, but also in its durability: thanks to a newly developed fiber technology, it is 100 percent recyclable - a milestone for functional jackets.
"We are happy about the ISPO Public Choice Award. The award shows that you can get noticed even as a relatively little-known brand if you focus on innovation," said Dario Pirovino, Co-Founder and CEO of Muntagnard, who was delighted with the award.
Missed the ISPO Award Gathering? Numerous award winners and nominees will still be on display in the Future Lab in Hall B2 throughout ISPO Munich.
ISPO Brandnew, the award for the most innovative startup, also got serious on Tuesday. Spread over three sessions, the nominated sports startups pitched for the jury's favor. In the late afternoon, the best startups competed once again on the Main Stage in the grand finale with elevator pitches lasting a maximum of 90 seconds.
In total, winners were chosen in three categories:
Winners

"

Performance, Body & Mind

"

: IDA
Winner

"

Outdoor, Adventure & Snowsports

"

: heat it®
Winner

"

Sports, Technology & Platforms

"

: CovisionMedia
As Overall Winner of ISPO Brandnew 2022, IDA was awarded by the audience. The startup produces soccer shoes optimized specifically for women. Instead of superficial "pink it and shrink it," the U.S. brand focuses on shoes completely designed to meet the needs of women's feet, such as with a more curved shape in the sole area, better fit at the heel and more space in the front even for longer toenails.
"It's a great honour to win the ISPO Brandnew Award as it gives us exposure to a wider audience. We came to ISPO Munich to network with retailers and distributors, it's great to be able to represent and see more women in sports tech", says Laura Youngson, CEO and Co-Founder of IDA sports.
After the pitch thriller, it was time to celebrate at the ISPO Brandnew Networking Night.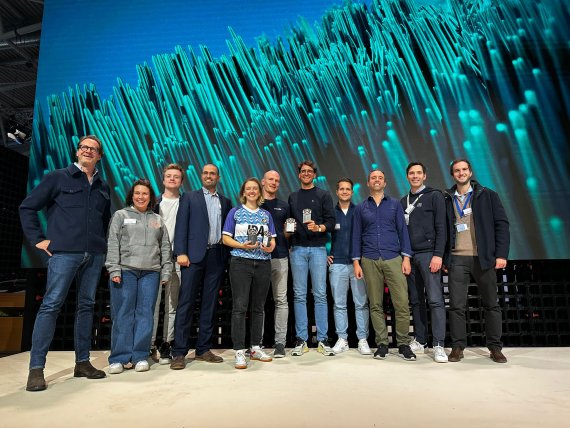 ISPO Munich is back at last, which also means: Runner's World Running Symposium is back at last! Urs Weber opened the day-long conference program on running at the ICM and kicked off the event with a review of the running industry. His assessment: "It's humming madly, even among retailers." Even though sales figures for trail running shoes fell slightly after the 2022 Corona boom, the running industry is still on the upswing: despite the challenges, brands are recording sales growth - and more and more new running shoe brands are providing new innovations.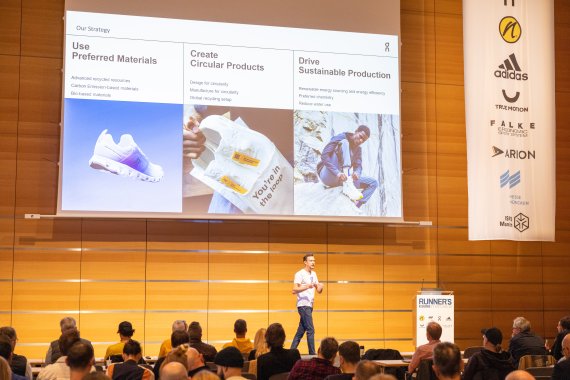 How can sports win over political decision-makers for its interests? This question was the topic on the Main Stage of the Future Lab in Hall B2 on Tuesday afternoon. Laura Santucci, former Chief of Staff of Political Operations in the Obama administration, described how to do it: "A basic rule for your own influence on politics is: Don't explain to legislators why your proposals are useful for your industry, but what they bring to society."
Prof. Dr. Stephan Geisler, Vice President of the IST University of Management and President of NSCA GC Germany, gave an incendiary speech on stage for a rethink: "Our society is getting older. With muscle loss in old age, a tsunami is rolling toward us and the healthcare system, but we can stop it. The antidote: strength training in old age. We need mandatory workouts for seniors. Governments need to understand that we need to act now, not 20 years from now."
Your videos are in demand! Whether it's wide-angle shots of the panel discussion, close-ups of your favorite athletes, or a beautiful community moment. Share your best ISPO Munich experiences and become a reporter yourself. Get involved in ISPO Munich coverage by sharing your best videos with the community. Stream live and get the opportunity to present your brand from a different angle. Just follow this link or scan the QR code.