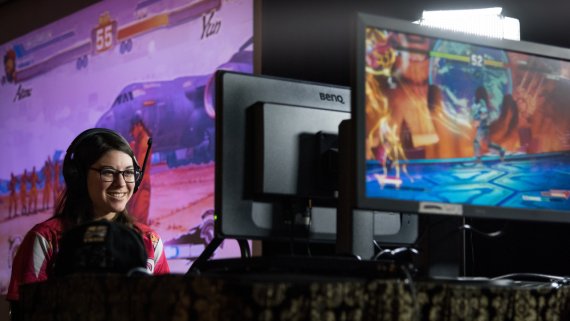 Of the 1,224 people surveyed aged 16 and over, almost half are involved in video games - regardless of gender. Thus 45 percent of the men and 41 percent of the women play video games.
Video games are most popular among the 16 to 29 age group, where 71 percent of respondents play. The figure is 65 percent for 30 to 49-year-olds and 25 percent for 50 to 64-year-olds. In the generation of "silver gamers" from 65 years and older 13 percent play video games.
Every fourth German is of the opinion that video and computer games are just as much a social cultural asset as books, films or music.
The most popular gaming device is now the smartphone, which 85 percent of gamers use (2018: 79 percent). Thus it overtakes the game console, which with 77 percent is only ranked second (2018: 85 percent). It is followed by the laptop with 74 percent (2018: 78 percent), the tablet with 60 percent (2018: 53 percent) and the stationary desktop PC with 48 percent (2018: 47 percent). 29 percent use multiple devices for the same game.
"Mobile gaming is in vogue with the times. Mobility in our society is growing, as is mobile connectivity. This is also reflected in the gaming preferences," says Bitkom board member Olaf May at the presentation of the study results. "Young users in particular want to play where they are at the moment and how it best suits their current life situation."
The willingness to pay for gaming increased again. Almost two thirds (64 percent) say they have spent money on computer or video games in the past twelve months. Of these, 28 percent paid for the purchase or download of games, 26 percent for in-game purchases and 25 percent for subscription fees for online games. 14 percent paid for a game flat rate. "This willingness to pay sends a positive signal to the development industry," says May. "It is essential, however, that maximum flexibility is guaranteed in the payment models." Almost every second gamer (45 percent) would subscribe to a game flat rate as the Netflix model, last year it was only 36 percent.
"The music industry shows where the journey is heading: In the first half of 2019, it recorded its highest growth rate since 1993 thanks to audio streaming. We will also experience this effect in the streaming of games: Games move to the cloud. Popular games are made available via streaming simultaneously on PC, TV, tablet and mobile via the smartphone. 5G will certainly continue to spur this comparatively new market. Even if there are still some technical hurdles to overcome and price models to be established, this development will continue," says May.
Virtual reality also remains an issue in the gaming industry: almost all gamers (94 percent) have already heard of virtual reality devices, and one in four (23 percent) have VR hardware. May: "The use of virtual and augmented reality in combination with the new 5G mobile phone standard will intensify and expand the gaming experience. We'll be seeing more jump-and-run games in Mixed Reality. Pokémon was just the beginning. Game manufacturers can think much bigger with it." It is now important that developers translate the new technologies into new game experiences.
However, gamers also see a need for improvement - especially as regards the role of women in video games. "Gaming is a mass phenomenon and has established itself in the breadth of society. Nevertheless, we can see that some feel discredited by the industry." More than 8 out of 10 gamers (82 percent) state that the representation of women in the games is neither appropriate nor up-to-date. Among men, 52 percent say this.
49 percent of women who play at least occasionally want more strong female figures (38 percent of men). "An appropriate and contemporary representation of women in games is important, there is still a lot of catching up to do here," says May. "The more women work in the games industry, the more positive this will be for the image of women and for the diversity of games."