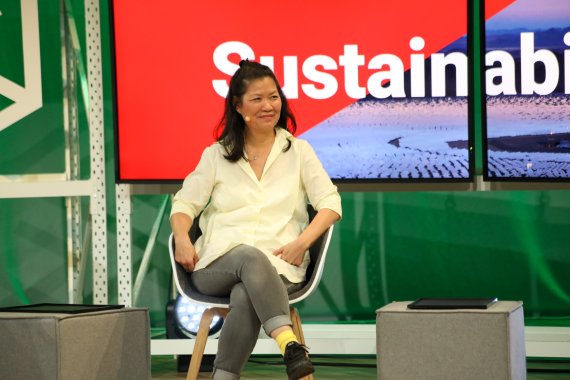 The sports and outdoor industry is increasingly sustainable. If in the past the question was raised whether sport and sports products can or even must be sustainable at all, for some time now an ever faster change is taking place. For years now, ISPO Munich has been presenting the ISPO Award not only for the best products of a season. A separate jury also evaluates the ecological impact of the products. "It is moving away from fast fashion and towards durable, high-quality products", says Professor Mathias Kimmerle, member of the ISPO Sustainability Jury. And what only a few years ago was accused of greeenwashing is now part of the DNA of many outdoor brands.
The ISPO Re.Start Days also focused on the topic of sustainability. After Corona in particular, customers are increasingly asking specifically for natural or recycled materials and are interested in the production conditions. So is the new start also an opportunity to make the sports industry sustainable in the long term, is the recovery turning green?
For Jack Wolfskin CEO Melody Harris-Jensbach, the answer is a clear "yes". However, she sees the situation differently. "We are not in a recovery," she says: "We are currently experiencing an enormous acceleration. The Corona crisis has caused problems in many areas, but they are foreseeable. "We are not working in the here and now," says the Jack Wolfskin boss. "Covid is here and now, and this will pass." Everything being developed today is already for 2021, 2022 and beyond. "We have made a conscious effort to promote sustainability in our company. Not because of Covid, but because we are looking forward," said Harris-Jensbach.
And indeed: At Jack Wolfskin, the topic is nothing new. The first social report was published as early as 2011, followed in 2014 by a full transparency report covering the entire supply chain. "I think transparency is an important issue in sustainability, in every initiative you take," explains Harris-Jensbach and provides her definition: "Do what you say and say what you do, and be open and let everyone see it.
Jill Dumain, CEO of BlueSign is also more than optimistic. She doesn't believe that things are just getting a bit better right now, she said in Munich. "I think we are in an upswing in the outdoor industry that I have not seen in the past ten to 15 years". And the topic of sustainability also plays a part in this: "This is no longer a nice luxury that you have to be able to afford," the BlueSign boss explained. Today, sustainability is much more a prerequisite for convincing the increasingly conscious customer base. At the same time, nature-compatible products are also a great opportunity for industry and trade. "This is a very very emotional topic with which you can inspire people," Jill Dumain is sure.
For Peter Schöffel, General Manager of the family-owned company of the same name, is a special mindset on the side of the manufacturers at the centre of attention: "Sustainability is not about profit and sales. It's about who you are as a personality. As the head of a company, you have to want sustainability without any question marks. Either you do it completely or not at all!".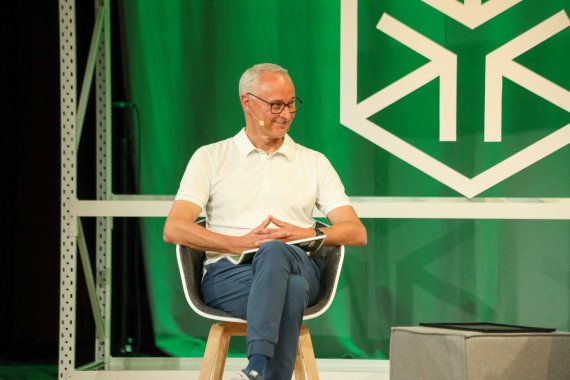 Schöffel recommends a look at the time before Corona. The question, says Schöffel, is whether the industry wants to continue to score points over the lowest price or whether it will manage to break away from the throwaway mentality. With his family business, Schöffel is now in its seventh generation and consistently committed to quality. And, says Schöffel, this is not feasible without sustainable thinking. "With fast fashion, you can have a flirt, but not a friendship," he explains his approach. On the other hand, those who offer long-lasting quality products are much more likely to communicate with customers, to become part of their outdoor life. For example, Schöffel has its own service department that repairs customers' beloved parts when necessary.
It should come as no surprise that these efforts are expensive. Is the consumer also prepared to pay for it? As a rule, they don't have to, says Frank Henke, Senior Vice President Sustainability at Adidas. "In general, we strive to create sustainable products without passing the extra costs on to the consumer," Henke explains. "We bear a large part of these costs internally as part of our commitment to consumers. After all, sustainable and fairly produced products are a must today, not just part of a campaign.
In Herzogenaurach, sustainability has been the order of the day for quite some time anyway. As early as 22 years ago, Adidas negotiated a code of conduct with its suppliers, in 2008 it drew up a holistic environmental strategy, and since 2017 - 99 percent of its products have been PFC-free. "Last year we launched the first fully recyclable running shoe, the Futurecraft Loop, on the market," says Frank Henke - and that's how it should continue.
Because, according to Adidas colleague Philipp Meister, especially among younger customers, you can no longer score points without holistically sustainable products. "I see that in my children. They would never think of using disposable plastic. And these are our customers of the future," says Meister. Meister sees the success in the long-term commitments Adidas is making. For example, the company wants to reduce its CO2 emission by 30 percent in the coming years. "And that's why we have to optimize every single process, every single step within the company in the long term," says Meister. In the end there will be a win-win situation for everyone involved.
In the next future we will probably only see sustainable products at ISPO Munich - even more work for the sustainability jury. Because, according to Melody Harris-Jensbach of Jack Wolfskin, "we have to produce the fabric or the garment anyway, so why not do it in the right way, why not do it under the right social conditions? Because then, says Peter Schöffel, it's about quality, not primarily about price. "Then we have the consumer in mind and can sell the right product with the right story".