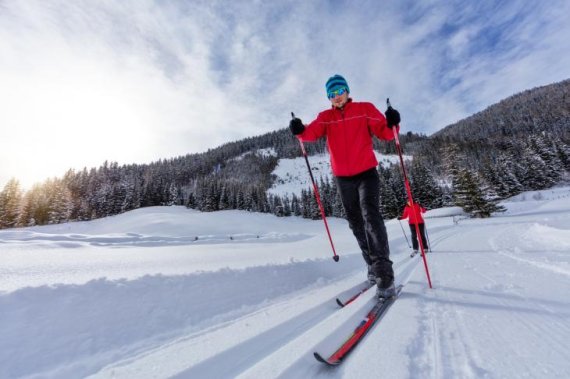 Here, five industry experts explain their view of cross-country skiing:
Espen Krogstad, CEO of Active Brands / Sweet Protection
Florian Estermeier, Director of Sales at Rossignol Germany
Xavier Le Guen, Vice President of Salomon Winter Sports Equipment
Ralph Letzing, Hardware Purchasing at Sport 2000
Tim Bielohoubeck, Head of the Strategic Brands department at Intersport Germany
Espen Krogstad is CEO of Active Brands. The Norwegian group consists of seven brands: Kari Traa, Dæhlie, Sweet Protection, Bula, Johaug, Åsnes, and Vossatassar. Here, Krogstad answers for Sweet Protection.
Espen Krogstad: "We're seeing enthusiastic interest in cross-country skiing, both for training and as a recreational sport. The innovation in cross-country skiing is going to make the sport accessible for more consumers and, hopefully, tap new markets. Because a new generation of cross-country skiers is growing up that's familiar with the skating technique, we believe that this is going to further develop the sport and attract new consumers. With the support of mega trends, focusing on a healthy lifestyle, and more activity, we're seeing a shining future for cross-country skiing. The prerequisite for this, however, is a good range of offers for cross-country ski trails.
Rossignol Ski Germany is part of the French Rossignol Group. Ten employees work in Munich's Germany office, including Florian Estermeier as Director of German Sales.
Florian Estermeier: "The cross-country skiing boom isn't just now forming, it's already here. Thanks to skin technology, the classic sport of cross-country skiing has experienced an enormous upsurge and growth. General trends like the desire for more fitness and endurance, as well as exercise in the outdoors, are also bringing new impulses, new target groups, and strong development to cross-country."
Xavier Le Guen has been Vice President of Salomon Winter Sports Equipment since September 2017. Salomon has its headquarters with 400 employees in Annecy, France, is a market leader in the winter sports equipment sector, and is part of the Amer Sports Group.
Xavier Le Guen: "Cross-country skiing is one of Salomon's mainstays. This sport fits perfectly with our positioning in the athletic outdoor sector, and offers several cross-training opportunities in the winter. The success therefore also comes from the fact that more and more active people who run in the summer, go trail running, or cycle consider cross-country skiing to be the perfect alternative in the cold and snow. One further point: People are happy that they can get away from the hustle and bustle of the big city and enjoy themselves for a couple of hours outdoors. The last point is the growing popularity of racing (including biathlon) in Europe. For this reason, we definitely see cross-country as a very strong trend.
In order to experience a new cross-country boom, however, we do need to overcome some barriers: Snow conditions remain the central theme and, in some cases, the sport is still viewed as highbrow, exclusive training. We still have a lot to do to give a larger number of consumers the opportunity to enjoy the sport (equipment, outfitting, exercise location). Skin technology is a perfect example of a major step in this direction: It facilitates access to the class Nordic skiing style and encourages participation in the sport."
Sport 2000 is a leading commercial association in the European sports market, with 1,000 independent specialty retailers and more than 1,300 specialty sports stores. Turnover in 2017: roughly €1.89 billion. The association group itself has 80 employees, among them Ralph Letzing, responsible for Hardware Purchasing.
Ralph Letzing: "Yes, cross-country skiing is enjoying increasing popularity. Particularly as a trend in the context of health sports activities and as an alternative endurance training method. Nevertheless, this trend is also heavily dependent on whether the snow conditions make cross-country skiing possible, even at lower altitudes." 
Intersport Germany has its headquarters in Heilbronn, and the association group is affiliated with over 900 retailers nationwide, with roughly 1,500 specialty stores. Tim Bielohoubeck is Head of the Strategic Brands department at Intersport Germany
Tim Bielohoubeck: "Cross-country skiing has evolved into a popular sport. Just as with skiing, it depends on whether and how much snow there is. Cross-country skiing is an endurance sport for young and old, above all because the sport is very easy on the joints, trains your sense of balance, and among other things burns a lot of calories. Endurance athletes especially who like running or ambitious cycling in the summer, like to use the narrow boards in good snow conditions for powering out and maintaining their fitness over the winter.
The enthusiasm for the cross-country sport is also strengthened by the successful German biathletes and cross-country skiers we enjoy following on TV in the winter season. However, we would rather not talk about a real boom due to the weather-dependency and regional dispersion."