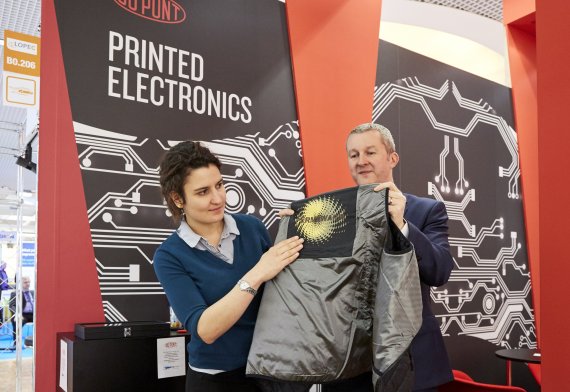 The Centre for Nanotechnology and Smart Materials (CENTI) in Portugal is working on the development of an "intelligent fibre". The goal is to produce textiles with completely new technical functionalities. In addition to their actual use, the yarns, which consist of three components, are also intended to become miniature size electrical devices that serve, for example, as sensors for monitoring body functions or collect energy via solar functions.
When CENTI researcher Kevin Rodrigues presented these and other new smart textile technologies at ISPO Munich 2020, many astonished faces could be seen in the audience of the ISPO Academy - and also a growing understanding of the benefits brought by these textiles with printed electronics, which seem like items from a science fiction movie.
As an example, the specialists for smart materials have developed safety clothing with embedded sensors for toxic substances or electricity, which automatically check the vital functions of the users. Lives can be saved this way.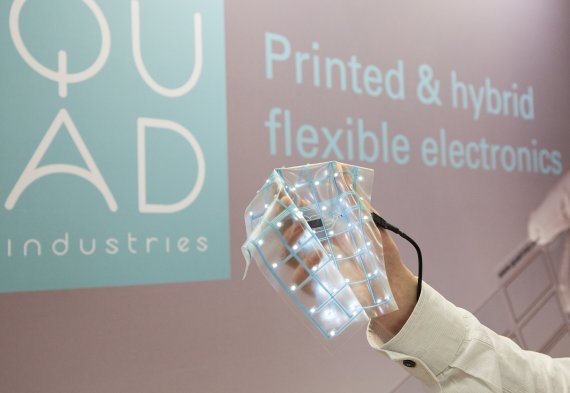 Of course, such functionalities - such as checking pulse or blood values - can also be included in sportswear. The Fraunhofer Institute for Integrated Systems and Device Technology (IISB), for example, is developing the "Elecsa" sensor, which determines the corresponding values via sweat analysis.
"In this way, you can constantly monitor your training and health - without a disturbing chest strap. In addition to the medical and healthcare sectors, the future belongs to printed electronics, especially in the sports industry because there are many useful applications," explained Dr. Klaus Hecker, Managing Director of the Organic and Printed Electronics Association (OE-A) in conversation with ISPO.com
In addition to smart textiles, he also regards energy generation via solar cells in clothing or backpacks as well as innovative swimming or ski goggles as important markets of the future. "For example, you could use displays in ski goggles to show the current speed recorded by sensors or guide people to the ski lift, which is less crowded," dreams Hecker. Another important field of application in sports is moisture management: Sweat is transported away from the fibres that are tightly attached to the body so that the athlete feels comfortable at all times.
At ISPO Munich 2020, heated ski jackets that also supply electricity for smartphones already showed the way forward in terms of technology integration in textiles. But the printed electronics of the future will become even smaller, smarter and more suitable for everyday use. For example, researchers at the Institute of Textile Technology (ITA) at RWTH Aachen are working on improving the durability and washability of smart textiles. Until now, most products on the market are either not washable at all or only washable to a very limited extent.
In this regard, DuPont Advanced Materials is on the right track, having developed stretchable and electronically conductive printing materials under the name Intexar. The printed electronics are integrated into the textiles using standard industrial processes and they can withstand up to 100 washing machine cycles. For instance, the carbon and silver inks can be used to print extremely fine heating elements for outdoor clothing, which was already used by the US team at the 2018 Winter Olympics.
Just how resilient printed electronics have become is also demonstrated by the Belgian companyQuad: Together with the Dutch start-up ATO-gear, the company is developing an insole for running shoes printed with electronics. Eight pressure sensors record the biomechanical movement pattern of the foot from touch down to roll. The data can be transferred to a smartphone via Bluetooth.
The LOPEC brings together the players from the technology, sports and clothing sectors in Munich from 23 to 25 March 2021.