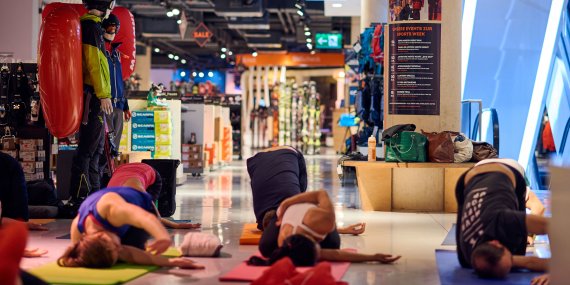 "With this event we want to build a bridge to the end consumer and provide information about already existing ecological alternatives in the textile industry. Our recently launched Social Media Campaign #IIYI - It's in your hands pays tribute to this specific topic. Here we call on everyone to stand up for environmental protection - after all, it is up to each individual to make a contribution to protect our environment," explains Dr. Rüdiger Fox, CEO of Sympatex Technologies.
Under the leadership of Erik Ahlström, the Plogger group will run from the Globetrotter Store in the city centre and along the Isar to hunt for rubbish lying around. It will then not end up completely in the waste, but will be taken to the Sympatex stand at ISPO Munich. There, the ecologically sustainable membrane specialist wants to show how valuable products can be produced from waste.
The ISPO Munich Night Run 2019 presented by BUFF® on Saturday, which celebrated a successful premiere last year with over 500 participants, is all about jogging. This year, with the slogan "Trail RUN goes Urban", you can not only prove yourself at the 5km and 10 km distances, but also at the "GORE-TEX 1 Mile Uphill Challenge" on the Olympic mountain.
Running star "Flow" Florian Neuschwander will also be in on it. He gives some training tips for the event: "Interval training is good for preparation. For example, run up a lighter mountain 10x200 meters. But the most important thing is to be part of the Night Run. Even if it's just for fun. I'm looking forward to everyone!"
The "Laufmamalauf" event also offers an opportunity for jogging together at various meeting points.
The Olympic slogan "Being there is everything" of course also applies to other athletic activities at the ISPO Munich Sports Week.
For example, if you have always wanted to try CrossFit®, you can do so during the Sports Week at various locations in Munich at the ISPO partners CrossFit® eo, CrossFit® MUC, CrossFit Munich or Dein CrossFit®. Newcomers can familiarize themselves with warm-up, technique and workout during trial lessons.
Those who like to go a little bit crazy, can dare to take a look at the GravityLab in Munich during the ISPO Munich Sports Week. At GravityCheck, trained coaches offer an insight into sports such as trampoline, acrobatics, parkour or skateboarding. Basic knowledge is communicated and safety aspects are discussed.
Fans of highly intensive abdominal, leg, bottom and arm endurance training with music will appreciate the Power Barre classes in Amiena's workshop. There will be changing trial lessons on a daily basis during the ISPO Munich Sports Week.
If you are looking for silence, you should try the BodyMind Therapy from Kale&Cake. Here, Yoga is combined with ballet barre and functional training for a sporty stress management.
Similar participation offers in the fitness and health sector will also be available during ISPO Munich Sports Week at Studio Lagree, McFit, FitnessFirst or BurdaBootcamp.
If you download the GymPool app, you can save the one-time registration fee of 19 euros and get access to sports offers all over Germany.
CrossFit® is a registered trademark of CrossFit, Inc.. Find more information at www.crossfit.com.