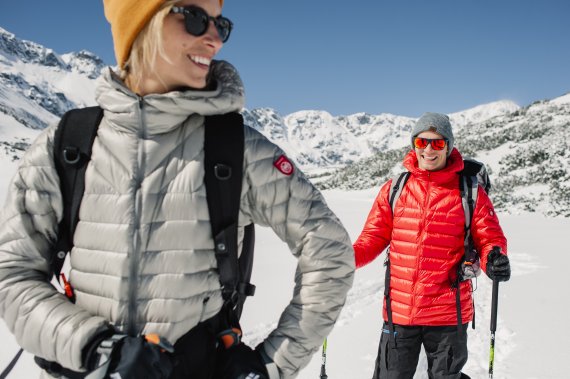 For years Polish outdoor has been considered to be a market with a huge potential. Although its dynamic development has slowed down in recent years, it still shows annual growths reaching a couple of percent points.
According to the EOG, the Polish market achieves turnovers comparable to the results of the Czech Republic or Denmark – € 180 million (according to the POG approximately € 250 million), which translates into about 2% share in the European market. However, if we take into consideration the population of Poland reaching 38 million, it becomes clear that in the future the Polish outdoor market has a chance to become an important point on the outdoor map of Europe.  
The dynamically changing business environment, evolving behaviours of consumers and technological advances force outdoor and sports companies to constantly develop. As the result of these challenges we have been observing in the last two to three years an increase in disproportion between market players, which can be summarised as "big players are becoming bigger, while smaller ones are shrinking and in many cases they have to struggle in order to survive".
Only companies that are well managed and have sufficient capital at their disposal can develop their businesses – by opening new stores, improving their online distribution and perfecting communication channels to reach the end user.
The sports-outdoor market is currently dominated by two largest companies – Iguana Group (originating from Martes Sport) and OTCF. For long time the market leaders have focused on development of sports sector, which they complement with outdoor offers.
Iguana has over 200 multisport stores selling their proprietary brands (including Martes, Hi-Tec, Elbrus, Iguana, Brugi) and also other well-established brands – e.g. Arena or Colmar. Plans of this potentate are impressive in their scope. The company is planning to open a total of 300 shops, expand their export to the countries of Middle Europe and they are seriously considering the German market.
The second important player is OTCF. In their portfolio they proudly possess the most recognisable brand in Poland – 4F, which has a chain of almost 200 stores. The brand is present on 27 European markets and cooperates with close to 300 multibrand stores. For some time, OTCF has been working on development of their second brand, Outhorn, which originally was linked to the outdoor sector, but after re-branding and refreshing their collection it has evolved towards the sports segment of the market. The offer of OTCE is complemented by a concept of 4Faces multibrand stores which offer premium products.
Martes and 4F stores emphasize on selling products from a lower and middle price range. A similar strategy is used by two other companies - Regatta and Dare2b, which are also successfully developing at the same price level. The success of these brands proves that one of the most important factors in decisions of Polish consumers is still an attractive price.
It is impossible not to mention the unique position of Decathlon on the Polish sports-outdoor market – now the company has a chain of 50 stores. Decathlon has actually created a separate and independent space for itself on the market, which perfectly illustrates a constantly increasing trend for sport activity in the Polish society.
The company's offer is consistent and optimised in respect of price and quality. Although, there were initial fears that the company's development might completely dominate the market, they have turned out to be false. It is true that Decathlon has seriously affected shops in smaller towns (some of which went bankrupt).
However, an overall influence of this chain on the Polish market is positive. Specialist stores benefit from this synergy because outdoor enthusiasts, who started their adventure using gear and clothes bought in Decathlon, eventually end up as customers of expert shops. 
Other sports-outdoor chains that play a significant role on the market are Go Sport (31 stores) and Intersport (30 stores). Both are important partners for outdoor brands, including The North Face, Salomon or Columbia.
There are far fewer specialist outdoor stores. The most important shops are located in the biggest Polish cities – Warsaw, Krakow, Wrocław, Poznań, Gdańsk. Their number oscillates currently around 20.
The biggest specialist stores include 8a.pl, Skalnik and Polar Sport. Those players have developed very efficient channels of online retailing. The leader among them is 8a.pl – a shop which not only establishes selling trends, but also best adapts to new technologies and opportunities offered by social media and Google advertising systems.
8a.pl skilfully combines a role of a brand distributor (their carefully selected portfolio includes Ocun, Climbing Technology, Esbit, Zamberlan) with a role of a retailer of such brands as The North Face, Arc'teryx, La Sportiva, Salewa and Columbia.  
In the last two years, it has been possible to observe a growing number of monobrand stores. This trend is driven by such brands as Regatta (12 stores), The North Face (11), Mammut (10), Jack Wolfskin (6) and Salewa (4).
The dominant position on the market has been held and strengthened by such brands as The North Face, Salewa, Dynafit, Marmot, Salomon, Deuter, Jack Wolfskin, Columbia, Mammut, and among footwear producers: La Sportiva, Meindl, Aku, Hanwag, Scarpa and Zamberlan. The equipment segment is dominated by Black Diamond, Petzl and Climbing Technology.
Czech producers are also very successful due to their attractive price-quality ratio – these brands include Rock Empire, Singing Rock, and also the most popular Czech brand in Poland – Ocun. 
It is also worth noting that Arc'teryx has achieved a very special position on the market in the last 2-3 years. Until recently the brand was considered to be unsaleable due to their high prices, however, now it holds a privileged position in offers of specialist stores, which clearly indicates an increase in customers' interest in the premium goods category.
There are no large producers among Polish outdoor brands. The specialized outdoor has limited itself to a few relatively small companies with good reputation – we are talking here about specialized garment producers: Milo and Montano. Another category constitute producers of down apparel and sleeping bags. The highest quality goose and duck down and long experience, dating back to the golden era of Polish Himalayan successes from the 1980s, make those companies global-scale experts. The most important brands include Pajak, Yeti, Cumulus, Małachowski and Roberts.