The ISPO Consumer Insights Report is the unique trend barometer of the sports and outdoor industry. Now the second edition of the report with input from 328 members of the ISPO Collaborators Club - predominantly in the relevant age groups between 20 and 40 - was presented at the ISPO Academy Talk. Curated and interpreted by ISPO experts, the report already provides valuable insights into the perception of brands and trends of the future.
The complete ISPO Consumer Insights Report is available for download completely free of charge. Those who are members (basic membership free of charge) of the innovative ISPO Business Network automatically receive the Consumer Insights Report every three months.
As an ISPO Business Member you receive free access to the latest Consumer Insights Report.
All you have to do is click on the link and download the report.
With Ortovox and Patagonia, two outdoor brands have made it into the top 5 sports brands of the past three months in the ISPO Consumer Insights Report for Q3 2021. They are now in the mix alongside big brands like Asics and On. Alongside the two climbers, Salomon completes the outdoor trio in the top 5 brand rankings, which continue to be led by sports giants Adidas and Nike.
Arc'teryx, among others, climbed in the chasing pack, with Schöffel and Norrøna also two new outdoor brands here.
"We can say: the outdoor boom continues. It is even accelerating. And all those who are part of the outdoor industry can grow with it", saidISPO brand strategist Christoph Beaufils at the presentation of the new report.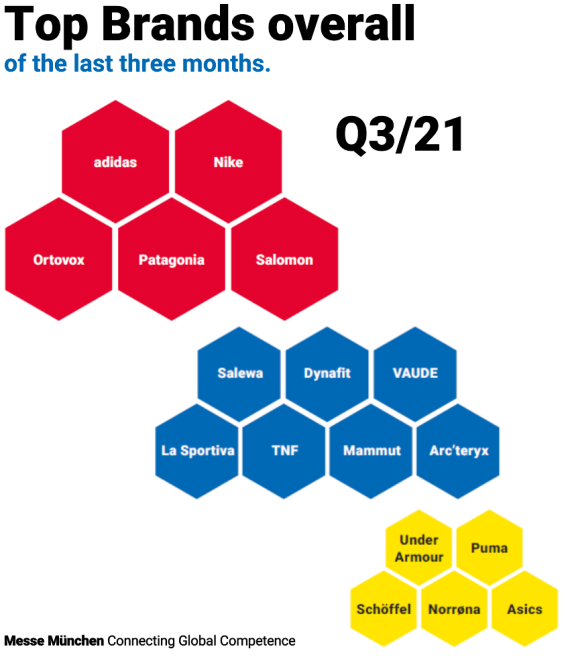 In Q3 2021, Patagonia is the top brand in the sustainability megatrend, as it was in the previous edition of the report. The German label PYUA is the up-and-coming newcomer. In Q2, Picture Organic Clothing took the spot.
Garmin, in addition to the Digital & Connectivity megatrend (emerging newcomer: Coros), also took the title of top brand in the Healthstyle megatrend in Q3 (emerging newcomer: Peloton).
In the top 3 sports apps, the seasonal bike, outdoor and running boom in particular ensured the top placements of Komoot, Strava and Garmin in Q3.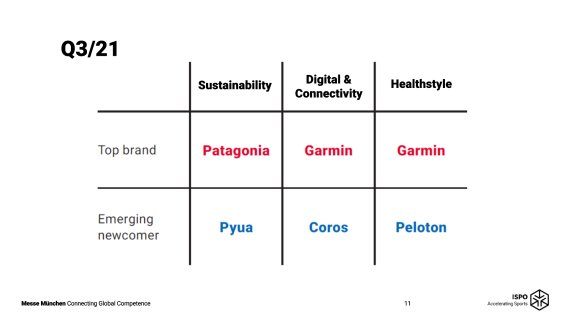 It is true that the desire for physical fitness is still the strongest motivator to engage in sports. But the trend towards mental health through physical activity is also unmistakable in the ISPO Consumer Insights Report. Here, mental health is only relatively close behind fitness as a motivator, but far ahead of other factors for being physically active.
So far, the sports business has activated this driver comparatively little. Yet the Consumer Insights Report sees opportunities in this area forstrong, fast and, above all, authentic growth."We see huge growth potential here, and we should do a better job of activating it. Mental health could be the next big thing. So it's worth thinking about this when you're working out your next strategy", says Beaufils.