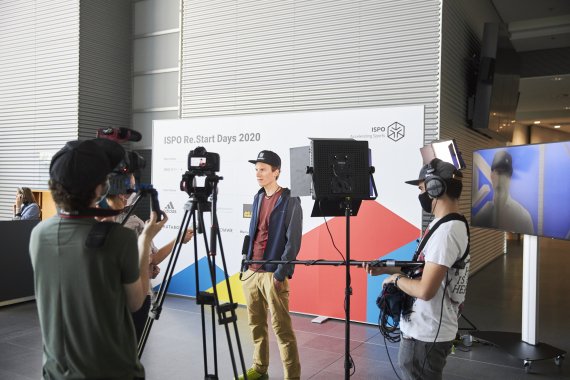 The ISPO Re.Start Days on 30 June and 1 July marked a new beginning for the sports and outdoor industry after the corona crisis. Over 100 speakers and participants from more than 40 countries exchanged views on the restart, which must be more than just a return to the pre-Corona era.
With the focus topics of sustainability, digitalization and health, the ISPO Re.Start Days also laid a foundation for the sports and outdoor world of the future in terms of content.
ISPO.com summarizes the reactions from the industry.
"It is important that the industry, if not physically, then at least digitally meets and exchanges. That the similarities are recognized and that we address the many opportunities that we now have in the sports and outdoor industry. It has given me a very good feeling that there are many positive aspects that will move the industry forward together, because together you can always achieve more.
...addressed to the ISPO Munich 2021:"The physical meeting has never been more valuable than now. That's why it's important that trade fairs take place and that people go there to meet each other, to exchange ideas".
​​​​"We had some great different perspectives on how the industry can move forward to a more sustainable green economy. The panel went well, we had some great discussion, some great dialogue, and now we can take these topics further outside of the event. I followed the show and think it is a great plattform, the interactive aspect was very useful and very functional." 
...about ISPO Munich 2021:
"We need to be agile because we don't know what is going to happen. Hopefully we will be here again, talking, networking and enjoying company. Digital events have a role, but in many situations we need people coming together and having a dialogue."
"We must go into permanent evolution mode. Corona is a kind of accelerant. Our business models are getting older from year to year, we can't survive with them in the future. We must embrace the changes in consumer behaviour, otherwise we will become irrelevant."
"I have learned that at Mammut we all like challenges together. We have accepted the changes and try to make something special out of them. This makes me personally very proud. It's all about the question: How do we improve? I think it is a very special moment full of challenges, but also full of opportunities. Each of us has the chance to become stronger now than we were before.
"The ISPO Re.Start Days were a great opportunity to take advantage of the deceleration and at the same time to meet with other experts and see how to get back on track. For me personally, it was a good time to think about what I am actually doing. "
"I think the Re.Start Days were very brave. None of us have rehearsed, practiced or anticipated this direction. We would all rather walk through full exhibition halls and look at new products here. And talk to all retailers and industry representatives. The contents are very well chosen and bring something to everyone in the industry - whether retailers, large customers, the small customer, the press or the industry. The presentations and interviews give a good overview. "
"The ISPO Re.Start Days offer a very innovative approach. It was also noticeable that other industries are looking at what is being done here. More than 100 speakers clearly show that everyone is willing to share their learning success with everyone else and that is very valuable. In the long term, you can only make progress with cooperation. "
"The ISPO Re.Start Days are an exciting platform and for us a perfect opportunity to present our products and events. That's why I think it's great that this is being done. As a representative of a tourism region, my highlight of the ISPO Re.Start Days was clearly the top-class bike panel".
"It is excellent that ISPO has done something to provide a platform for manufacturers and retailers. I hope that this will result in great initiatives for the future. I was able to gain many positive impressions from the panels. The ISPO Re.Start Days are certainly a turning point in terms of communication. They underline that we all have to adapt to new circumstances."
"I am very happy that on the days when the OutDoor by ISPO would actually have taken place, something is now taking place anyway. So that we have the opportunity to exchange ideas in the industry. Of course, people are currently exchanging ideas in their own network - but beyond that, there is a lack of impulses and we have received them here today.
I think that the future will be different. I have no idea what it will be like, but I'm sure that we can pull momentum out of the crisis and not stagnate.
"It is a new era. The ISPO Re.Start Days embody many paradigm shifts. For me as an industry observer, this is remarkable."