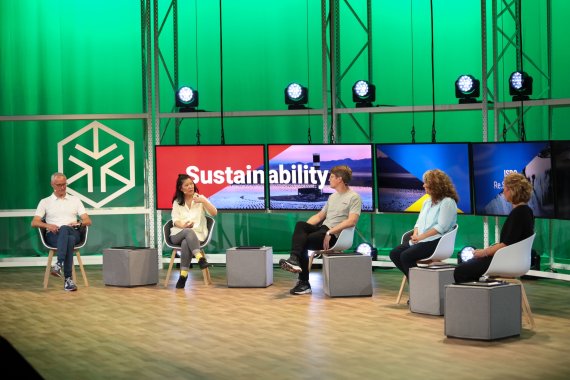 On the second day of the conference, we look to the future. The focus will be on the main topics: digitalization, sustainability and health.
Before going into a wide range of panels and workshops on the second day, Verena Oppelt opened the morning with relaxing activity: In a 30-minute yoga wake-up session, she got the participants ready for a packed conference day.
Sophia Rödiger of Daimler Mobility & MountainMinds gave a 20-minute presentation to explain why the coronavirus crisis in particular is the perfect time to digitize processes. Her credo: "Never waste a crisis!"
Lunchtime is workshop time at the ISPO Re.Start Days: 23 workshops on the core topics of digitalization, sustainability and health took place at noon alone. Among others, Melody Harris-Jensbach, CEO of Jack Wolfskin, presented in a 30-minute workshop how a brand can integrate sustainability into its DNA.
Urs Weber of Runner's World, on the other hand, shed light on the new running boom despite - or perhaps because - of the coronavirus crisis.
On the main stage Philipp Meister (Adidas), Peter Schöffel (Schöffel), Melody Harris-Jensbach (Jack Wolfskin) and Jill Dumain (Bluesign Technologies) discussed the role of sustainability after the coronavirus crisis. Jill Dumain was enthusiastic about the continued efforts of the sports and outdoor industry to achieve sustainability despite the economic challenges posed by Covid-19: "I do not perceive any slowdown. On the contrary, the industry are actually accelerating our efforts in sustainability."
Peter Schöffel found clear words and called for honest efforts instead of marketing slogans: "I think sustainability is a question of a company's self-honesty. As the head of a company, you must really want it. Everything else is greenwashing. Either you do it completely or not at all!"
The panel with Timo Perschke (SOMWR), Kai Landwehr (MyClimate), Dr. Rüdiger Fox (Sympatex), Dr. Antje von Dewitz (Vaude) and Klaus Hohenegger (Fair Wear Foundation) dealt with the question of whether the restart also represents a holistic rethinking in business and politics towards more sustainability. While political initiatives such as the Paris Climate Agreement gave cause for optimism, Dr. Antje von Dewitz called for even more courage and initiative from politicians: "If you do business sustainably, you are a pioneer. But at the moment you are the fool if you take responsibility. This is where politics has to create the framework to initiate change."
Dr. Rüdiger Fox also warned: "If we as industry don't change today, we will be overrun by developments tomorrow."
Benjamin Roth from the Urban Sports Club tackled the question of how people can be motivated to do more sports. Although everyone knows that sport promotes good health, that thought is often not enough to motivate people to become really active.
For Roth, passion and identification are the two levers that sports brands can use to motivate people to engage in sports. Urban Sports Club's approach is to offer the widest and most flexible range of activities where the customer is, without long-term subscription obligations, and to create a community that exchanges ideas and motivates. 
How clubs and associations have managed the restart
With creative solutions such as new tournament modes, cross-league cooperation and own hygiene concepts, sports associations and clubs have pushed forward the restart of professional sport. On the panel, Dr. Stefan Holz (Basketball Bundesliga), Marko Pesic (FC Bayern Basketball), Dr. Rainer Koch (DFB & Bavarian Football Association), Pierre Ducrey (IOC) and former handball world champion Dominik Klein (Bavarian Handball Association) discussed the lessons learned from the new beginning. 
But in the conversation it also became clear that amateur sport is still suffering - and without fans in the arenas, it will get tough even for professional sport.
Kris Tompkins, former CEO of Patagonia and committed conservationist with her organization, the Tompkins Conservation, had the appropriate words at the end of the conference. In an interview with the CEO of Messe München, Klaus Dittrich, she said: "In today's situation it is no longer enough to be good, it is about being great, whether as an organization, company or person".
Tompkins said this with a view to the climate and environmental crisis: "The time for standing on the sideline for issues like sustainability is over for the companies". As a society, Tompkins said, we have to afford sustainability because we have the mission to "make the world a better place".