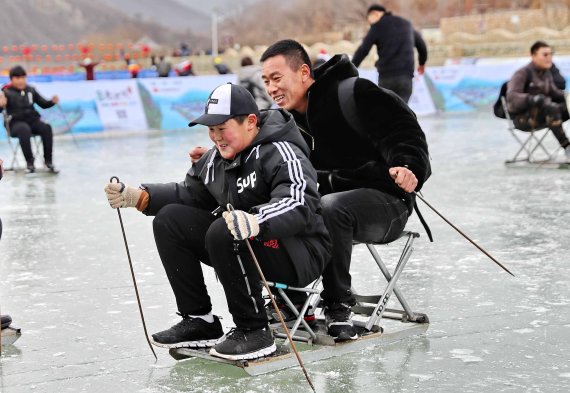 China is crazy about soccer! Football pitches with artificial turf and floodlights are being built on virtually every corner of China's cities, soccer is being played day and night. Of course, China's passion for football has not remained hidden from top international clubs, and teams from the English Premier League, the German Bundesliga and Spain's Primera Division are particularly active in China.
The absolute industry leader is Manchester United. The traditional English club is the undisputed digital number one with 107 million followers. To put the number in proportion: Around 66 million people currently live in Great Britain. (Source: Red Card 2018, China Digital Football Awards)
Anyone who practices sports inevitably has to dress accordingly - and in the clothing sector the US sporting goods manufacturer Nike has expanded its supremacy in China in 2018. According to second quarter figures, Nike registered $1.38 billion in sales, a currency-neutral increase of 20 percent over the previous quarter. Overall, Nike increased its sales by double digits for 17 consecutive quarters.
In the domestic market of North America, the increase in sales was only six percent. In the same period, competitor Adidas sold only slightly more goods in the entire Asia-Pacific region with 1.7 billion dollars. (Source: Sales Reports Nike and Adidas 2nd quarter 2018)
Consumption is a top priority in China, and the brand awareness of the Chinese has long since reached a Western level. Accordingly, there is a very special day in China to pay homage to consumption. The Singles Day is like Christmas, Easter and Valentine's Day all at once for wholesale and retail. On 11.11 China goes completely crazy and buys as if the world would end the next day. In 2018 online retailer Alibaba transferred over 30.8 billion dollars in 24 hours, 27 percent more than in the previous year. The range included 180,000 brands from China and the rest of the world, including market leaders such as Apple, Nike, Adidas and GAP.
To shop comfortably from the couch on Singles Day, the Chinese use their WeChat App. The smartphone application is a communication platform, social network, department store, bank and so much more. In China alone, over 900 million users make use of the app every day, spending an average of almost 70 minutes on WeChat services. Worldwide there are already more than one billion users and WeChat does not lie far behind WhatsApp, which had 1.5 billion users in January 2018. (Source: Statista)
In general, the Chinese have a special relationship to their smartphones. The networks are well developed, the coverage with fast Internet is excellent especially in metropolitan areas, and with apps like WeChat or Weibo (China's answer to Twitter), bulky desktop computers become almost obsolete. At the beginning of 2018, 802 million Chinese had access to the Internet, about 58 percent of the population. That is of course still expandable, especially in the western provinces of the giant empire, but one number is particularly remarkable: if the Chinese use the Internet, it is via their smartphone, because 788 of the 802 million Internet users (98 percent) use their smartphones for this purpose.
In addition to their love for smartphones, China's citizens are increasingly discovering active sports for themselves. Running, skiing, snowboarding, everything is being tested - and the government supports its citizens wherever possible. According to the government's national fitness plan, one billion Chinese will be practicing sports by 2020. Especially running sports seem to please the Chinese. According to the Chinese Athletic Association, 328 marathons with 2.8 million runners were held in China in 2017 alone, compared with only 22 races six years earlier. In total, the number of running events increased to 1102 races.
With the 2022 Olympic Winter Games in Beijing, winter sports in China naturally boom, too. New ski resorts are opening up even in the remotest parts of the country - and even in placed with no snow - like Shanghai - winter sports are being made possible. The latest mega-project is called Wintastar Shanghai and will be the largest indoor ski slope in the world at its opening. 90,000 square meters of pistes are to be offered, whereby the longest slope is to meet Olympic training standards and will have three kilometers length. In addition, the complex planned by star designer Massimo Mercurio will include restaurants, shops, a spa, and an ice rink.
3.2 million visitors are expected annually at Wintastar Shanghai, which is a remarkable forecast compared to the current figures of active winter sports enthusiasts in the White Book 2017. According to the annual study by China's winter sports experts and ISPO Beijing Panel Speaker Wu Bin, the number of winter athletes in China amounted to 12.1 million Chinese, with the 703 resorts recording 17.5 million visits. Even though only about one percent of the Chinese population actively practizes winter sports, the 17.5 million visits to Chinese resorts almost reached the level of Switzerland (23 million) in the same period. Until the 2022 Winter Olympics, the number is to increase significantly with the help of government programs, with 300 million winter athletes planned according to the party plan.